Tee Times Magazine Travel Club – Iowa
Tee Times Magazine Travel Club Iowa section brings you interesting articles from many of the areas Minnesota and Wisconsin golfers frequent. Here you will find hot topics and reviews from Iowa.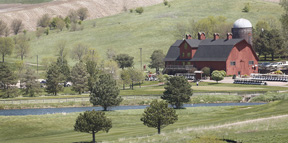 There's something cool about a rustic red barn – it's an Iowa trademark of sorts. Whispering Creek has such a signature barn as their clubhouse, positioned perfectly to take in the best of western Iowa's golf course panoramas. It's been the backdrop for many post-round pictures (and pitchers) with friends – the heralded home of Pooch's Pub.