The Tournament Club Of Iowa – The King Of Clubs
By E. Nolan
Iowa deserves some love on America's "Top 100 PUBLIC Golf Course" lists – a fact that would likely go unchallenged among the state's 250,000 golfers. But… which course? For my money, and I've said this for years, the club that most deserves inclusion is the Tournament Club of Iowa.
It certainly has the pedigree. The course was designed for tournament play by the late, great Arnold Palmer, and opened in 2003. As the only Arnold Palmer Signature Course in the state, and with no other Iowan courses built by the game's legends, that's certainly a point to build a case on.
To be considered among the best a facility also has to have superior management – people who know how to provide a top-notch golf experience. In November 2019, The Tournament Club saw the opportunity to advance their guest experience, and capitalized, signing Kahler Golf to manage all operations. Stephen Kahler (with his extensive Troon Golf management background) and his corporate partner, Bob Johnson, successfully brought Amana Colonies Golf Club back to prominence in Iowa; and saw this opportunity as a no-brainer. "There is no 'comeback' needed at the Tournament Club," Stephen says. "It's already a leader of the pack. Our goal is simply to take everything that works and make it work better."
Stephen is right. The Tournament Club doesn't need much in terms of change… but it will benefit greatly from his proven focus, attention to detail and operational consistency. "To be the best at anything you can't accept a status quo," Stephen says, "can't ever believe in good enough. The game and its associated demands are evolving every day and, to stay relevant, we need to keep up with the evolution." That means more focus on golf groups, hospitality, family golf and on golf instruction. It means more back-and-forth conversations with daily guests to find out what they're looking for. It means telling everyone (locals, travelers and golf raters), "Don't overlook us. We have what you want right here."
Great designer, great management and, of course…
The best public courses need an exceptional playing experience – a stellar course with meticulous conditions. The best courses in America stand out in categories like beauty, fun, challenge and playability. The Tournament Club of Iowa, nestled between Big Creek Dam and Saylorville Lake, is a truly beautiful place to play. Rising and falling over hills, through bluffs and forests, alongside rivers, ravines and lakes, with very few houses intruding on any holes, courses literally can't get much prettier in Iowa. "Some think central Iowa is devoid of topographical character," Stephen shakes his head. "I challenge you to find a richer landscape in the Midwest to play golf." (He would know a thing or two about natural beauty – Amana Colonies is another stunner.)
In terms of fun, the variety of shots required from hole to hole means the amount of fun is up to you, with ample risks and rewards afforded throughout. Bomb away with your driver on some holes, focus on accuracy on others… downhill and uphill par three's guarded by water… tree-lined holes, exposed holes – The Tournament Club has it all and… well… the challenge factor is what makes The Tournament Club uniquely great for tournament outings, and so exciting for the individual wanting to test his/her game on a true championship course. "Challenge and playability go hand in hand," Stephen says. "The better players want to be challenged, and they will be here. But we're always looking for ways to improve playability, too, so new and improving players can find forgiveness with less accurate shots, and feel like this is a place for them, too."
Kahler Golf is genuinely focused on making their courses playgrounds for everyone. They are not afraid to cut back brush, slow down or speed up greens, remove unnecessary rough and/or consider alterations to holes that present problems. They'll find whatever trouble spots do exist and address them to make them less troubling. This isn't yet a Top 100 Public Course in the United States. But it could be soon.
A top-tier individual and group-golf host, Tournament Club of Iowa excels in other capacities, too. A local dining favorite, the Copper Oak Restaurant in the clubhouse, sits high above the closing stretch of golf holes, providing incredible panoramic views and great chef-prepared meals. The views and food pare well with an abundance of space to make TCI into a popular Wedding and Event Host, with rooms that accommodate 250 and a patio suited for 60 more. Need more reasons to visit? Capitalize on all the perks by extending your visit overnight at QUBE Hotel – a 44-room hotel next door.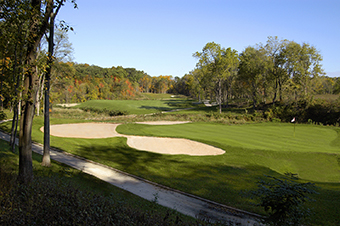 Tournament Club of Iowa #7

Tournament Club of Iowa #17