Tournament Club Of Iowa – Keys To The Kingdom
By E. Nolan
Some golf course names don't seem to fit their property. Others, like the Tournament Club of Iowa, are boldly (but aptly) named. This is a club that was built to host tournaments – both amateur and professional – and from there the course became a prestigious host to all golfers and events. There's pride in that title, and there should be. Everything about this place screams championship.
Tournament Club of Iowa is an Arnold Palmer Signature design – the King's only creation in the state. He and his company-built courses in 37 states and 25 countries… but only one course in Iowa. That alone gives the course name recognition and prestige. That alone makes devoted members of Arnie's Army, like myself, drive from all over to play it (again and again). We love walking where Mr. Palmer walked, imagining what he saw before building, and playing the results of his imagination and work in the end. Having played two dozen of his courses nationally (and internationally) I've gained an appreciation for how his mind worked in the planning stages and how he would have played each hole as a player. I've also learned that my game is in no way similar to his – that the shots he anticipated golfers hitting are often shots I'm incapable of executing.
That doesn't make them less fun to try, and there's plenty of that challenging fun peppered throughout the 18-hole layout. You get a glimpse of the challenge from the clubhouse, looking out the wall-to-wall windows of the regionally acclaimed Copper Oak Restaurant, towering over the lakes in the valley below.
This is a beautiful part of the state, and this course is cut into the bluffs and ravines around Big Creek Dam and Saylorville Lake. There are several holes on the front nine that don't feel like Iowa at all, and then you break out into that final stretch of great 3-pars on 6 and 7 and that killer closer beneath the clubhouse – a 5-par 8th and 4-par 9th that play tough enough without wind but can really whip you when it's howling.
This is central Iowa, so non-locals assume it's pretty flat. The course is anything but that. There are dramatic rises and falls all round, starting with the very first tee shot – a steep plummet to a fairway that hooks left over a creek and alongside trouble all the way to the hole. From there you'll experience a series of river carries, hill climbs, elevated tee shots and tight twists through beautifully forested sections – each hole presenting a different set of challenges. There are signature holes on the front nine like the 3-par 14th hole from a perched tee box down to a river guarded green, and the par 4 7th hole protected all along the left by that same river. That's followed by another epic downhill 3-par, then a back-and-forth along another lake. You're hearing a lot of scenic identifiers that draw golfers (and social media photographers) to a course and you should pay attention to those (and bring your camera).
The Tournament Club of Iowa is managed by Kahler Golf and company owner Stephen Kahler says he literally jumped at the chance to take on TCI. "Yes. I jumped. I love the course, know and appreciate that the members and locals are heavily invested in it, and believed all along that we'd make perfect partners." Stephen sees in the Tournament Club a course that merits consideration for "America's Top 100 Public" and (as an official rater) I've echoed those sentiments to the point that "if Iowa has one club deserving of inclusion it IS this one." It has the pedigree, the management, the beauty, the challenge, the conditioning, the length and a high-quality playing experience. I'm not sure what publication panelists feel it is lacking. I've heard it called "too tough for beginners" but don't know how that's a knock. It certainly doesn't hold Augusta, Pine Valley, Sawgrass or this year's PGA Championship host – Kiawah Island – back.
"We're always working on the playability here," Stephen acknowledges, "as every course should. It IS drawing in more beginners and it is challenging them to improve their game, but I see that as a great thing for the game of golf. We have a driving range and variety of tee boxes to play from. You get so much in a round here. I don't see the challenge as a bad thing." That makes two of us.
Tournament Club of Iowa essentially has its own hotel – The Qube Hotel adjacent the clubhouse – a 44-room boutique lodging facility also overlooking those two closing holes around the lake. Be sure to consider the savings involved in their Stay & Play packages on your own visit.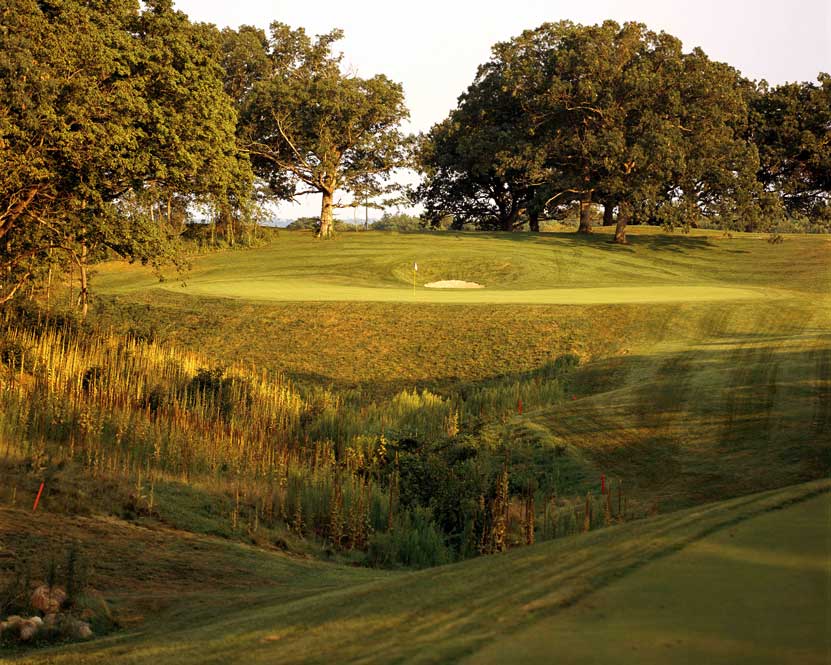 Tournament Club of Iowa #15

Tournament Club of Iowa #17