Kilkarney Hills Golf Course – Get To Know Them
By Steve Wetzler
I don't know what Kilkarney Hills is more well known for, their fabulous weddings and events operations or their serene golf scene. And that's kind of the way they like it. They don't mind serving as the jack-of-all-trades, as long as people understand the degree of care and service that goes into their "asset management."
General Manager Pat O'Malley is quite proud of the acclaim his staff receives, and they bank a great deal of their marketing on that fact. "We cater specifically to the Twin Cities because we are an idyllic peaceful escape." That short 20-minute proximity brings out the golfers, brides (and the occasional groom) and businesses looking for budget and fun packed bonanzas. This place has both – and then some. But everyone also knows a successful event, tournament, wedding and/or banquet is determined as much by the people who pull it off as the place it is held.
Kilkarney Hills rises to the occasion on both those fronts for a most-satisfying hospitality combo. Their 7,300 square foot Banquet Facility is plenty spacious for up to 350 guests, and can be decked out to any degree of athletic, academic, business or romantic charm. As the banquet hall is located in the clubhouse, there are also a plethora of enchanting outdoor settings (including their new outdoor wedding gazebo) for socializing, enjoying our beautiful summer sunsets and/or to serve as the backdrops for those photos that will occupy your albums for a lifetime.
And every great event needs great food – another thing that keeps the parties coming across the state line to River Falls. Event Coordinator Erin Temme, her Executive Chef and their talented culinary team will assure that your dining requests are individually catered to and satisfied, and she wants to be a part of planning your perfect day – whatever your purpose for that day might be.
I mentioned the scenery for your photographic moments. Well that scenery is the Kilkarney Hills Golf Course. These next several months encompass the highlight season of both the St. Croix and Mississippi River valleys for all the flora, and Kilkarney Hills blooms bright with their many flowers. The course packs additional beauty into its fountain flushed ponds, tall wavy grass, and rolling hill topography. Surrounded by walls of trees on every side, the course has the feel of a private haven, with daily grounds keeping enhancing those grounds and the golfer finding all they can handle in thrills and spills on the lush fairways and greens.
Kilkarney Hills makes quite a first impression with its maple tree lined entry – a must play in the fall with the Autumn Blaze maples in full glory. Overall you'll discover a significant variety of shot values from hole to hole, with fun wide-open par-3's, fast sloped greens, uphill and downhill lies, and an emphasis on both accuracy and whatever length you have. They've recently added new tees to increase playability for more skill levels, and it's safe to say you can find whatever test (or relaxing round) you're looking for out here.
The course weaves around the 155-acre property, with water arguably in play on half a dozen holes (seven if you stray a little, like me). It's easy to put up rounds near or under your handicap (which is how golf should be), but I keep coming back to my favorite holes for what I love most about the place – the gorgeous par-3 eighth and wraparound signature (par 5) 17th. Those two holes provide the risk/reward factor I crave – I love a hole that tests your mettle and your woods. And those two signature holes pack the scenic qualities that quality golf courses bank on for memorability factor. I point out my personal favorites because they could easily be different from yours. In fact, most golfers consider the 11th hole to be the best one out here. That should give you an idea of the variety of perspectives and thrills provided by this particular course – all the more reason to check it out.
And leaning heavily on that personal opinion, it's hard for me to venture too far away from the food. Kilkarney Hills is known for their great clubhouse atmosphere, the beer, the cheese curds, a delicious Friday fish fry September – April, and spectacular veranda dining views over the St Croix Valley.
The intent of this piece was to paint the picture in your mind of a facility that can host any individual or group size, a place with a sensational Outing Package for tournament coordinators to consider, food, beverages, scenery and a golf course that is both fast and fun to play.
What about value? Kilkarney Hills kicks off the season with an amazing offer: bring in your foursome Monday-Friday and you'll receive an 18 hole green fee, cart, range balls and lunch for just $25/golfer. Weekends you ask? Same deal just $32/golfer.
If those are the kind of things you seek in planning your next golf day, corporate outing, wedding or other event, I'd say it's worth getting to know Pat and Erin. They'll take care of you.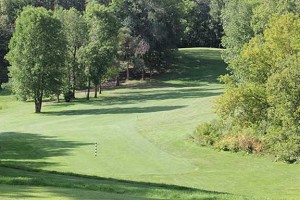 Kilkarney Hills Wedding Gazebo