Clifton Hollow Golf Club – Great Golf Is Just The Beginning
By Steve Wetzler
The whiskey still of Clifton Hollow? Folklore has it that in the early 1900's a pair of "entrepreneurial" gentlemen developed a recipe for whiskey that was unrivaled in the region. Invisible from the law, they discreetly hid their still on what is now Clifton Hollow Golf Club. The pair quietly amassed a small inventory of the fine nectar until one day they were discovered and chased to Ohio where they finally slipped the law.
While most of the inventory was destroyed, a handful of bottles survived. One of the 100-year-old bottles has recently been discovered with the label "Old Clifton Hollow Whiskey". While the location of the still remains a mystery, the bottle raises the notion that maybe there's more to Clifton Hollow than just great golf.
I love cool history. I recently learned their clubhouse use to be a supper club – that's cool, a few years ago they flipped the nines – the course opened in 1974 as a nine hole course and the front nine is now the original nine – that's cool, the story about "Old Clifton Hollow Whiskey" – now that's really cool. But you can't live in the past. Let's talk about what's going on now at the Clifton Hollow of today.
Their idyllic setting in the St. Croix River Valley is located next to the Kinnickinnic State Park, less than 30 minutes from St. Paul, providing a serene setting with an abundance of wildlife. More wildlife than people call Clifton Hollow home as there are no houses on the course. In fact, it's not uncommon to spot a deer, bald eagle, red tailed hawk, or wild turkey – even a bear has been spotted on the course.
The Gordon Emerson design is challenging, but not intimidating and is packed with unique holes – earning a 4 Star rating form GolfDigest. Take for instance the signature 5th hole, a seemingly harmless 171 yard (from the blue tees) par 3 from a slightly elevated tee to an undulating, sloped green, protected in front by stately oak trees on either side; hitting over what's known as "The Hollow." Anything short of the green is a sure bogey at best; long means a knee-knocking chip shot to a runaway green, and landing on the green is no guarantee of even par.
Then there is the stunning 450-yard (from the blue tees) 9th hole. It's a deceptive par 4 where a well-hit drive gets you to the edge of "The Hollow." From this elevated point, golfers are left with a 200 yard second shot down to a generous but sloping green, protected along the left side and the front by water, a wooded hillside behind, and thick rough to the right. #9 is a challenge for even the most seasoned of golfers.
One of my favorite holes is the risk/reward #13, a short 260-yard (from the blue tees) par 4 with water guarding the front of the green. Lay up for an "easy" shot to the green over the water, or let it rip and go for the green for a chance at eagle. Be warned, as GM Mike Tschida says, "The undulating green protects par on this hole."
Saving the "Monster of Clifton" for last, the "Monster" is a lengthy, character-building, 637-yard (from the blue tees) finishing hole where getting on in 3 doesn't necessarily guarantee you'll be down in 5. It's the longest fairway, finishing with the largest green on the course. There is plenty of room for a variety of pin placements to test your putting skills.
With greens running 9-10 on the stimpmeter Clifton Hollow is known for great greens. It is a fun course with a combination of both wide and tighter tree lined fairways. There are plenty of opportunities to unleash the "big dog" as well as opportunities for the shot-makers among us.
Clifton Hollow has made plenty of improvements over the last couple years removing trees and clearing brush making it easy to find your ball after an errant shot, with the ultimate benefit of increasing the pace of play. They have also added a 2,400 square foot Event Pavilion that comfortably seats 200 overlooking the 5th green that is a perfect venue for your tournament, corporate event or wedding.
Ever heard of two minute pizzas? Clifton Hollow has recently added a wood fire pizza oven making their own hand tossed Hellfire Damn Good Wood Fired Pizzas every two minutes on Fridays and Saturdays from May 23rd – September 7th. Add in live music on Saturdays and a variety of cocktails, microbrews, and wines, Clifton Hollow makes for a relaxing, casual dining experience.
Clifton Hollow has had a rich history the last 40 plus years, but we know that history only gets you so far. With their passion for the game of golf, commitment to providing a quality course in a friendly environment, and dedication to making golfers feel welcome (not to mention a slice of pizza pie direct from Dante's inferno), it's easy to see why great golf is just the beginning.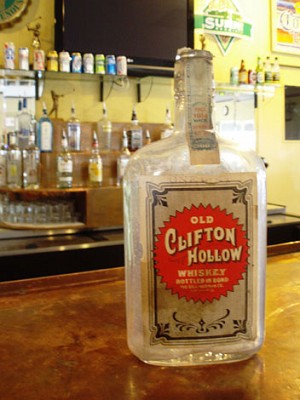 Old Clifton Hollow Whiskey