St. Paul's Finest – Phalen And Como Golf Courses
By Rhett Arens
I don't know if you've taken notice or what golf magazine you subscribe to, but municipal golf is enjoying a resurgence in respect. The appreciation for these city owned gems has reached the upper levels of today's PGA TOUR as evidenced by the branded hat that U.S. Open winner Wyndham Clark's caddie, John Ellis was wearing. There it was on full display, John's 'Municipal' hat as Wyndham took down a stellar leaderboard with his gutsy play. Furthermore, John seemed to be giving off plenty of blue-collar vibes when after the last putt dropped, Wyndham tried to squeeze the life out of his caddie with a monster man hug, John's smile said it all. This type of allegiance to muni-golf is on the rise (as it should be) and we are lucky enough to have two outstanding examples of it right in our midst – Phalen Park GC and Como Park GC. Both aptly named as they fit right into the 'parkland style' golf course architecture mold.
Phalen sports more trees which is characteristic of the park style designs, but Como plays up and down with elevations that turn moderate yardage holes into roller-coaster rides. The tree-lined fairways that give Phalen its signature look comes with its own set of built-in short yardage challenges in the form of many doglegs left and right. Both courses offer up the type of risk-reward that will have you double-checking your GPS readings for a second opinion. 
Both courses are operated with dedicated on-site management through Foursome Golf Management. Both Tim Kuebelbeck (Phalen) and Chris Bettinger (Como) have weekly meetings with their staff and then put their heads-together on an action-plan for the coming weeks. This ensures resources and expertise are being utilized to the fullest extent. I hate to say it, but I wish all departments within government operations functioned so well. From the time you walk in, until the round is over and you're heading to the parking lot, things move very smoothly. No stuffy policies or service hiccups of any kind.  Just you, your ball, and the scorecard.   
To think these courses lie in the heart of St. Paul should give East-siders a sense of pride that traditional golf is alive and well within walking distance for many. As a matter of fact, both courses have a core following. Typically, older gentleman of a certain vintage are the first ones off the tee box in the morning. Many walk the very walkable layouts as a two-fer… a testy round of golf with a healthy dose of exercise thrown in for good measure per their doctor's orders. Speaking of walks let's take a stroll though both courses, starting with Phalen. 
Opened in 1917 as a nine-hole, the second nine was added in 1929. A major renovation was completed in 1978 and another major upgrade was completed several years ago. So there has been plenty of tender loving care given to this oak-laden track since its first round was played. To start, it is a par 70 at close to 6,100 yards. Before you predict your low-round of the year is coming, keep in mind that this course twists and turns like a mountain road. Think punch-out, not drivable greens. Mid-summer those tree canopies are in full coverage so any thoughts of cutting through the branches should stay in your bag. Get to the corner and hit that mid-iron on the green, the birdie is still possible. Hole #1 is a fairly open slightly downhill par 4, fairly forgiving, fairly easy to birdie. This is a friendly municipal design. However, as you play the par 4 second back up the hill, you will soon realize this round is no easy walk in the park (pun very much intended, ha). Jumping ahead to the par 4 fifth, we have a blind dogleg right and it's a beauty. Carving off some corner or going bananas over the top are two ways to show off, but I'm recommending you throttle back and lay a steady 3-wood inside 150 and go with the wedges. The 120-150 yard par 3 eighth is such a fun hole. Not sure why it always seems to play a bit long but there is some elevation to consider and there is always some wind to factor in. The shape of the green and the bunkering is a challenge, but the real scare comes from the marsh that is sitting on the right-side out front. It's a classic par 3.
Bring a chainsaw with you on the back-nine. Just kidding, what you really need is some ball-striking skills as those 100-year-old oaks seem to come alive and encroach from all sides. Holes #10 and #11 will test your straight-line ball skills. If you fail, you still have punch-out options, but the birdies and pars will be hard to come by. On the back you will see some form of dogleg, either left or right on 13, 14, 15, 17 and 18. The short par 4 #18 finishes with a swing to the right into a stubborn bunker complex. The hole is gettable with a smart tee shot. What a great way to finish up a round at this historical St. Paul landmark.   
First impressions at Como come at you a bit differently. The course baits you with open looks then punishes you with tricky misdirection. Whether the courses original architect Paul Coates, a Ramsey County surveyor and designer of Keller Golf Course foresaw the era of big-hitters (not likely) or trees were selectively removed by beetles and weather (likely) doesn't really matter, what matters is – if you 'grip and rip' make sure you land on the short grass. Como had inauspicious beginnings as an afterthought for the greater St. Paul recreational planners back in 1928 when things got rolling. Opening in 1930 as a nine-holer and then with more funding and land acquisition the course transitioned into a full 18-hole track right next door to the zoo. Was that a lion's roar I heard on the 7th green? Hopefully someone didn't leave the cage open.    
The par 4 first gets you dialed in for a series of relatively short par fours that stretch though to the par 4 fifth and the scoring can come easy during this stretch. This isn't so surprising given the total yardage from the Championship set of tees is 5,861 yards. The first par 3 is #6 which has a scenic downhill look into a large green with water on the right. The most strategic hole on the course is #8, a par 5 which requires a bomb off the tee to even consider going home in two or a surgical second shot to set up a wedge over the water into the tilted green. I promise, you will feel the weight of your decision making on this hole. Superb risk/reward design. The under 500 yard #18 is also a par 5 with a start and stop feature built in. Not much room for error around the fringe. Such a fun closing hole and be prepared because there may be an audience on the iconic wraparound deck at Cozy's Pub watching.
As the season winds down, be sure to add these city owned gems to your playlist.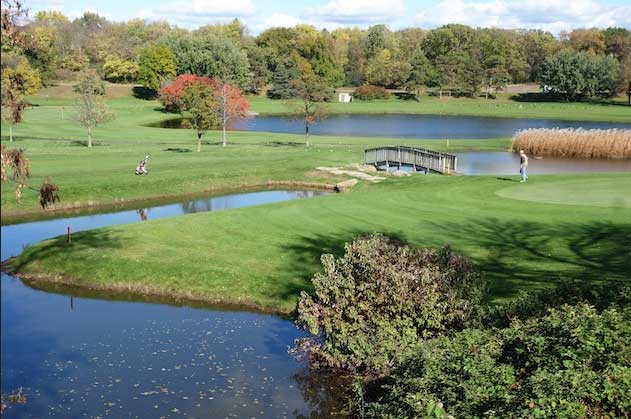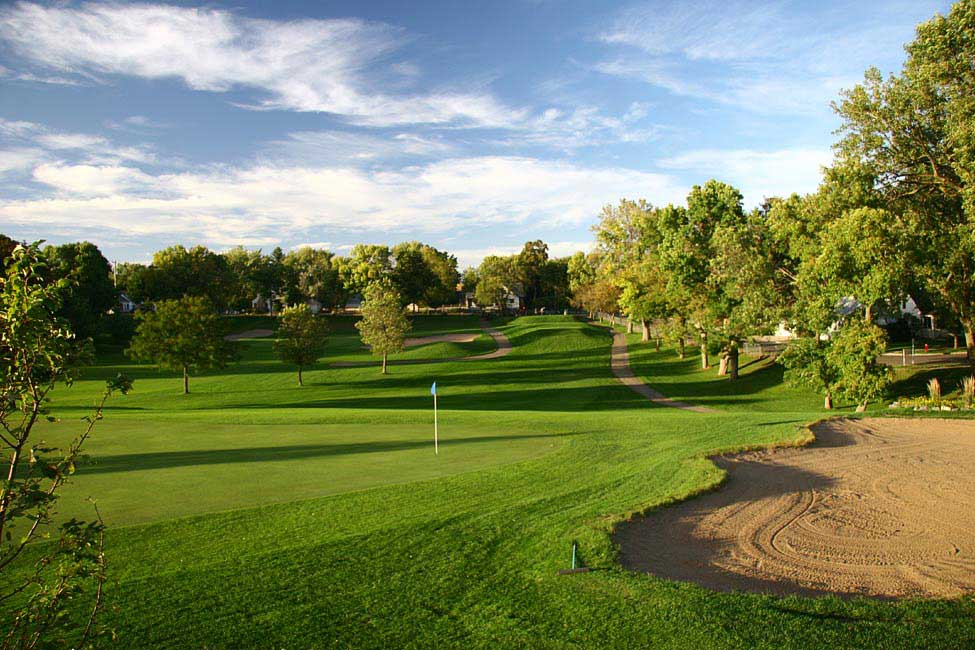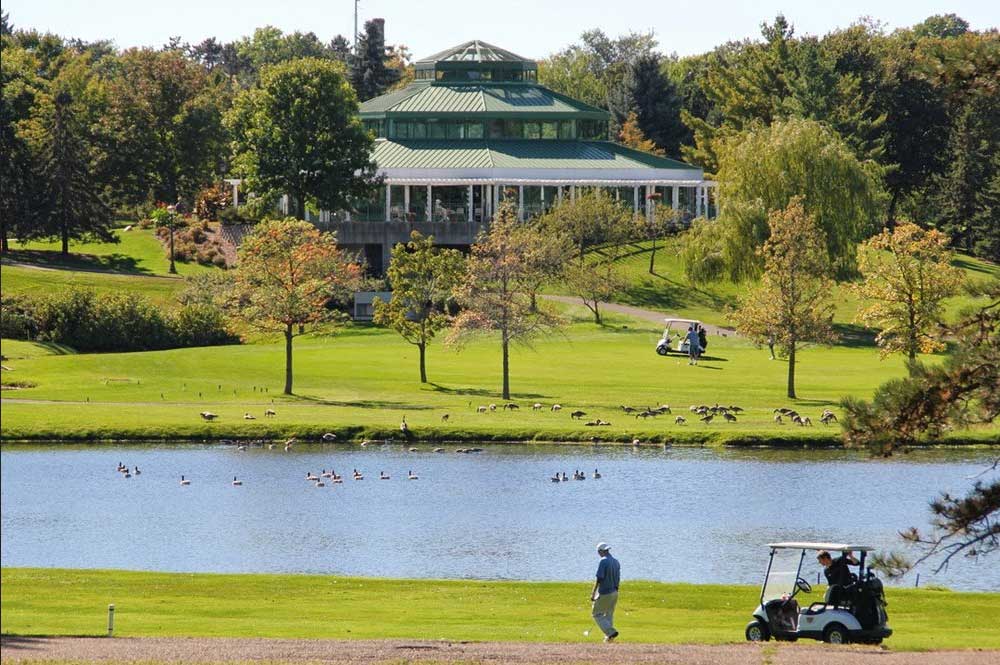 Como Golf Course Clubhouse