The Economic Clout Of Golf Tourism
By Rhett Arens
Golf is big business. It represents a healthy slice of the discretionary spending pie which is driven by an ever-growing player base who have taken a recent shine to the game. In turn, the cash registers at pro shops are ringing loud. Yes, the pandemic year created an outlier style bump that has things trending positive, but I'm hearing from many GM's that this year (2021) is off to an even bigger start. The greater golf industry is tied into many categorical businesses – everything from publishing to new homes to equipment. Golf related travel and the hospitality venues associated with those trips come in all shapes and sizes. As a recreational and competitive sport, golf has an unparalleled reach in the public domain. With the ability to entertain large groups, small groups, foursomes and individuals, it has the capacity to serve across a wide cross-section of serious athletes and casual players. As the 2021 season rolls into mid-summer, we are seeing tee sheets brimming with action.
As part of Tee Times' four-part series on Minnesota and Western Wisconsin 'Golf Resort Destinations,' we will examine the economic impact of this portion of the golf industry. This third installment will take a broad look and offer some perspective on just how important it is to local economies, jobs creation, course operations, event hosting and the many other stakeholders involved. Much of the data presented here was compiled by TEConomy Partners who conduct economic impact studies on a 10-year cycle. Most of macro data here is pre-pandemic having been collected in 2016 and not influenced by the surge in rounds in 2020. Overall, it paints a positive picture for the health of the industry and particularly the resort destinations (golf tourism) that find themselves in a very competitive, expanding marketplace.
Sitting down with Ryan Peterson, GM and Head PGA Pro at The Wilderness Golf Club near Tower, Minnesota it becomes very apparent how much synergy exists between the on-course golfing revenue and the off-course hospitality industry. The Wilderness is part of the Fortune Bay Resort Casino operation but is managed as a separate business unit. It's a chicken and the egg situation where casino patrons play some golf and golfers play some blackjack, but one plus one equals three. Ryan points out that both businesses benefit from the on-site hotel and dining businesses. In fact, that center of gravity which pulls customers to both venues in this relatively out-of-way location, extends beyond the on-site amenities. He notes that all Vermillion resorts and camping related businesses benefit. Nearly all the tourist related services benefit, the Ely Chamber of Commerce benefits, with most everyone seeing an uplift. The 'pull' exerted by the attraction of a world-class golf course is undeniable… even into the far reaches of northern Minnesota lakes country. This scenario of economic impact repeats itself in other golf destination meccas like Hayward, Alexandria, Brainerd, Crosslake, Morton and Nisswa.        
Another way to talk about the resort destination segment within the golfing industry is to call it 'Golf Tourism.' Golf is a widely participated in activity that triggers the overall tourism spending within a local region by attracting visitors to different parts of the state for day trips, weekends and extended stays. In 2016, TEConomy estimates that tourism spending created by travelers who played golf while on a trip or vacation generated $480.6 million, this is up from $426.2 million in 2006. This represents a modest 1.2% compounded annual growth rate, but given the overall economic setback brought on by the Great Recession years (2008-2010) and the resulting contraction in golf course openings, it's still growth. It should be noted that this segment saw an increase in the number of trips taken and increased spending while on these trips. The continued expansions and renovations in operations like Breezy Point, Ruttger's and Cragun's is evidence that the principal owners of these resorts would agree that golf tourism is still good business and a solid investment.    
Beyond golf tourism's direct spending on rounds, food, services and accommodations there are four related segments of the economy that also benefit from the growth in golf tourism, examples of these market segments include Real Estate, Equipment Supplies, Events Hosting and Construction/Capital. All of these industries require job placement levels that support the trending growth. This is an absolute godsend for regions where meaningful employment opportunities are scarce and tend to be located in more rural geographic settings.   
If you take a comparative look at the Minnesota golfing industry which is estimated at $1.555 billion to other high-profile Minnesota industries like Medical Equipment Supplies at $3.569 billion, Spectator Sports at $752.2 million and Milk Production at $1.606 billion you get some perspective on the size and reach of the golf business. When you take into account that the direct economic impact from golf spending generates secondary and third-tier activity you can see it drives plenty of economic impact. These Minnesota golf industry related numbers put it in perspective: a) $2.301 billion of direct, indirect, and induced economic output; b) 24,993 direct, indirect, and induced jobs; c) $743.3 million in compensation distributed; d) $201.3 million in state and local tax revenue generated.
The $1.555 billion framework noted above divides the spending into four core industries and two enabled industries. The four core industry segments include Golf Facility Operations, Golf Facility Capital Investments (course construction and renovations), Golf Related Supplies (production and retail sales), and Golf Tournaments, Associations, and Charitable Events. The two enabled industry segments are Golf Real Estate (new home construction and premiums related to the sale of existing homes in golf communities) and Golf Tourism of which us vacationing players enjoy and directly benefit from.   
In 2016, Minnesota saw 447 golf facilities generating $725.5 million in operating revenue, up from $552.7 million in 2006 (the previous audit year). This strong performance was driven by growth in average facility revenue, especially by private facilities and destination resorts over this 10-year survey period. In fact, growth in average revenue outweighed the net decline in the total number of golf facilities. Minnesota saw 39 golf course closures, an overall drop from the 486 facilities reported in 2006. This retraction in golf facilities mirrors the overall correction seen nationally. This correction is generally attributed to an 'exuberant overbuild' that echoes the rise in popularity fueled by what is referred to as the 'The Tiger Effect.' The Tiger years (1997-2007) got people off the couch, buying a new set of clubs and picking up the phone to make a tee time. As we know, Tiger was not an overnight, one-hit wonder, he revolutionized the game and his economic impact on the industry is beyond measurable. 
Flash forward to 2021 and we still see Minnesota players ranking near the top in rounds per year and playing those rounds on the highest number of golf courses per capita of any state in the union. Today the Minnesota Golf Association estimates there are 433 public courses in operation which breaks down to 327 full-public courses, 82 semi-private courses and 24 resort courses. There has been an uptick in full-private courses with that count now rounding out at 43. Looking at the size of the course design, we are blessed with an estimated 270 18-hole layouts and another 192 9-hole courses – something for everybody. Like the rest of the country, overall rounds across the state are up 30% from 2019 levels. For you trivia buffs, if you were to play those 433 courses in one continuous score card you would have played an astounding 7,038 hole round of golf. 
That type of commitment is a bit beyond my playing pay grade, but it's nice to know we have options, and that the economic health of Minnesota's golf destination resorts is virus-free and ready for your visit whenever you are.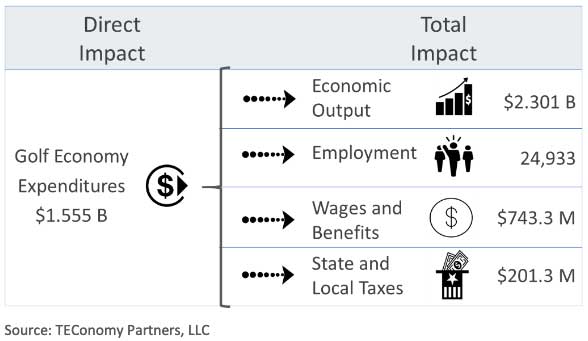 Minneosta Golf's Total Economic Impact 2016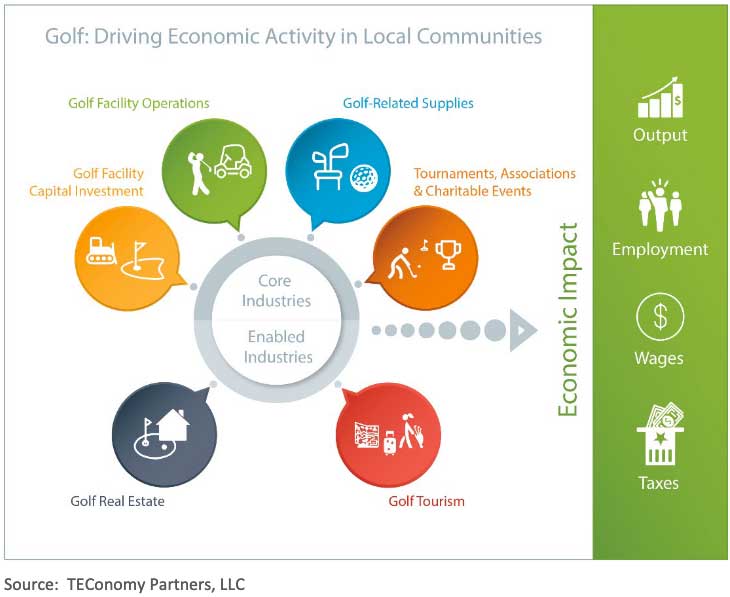 Golf Industry Impact Framework