Spooner Golf Club – Heart Of The Capital
By E. Nolan
How did Hayward, Wisconsin earn the title "Golf Capital of Wisconsin?" With Kohler and Sand Valley and Erin Hills and the Dells…why Hayward? Answer: Spooner Golf Club.
Okay, so Spooner is not solely responsible for the title, but it is high value, totally accessible rounds of golf like this that draw players in by the thousands every year… and when everyone can afford to play a place (unlike the aforementioned destinations) it becomes a hub or "Capital." It becomes an "in demand destination."
The Hayward Lakes Area is the Badger State equivalent of Minnesota's Brainerd Lakes – north of all the big cities, beautiful water all around… nature at its most glorious. The Hayward Lakes Area host many a resort and star golf course, but few (if any) facilities draw in more annual players than Spooner.
Part of the draw is off the course, in the food and lodging elements you need for a great getaway. Spooner provides the golf traveler with a plethora of lodging partners, offering some high quality Stay & Play packages: Best Western, America's Best Inn of Shell Lake, Heartwood Conference Center and Retreat, The Country House Motel & RV Park, Inn Town Motel, Northwest Lodging and Kelly's Cable Lake Resort. A diverse arrangement of hotel, motel and resort accommodations lets you determine your own space, within reach of nearly every budget. From the rooms to the restaurant – in 2018 the all NEW Spooner Restaurant Menu offers home-style cooking with good portions and a full complement of beer, wine and other beverages. As popular for the atmosphere as for the food, you'll find plenty of seating around Big Screen HD LCD TV's to take in the sports world, socialize with your friends and playing partners (if they're not your friends…LOL) and of course to prepare yourself for the great golf outdoors.
The championship course at Spooner is a classic Tom Vardon routing, enhanced by Gordon Emerson 50 years later (in 1980). It's hard to believe Gordon's renovation was nearly 40 years ago already, considering how modern the course looks and plays today. Over the past eight and a half decades the course has maintained its original design integrity, and the consistent expressions of love by reviewers (and incredible return rate) is as revealing as the laughter echoing throughout the clubhouse and across the property. As much today as yesteryear, people love to play Spooner Golf Club. This is a place where four-hour rounds are the norm, lost balls are abnormal, and hole-in-one's happen with such regularity that people at the bar buy YOU a drink when you get one! (Although I haven't yet been able to prove that! Maybe this year!)
The 18 holes feature plenty of tree-lined, mostly-flat, fairways with the occasional water hazard interruption just to keep you alert. There is plenty of room for driver on most holes and (intentionally) plenty of forgiveness found beneath the trees on "strays." You can work your way around the course with little difficulty, and plenty of enjoyment, and just might shoot your best score ever. Playability and course conditions are clearly stressed, as the rough is never too rough, and the greens are typically firm and fast.
Spooner Golf Club reaches its design pinnacle at the spectacular lake-lined 18th. The Wisconsin Department of Tourism selected this beast of a closer in its "Dairyland Dream 18" – as daunting a hole as it is memorable. The curvy crescendo hits all the right notes, an amazing hole all day long, especially near sunset, as the animals come out watch you play, and you get to take it all in and hopefully end with a birdie (instead of a bath).
Your golf needs and expectations are going to be met here on each level at every age – especially Juniors. Spooner has been a certified PGA Family Course since 2007 (one of the first courses in the U.S. to be designated as such, and one of only 22 in WI and MN). Spooner offers a beginner-friendly short course and two "easy" sets of tees within the original course. People bringing their kids out to play benefit from big discounts Monday through Wednesday (and in twilight hours), and this July you can participate in the free golf clinic AND Family Scramble Tournament. This is an environment built to satisfy all and to help all succeed – an incredible value for both Hayward AND Wisconsin. NOTE: Get a "return rate" of ½ price on Sunday after any Friday or Saturday round. On Memorial Day and Labor Day weekends you can play Friday, Saturday or Sunday and get ½ off on Monday!
The more things change everywhere else, the more the great things stay the same at Spooner. Come on up and make yourself at home in Wisconsin's Golf Capital!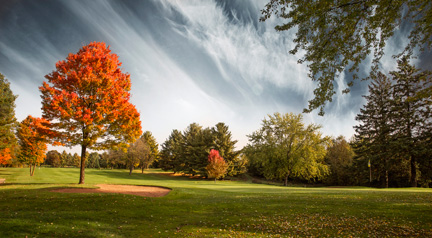 Spooner Golf Club #8 Photo Courtesy Jim Gallop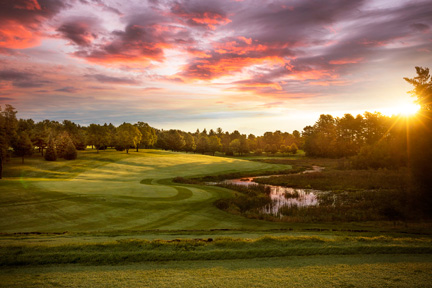 Spooner Golf Club #18 Photo Courtesy Jim Gallop