Ruttger's Bay Lake Lodge – Minnesota's Original Golf Resort
By E. Nolan
Imagine you have a summer home on a big, beautiful lake. Dream come true, right? Now, imagine you invite all your friends to come up for a week or a weekend in the summer… and they do. Those friends invite their friends to come up the next summer… they come, and bring their families, too. Year after year the circle of friends expands – getting bigger but also "tighter," as new friends become old friends… and informal acquaintances become formal friendships and extended families… loyal and long lasting.
You'd have to have a pretty big house to make it a summer home for so many. And you'd have to have plenty of food and a lot to do, to keep all generations of visitors occupied and entertained. A place like that would become legendary – people would write stories and songs about it.
"There's a place we all know. It's the place we all go. It's…"
The place needs a name. You're in Central Minnesota. The name of the lake is Bay Lake. By now it's more of a resort than a vacation home. Bay Lake Summer Resort… yeah, start with that. Your generous and welcoming reputation spreads across the heart of the Ten Thousand Lakes Region.
Where exactly is this place?
"5 and ½ miles south of Deerwood, Minnesota… 108 miles from Duluth, 126 miles from Minneapolis, on the banks of Bay Lake… with its forty miles of shore line…bays, points, isthmuses and islands." 
Wow. Sounds amazing! Is the fishing good?
Are you kidding me? The fishing is great! "Good bass, pike, and other fishing… in close proximity to other beautiful lakes, bountiful with fish." But there's more than fishing, right? (Of course.) "Boating, evinruding, bathing, tennis, croquet, quoits." Wait… "quoits?" (Like horseshoes.)
What about food and lodging? How can they possibly feed and sleep everyone?
"Meals are first-class – home cooking. (Lodging is) Cabins, sleeping porches, bath room(s)." Wow… surely there's a cost! They can't possibly host so many for free. "$3 a day for lodging, three meals, and a boat. You get hot water too!" (Wait… what???)
That was in 1920. 100 years ago. That was before Alexander John Ruttger (known as Alec) convinced Minnesotan officials to run with the "Land of 10,000 Lakes" slogan on license plates. Before Ruttger's expanded from a "large log building which served as a dining hall and lounge… with 24 cabins, a general store, a garage, a sporty nine-hole golf course, a baseball diamond, a tennis court and a trap-shooting court" to the massive, modern and rustic-luxurious property it is today. (Golfers, if you caught that, Alec's Nine was the first resort course in the state of Minnesota!) That was before Alexander John Ruttger, Jr. (known as Jack) was born, before he met and married Ann Hanlon (in 1953) and took over operations (in 1955) at what had become "Ruttger's Bay Lake Lodge." That was before Mae Ruttger Heglund wrote the fantastic book that the above excerpts were taken from, and before Aimee Ritchie finished "The Ruttger Song."
"There's a place we all know. It's the place we all go. It's Ruttger's Bay Lake Lodge. The days full of sunshine. The nights sweet and cool. It's a kind of life that comes once, so that you'll come again every year, and you'll meet those so dear, where you played, fished, or golfed day or night. When the time comes next year, we will all meet you here – at Ruttger's Bay Lake Lodge!"
Sounds like quite the place, doesn't it? Heck of an origin. Such an incredible legacy. And that's just an extremely condensed summary of the story (a story that remains anything but finished). The magnificent family resort that stands at Ruttger's Bay Lake Lodge today is 120 years of everything I've listed, and unbelievably so much more. Today, the resort is managed by Jack's son Chris, and he's both honored by the position, and specifically proud of their legacy as "Minnesota's First Golf Resort." That original resort course "Alec's 9" still thrives and is complemented by an 18-hole championship course called "Jack's 18." The food served on-site remains "home cooked" from four restaurants: Ruby's Dining Room, The Bear Pine Bar and Grill, Auntie M's Coffee House, Baked Goods and Ice Cream, and Zig's Restaurant and Bar (Zigs is temporarily closed, the other three are Take Out only during COVID restrictions), and the lodging has expanded time and time again (to accommodate the growing throngs of guests) from the cabins to the lodge, and the multi-bed (and bath) villas and cottages. NOTE: For the guest's convenience, Ruttger's offers an extremely popular Resort Plan – includes breakfast, dinner and free golf on Alec's 9 – or a-la-carte food and lodging. I say all of this to assure you Ruttger's Bay Lake Lodge is so much more than "just a golf resort" even featuring The Fine Line Salon & Spa. And yet, golf is what brought you to this article, so golf is what you're probably waiting for.
As one of the most scenic rounds in the Brainerd Lakes area, Jack's 18 is a house-free, fun frolic through the hills and forests around Goose and Bass Lakes. (Download the Jack's 18 App for their hole-by-hole yardage guide and much more!) Easily one of the best values in the area, the course is managed by local PA Announcer and VoiceOver Talent, PGA Golf Professional Big Dave Sadlowsky. Dave's energy is contagious, and his passion for youth golf is exactly what a resort like Ruttger's needs to continue its outstanding tradition of catering to all ages. Active in the area schools, Dave's commitment to growing the game likely contributes greatly to growing the resort as well. And Alec's 9 is the perfect place for beginners and those who love a quick round to practice.
A quick tour around Jack's 18 reveals a handful of signature holes. The 3rd hole is a mid-length but tricky Par 4 that loops around a wall of trees. Holes 8 and 9 are great "lake loopers," with the 8th green surrounded by a ring of trees and the beautiful 3-par 9th a pretty, fun finish to the front nine. On the back side, the 13th is another tricky teaser where layup angle is critical for a decent chance to hold the skinny green. And then you prepare for a superbly scenic 5-hole stretch to close your round, culminating in a crazy cool 3-par over water (both nines end with Par 3's). Take a seat on the swing on 18 to soak in your surroundings and revel for a few moments at what it must have been like 120 years ago to have NONE of this here, and only a wish and dream to make this place a home for you and all those you love.
The Ruttger's family has certainly achieved that dream at Bay Lake, and so many others have profited tradition-wise since then. The Ruttger's family summer home has become the summer home for many of you. Their lake… your lake. Their roof… your roof. Their table… your table. Their friends… your friends.
They've welcomed and entrusted you with their summer home. Now it's your turn to introduce your friends and family to what Ruttger's Bay Lake Lodge is all about. Bring them up. Bring them over. Bring them home!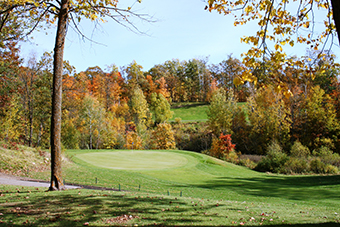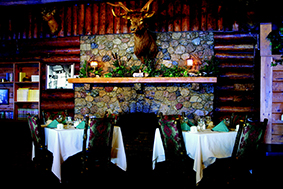 Clubhouse and Pool at Izaty