The Wilderness At Fortune Bay – Wild Wonder
By E. Nolan
"What do you miss?" I've asked my wife, from time to time this year. "Friends," she says, "And family… stress-free shopping… doesn't feel like we've had a weekend in months."
"What do you miss the most?" Teachers have asked my kids, relating mostly to the eccentricities and inefficiencies of distance learning. "Friends," they say. "And sports… school lunches even." (Okay, now…)
"What do we REALLY miss?" It's bounced around on social media – a blanket question with similar replies, of things we'd all (or mostly) taken for granted the past few months.
"What Have We Been Missing?"
Golf. For sure. Midwesterners miss our golf nearly half the year as it is, so this extended season of "separation anxiety" (though unique) wasn't exactly novel. That said, there's something about THIS particular summer that has me (and many others) looking forward to golf getaways more than ever. "Anywhere in particular you really miss?" I'm asked. "Anywhere you're especially eager to play?" Come on, now. You know the answer to that. I can't wait to get to Fortune Bay.
The Wilderness at Fortune Bay is, and has been, the geographical summit of the Minnesota golf scene since 2004 – THE northernmost star in a state full of brilliant, golfer-guiding beacons. The Jeff Brauer designed course has been peppered with more accolades than it has boulders, and remains an ascending fixture on Golf Digest's "Best 100 Public Courses in America" list. At only 220 miles north of the Twin Cities (90 miles from Duluth), I often wonder how so many golfers haven't yet played it. (What are you waiting for?) "Is it really worth the drive?" I'm asked far too often. Is Tiger Woods good at golf? (The answer is emphatically the same to both questions.)
This will be the ninth straight year I've visited The Wilderness. It's a five-hour drive (from home) rife with anticipation for all we know we're getting. The wild, natural beauty of remote Northern Minnesota is a given – a kaleidoscope of vibrant colors in Spring, Summer and Fall. Close to Ely and the famous Boundary Waters, it's a weekend trip that can easily fill a week with other activities – bring a canoe, kayak, tent and/or stack of good books. The Casino Resort features a full-size hotel with a pool and event center adjacent a marina, making it extremely popular for fishing tournaments, concerts and other entertainment hosting.
Fortune Bay is a resort in every sense of the word, with something for any/all indoor and outdoor enthusiasts. Visiting circumstances may be a bit different (temporarily), but rest assured the staff are ready for your visit, and the facilities are as open as they can be.
NOTE: The resort's staff do a FANTASTIC job of keeping their websites updated – a fact that is more critical this year than ever, as guests seek answers to a variety of stay and play questions. Check out FortuneBay.com and GolfTheWilderness.com or call 1-800-992-4680.
NEW IN JUNE: The hotel reopened June 1st with a limited capacity intended to assure that every room is cleaned to the extreme, and every guest's personal space is protected to the max. That capacity will, of course, expand as the statewide restrictions ease. In terms of dining, The Gold Mine Grille offers a diverse take-out menu, and the Wilderness Grill (in the golf clubhouse next door) is open to on-site dining with a new chef, new menu and the opportunity to actually table up to fresh food. The expansive patio overlooking the 10th hole affords The Wilderness both the room and the view to accommodate and awe more than most Minnesota courses can, which (obviously) benefits the visiting golfer. (The Sunset Steakhouse and Tamarack Buffet in the Casino will reopen as soon as they can safely do so.)
The Casino at Fortune Bay is typically quite the active hub, and the resort staff has been diligently preparing for an onslaught of eager visitors. There are plenty of slot machines and game tables to accommodate everyone, and to assure proper "social distancing" every other machine has temporarily been turned off. (Don't worry, the "winning machines" were left on.) Masks are temporarily required on the casino floor and sanitation stations are available throughout. Bottom line: Your safety is always a priority.
GOLF: Not to be outdone, The Wilderness has some updated features to flaunt. This year's guests will roll off in new, luxurious, GPS-equipped, golf carts. The popular Finn Golf Cycles are back (and always in crazy-high demand) with four upgraded cycles. (Check out the video of Ryan and Rachel cruising up hole 13 on the website. $10 says Ryan missed his putt.) I'd use a Finn Cycle every round if I could, especially at a place like this!
While advanced payments over the phone are quicker and preferred (reservations ARE currently required) you CAN check in at the pro shop. One rider per cart (unless you share a home or arrived to the course in the same vehicle), flagsticks stay in, and no rakes… in general, protect yourself and respect others and you're all good.
Whether you've played it before or not, it's important to note that The Wilderness emerged from the winter in pristine shape. Jeff Brauer's wild greens are already playing fast and fun. The course is a collection of memorable signature holes from beginning to end, with many nominees among the "Top 10 in State" in an assortment of categories including: "Best Opening Hole," "Best Par 5 (#1)," "Best Par 3 (#3)," "Prettiest Par 3 (#3)," "Favorite Green (#3 and #5)" and "Best Short Par 4 (#13)." GolfGetaways Magazine even listed the Par-3 3rd hole among its "101 Prettiest Golf Holes in America."
Playing from 7,207 yards at the Gold Tees down to 5,324 from the Green Tees, The Wilderness is as challenging (or easy) as you want it to be and more beautiful than you likely imagine. Playing up and down over boulder-filled hills, through valleys, across an island green, over streams and along the lake (without a single house on the course), the diversity of playing terrain is absurdly awesome. It's one of the few public courses in the entire country that can legitimately claim having a dozen or more signature holes.
Off the course the service has always been exceptional and somehow or other they always manage to find the best chefs to heat up their kitchen. Chef Bryan Morcom served his country proudly in the Navy, and now proudly serves the resort's guests his favorite recipes collected from 26 years in the restaurant industry (13 of those years at Alma in Minneapolis). Bryan knows what works and will have three seasonal menus this year delivering locally-grown ingredients in fabulous ways.
A compelling case can be made that The Wilderness is Minnesota's best golf course – without question one of the five "must plays" in the state. Rankings are subjective, of course, but the fact remains it can't be your favorite course if you haven't played it, so go play it. Give it a chance to impress you… to be the course you miss the most when you look back at the end of the year.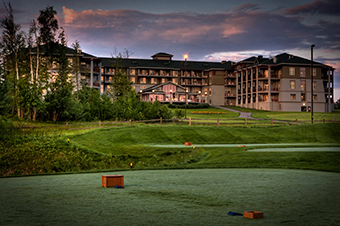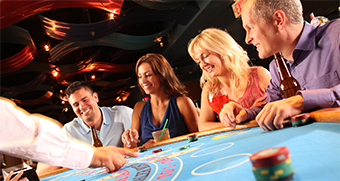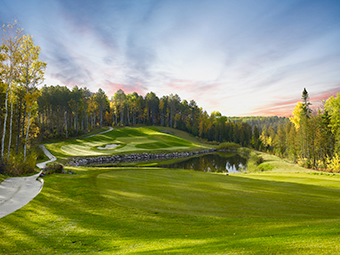 The Wilderness at Fortune Bay #3 Photo Courtesy Peter Wong Photography