Giants Ridge – Minnesota Nice – Twice
By E. Nolan
It wasn't long ago Minnesota was an overlooked golf destination. Locals had their favorites, and the Brainerd Lakes were a popular summer draw, but there was nothing pulling people away to new places. The beauty of the north, particularly along Lake Superior's North Shore was always undeniable, but other than waterfalls and nature trails there was little allure for us stick-swingers. And then… well… Jeff Brauer. And then… well… Giants Ridge.
Jeff Brauer built The Legend at Giants Ridge in a monumental architectural project far, far away from anything else in the state. The course was so out there it made the word remote sound crowded. There was almost no way for it to survive and thrive (by most accounts) doomed to fail. But survive and thrive it did, garnering Top 100 status among several expert panels. Suddenly, a state with nothing (public) noteworthy north of Brainerd had something that people were driving from all over to visit and play. The Legend was considered almost instantly one of the three best courses in the entire state. Then came The Quarry.
There were big plans for The Quarry, including a stretch of "Pebble Beach cliff holes" that unfortunately never materialized. But many believe that what Jeff Brauer DID pull out of the land he was given to work with was even more remarkable. The Quarry not only quickly cracked the national Top 100 charts, it rocketed up into the Top 20 in the entire country, and surpassed The Legend (and others) to become the #1 course in the state. Two epic courses at one resort in northern Minnesota, scarcely a mile away from each other. Two GIANT reasons for people to drive (and now fly) from all over. People started pairing the duo at Giants Ridge with another new Brauer development just north in Tower and suddenly northern Minnesota was circled on every golf nomad's map. "What other Midwest golf destination has three bucket-list worthy Top 100 courses within an hour of each other?" Editor of GolfGetaways Magazine, Darin Bunch, asked me. "Around here," I replied. "Kohler, Wisconsin." And suddenly Minnesota wasn't just on the map, it was its own golf map.
The new Director of Sales and Marketing at Giants Ridge is Steve Rahkola and he's particularly excited about this year as it marks the 25th Anniversary of The Legend. "Like you said, it's what sparked all the buzz," Steve quips. "Its success paved the way for all the other great courses up here to be built and flourish." I joked about him having an easy and enviable job, but he welcomes the ribbing. "The best jobs are at the best places, so I'm happy to have one of the best jobs." He does have that and working with a Minnesota Golf ambassador like Head Golf Professional John Kendall is the icing on the cake. "John knows what works and doesn't work up here," Steve says. (And far more works than doesn't, trust me.)
I've made the annual trek up to Giants Ridge now for 8 of the past 9 years, and every time I play both courses. When asked to pick a favorite it's hard, but I land on The Legend because it has my favorite golf hole in all of Minnesota – the Par 3 17th. 17 was featured in GolfGetaways Magazine's "101 Best Golf Holes in America" (one of only two in Minnesota) and as a photography addict (even before Instagram) I've shot that hole from every angle (including from the water). I told my kids if there was anywhere in Minnesota I wish I could build a house it would be overlooking that hole and lake. "That'd be sweet," my son said. "As long as it's not you that actually builds the house." Point taken.
The Legend is a unique course for a number of reasons. It's built into the base of one of Minnesota's only skiable mountains – incidentally what Giants Ridge turns into during the winter (a full-service ski resort). It offers what I call a "double-barrel-shotgun start" straight out of the clubhouse, with both holes (1 and 10) firing out and over a deep ravine to mirroring fairways. "There's a fox that lives in that wall over there," the starter told us. "And he'll occasionally run up and steal a golf ball or two." We laughed, doubting that was true. And then the fox stole my wife's golf ball.
The Legend has a strong set of Par 3's, three of them involving water carries to tricky greens. It plays up and down over some crazy terrain, has a signature "footprint" bunker on the Par 5 third hole, and has some incredibly long but scenic transitions from hole-to-hole on the back. "It's a beautiful course," John Kendall says, "but then so is The Quarry."
The Quarry is an entirely different animal. As the perennial Minnesota favorite of national panelists it has a draw and presence that few courses in the Midwest have. And it's hard. "Only if you're not any good," my son says. He prefers it over The Legend and I get it. Quarry is a rough and rugged beauty. You get a lot of the mountain settings, and some pretty dramatic tee shots, but you also get a bit of a Carolina feel. "That's intentional," architect Jeff Brauer acknowledged while I visited with him at his home in Texas. "A group of us went out to North Carolina prior to building The Quarry and played Tobacco Road, just north of Pinehurst. That course had such a lasting impact on me, personally, and I thought it'd be pretty cool to bring some of Mike Strantz's features to a design here in Minnesota." Cool is right, and The Quarry at Giants Ridge was the perfect place for it. The blowing fescue meshes well with rocky outcroppings and tricky greens.
Brauer is often asked to pick his favorite between his three original creations Up North, but that's something he's yet (and unlikely ever) to do. "My favorite thing about all of them is that I feel they're all different. They each have their own personalities, their own strengths. I love each of them uniquely but equally."
Giants Ridge is more than just a golf and ski resort. Adjacent to the little town of Biwabik, it features two of the area's best dining establishments. The Burnt Onion is in the Main Chalet on-site at The Legend. A popular post-round and evening hangout, it has an eclectic and evolving menu that satisfies all palettes. The other dining hotspot is the Wacootah Grill at The Quarry clubhouse, featuring one of the most incredible patio settings in the state, on the cliffs overlooking the 18th green and the stunning Lake Mine.
Giants Ridge hosts a ton of golf groups and easily accommodates the crowds through an assortment of lodging arrangements including a personal favorite – Shawn Callahan's Green Gate Guest Houses – The Lodge, The Villas and a few other nearby options. Green Gate offers unique custom lodges (including a Barn and Miner's House), as well as condos for bigger groups, and the Villas offer a lakeside setting with kayaks, a pool and other amenities. In other words, year-round Giants Ridge is a destination not just for golfers and skiers, but for couples, families and outdoor adventurers of all sorts.
"We currently offer a unique advantage over most other Top 100 courses," Steve Rahkola says, "in that we still have some tee times available this year. We are accessible and affordable… like The Legend and The Quarry… The Perfect Combination."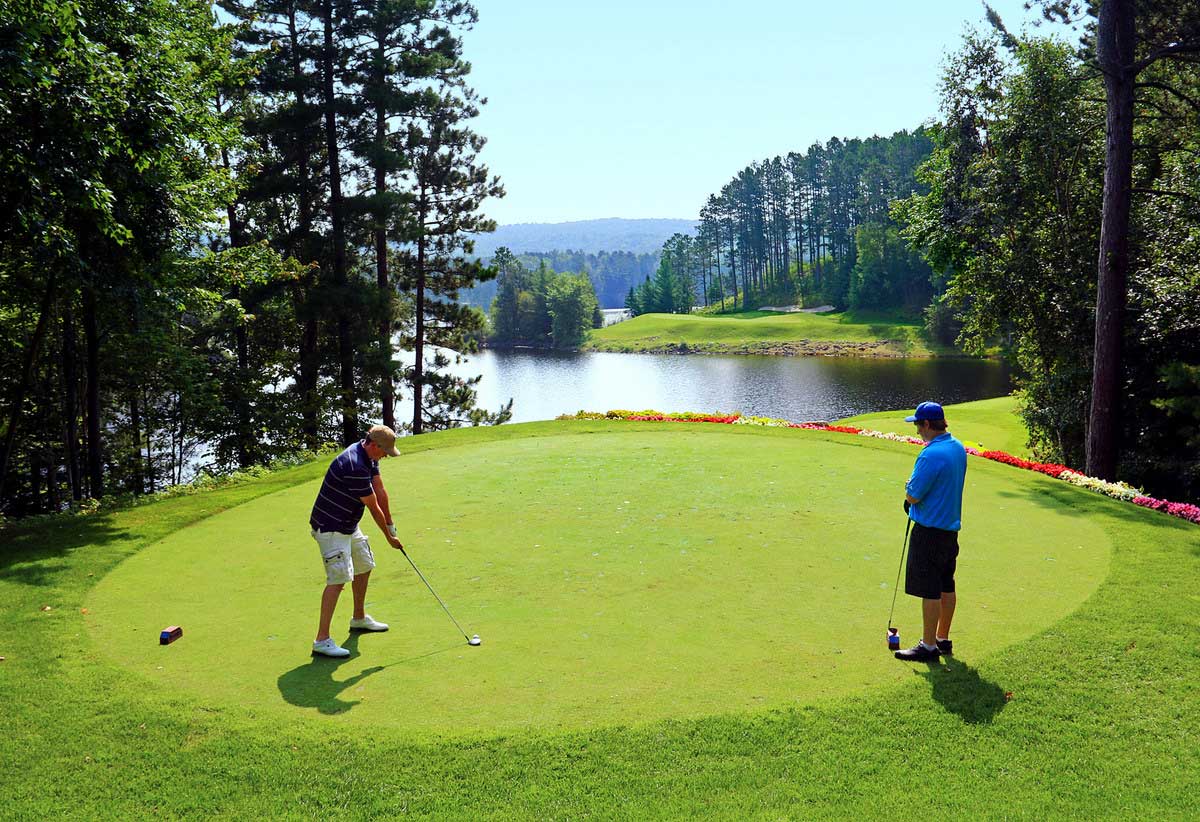 Giants Ridge #17 Photo Courtesy Paul Plutswik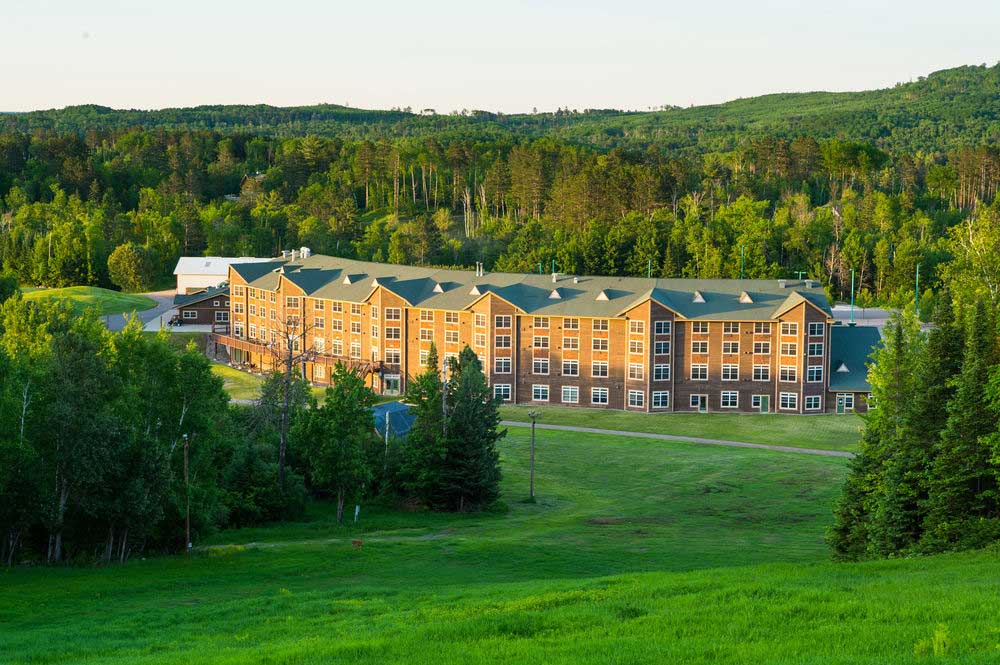 The Lodge at Giants Ridge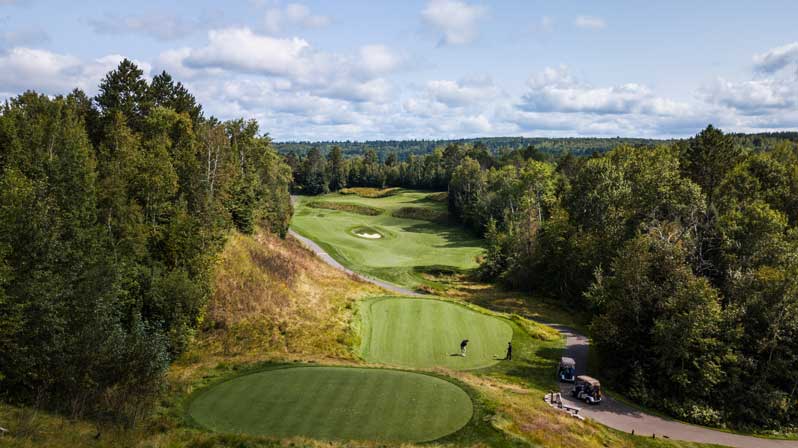 The Quarry at Giants Ridge