The Wilderness At Fortune Bay – Big Game Hunting
By E. Nolan
I've seen one moose in Minnesota. One. I've heard there are many, but I've only personally seen one. "You never forget that first moose," former GM of The Wilderness, Tom Beaudry, told me. "As first impressions go, it's really that spectacular." He's right. As first impressions go few things are as spectacular as seeing your first moose but seeing The Wilderness at Fortune Bay for the first time was just as impressive.
The architect of The Wilderness, Jeffrey Brauer, has built three courses that rank (or recently ranked) in the U.S. Top 100 Public Courses – all three of them in Minnesota… all three of them within an hour of each other. The Wilderness isn't his highest ranked by the so-called experts, but "It probably has the most signature holes." Brauer isn't one of those architects that self-proclaims all of his holes "signatures." He's a realist and knows that even the very best routings in the world have "transitional holes." "But," he says, "if there aren't ten legitimate signature holes here…" His voice trails off. "Let's just say, if you told me your ten favorite holes at The Wilderness, I'm guessing we'd have at least five different ones." The fact that's he's right about his supposition underscores just how incredible the cumulative design is. In fact, NONE of Jeff Brauer's five favorite holes at The Wilderness rank in my personal Top 5.
Those of you who have been up to play it already, you know what I'm talking about. You know about that first hole – that Par 5 that looks like it's four miles long and littered with boulders. You know about the Par 4 second hole that looks even longer. You know about the Par 3 third hole that was ranked among GolfGetaways Magazine's Top 101 holes in America – the only Par 3 in Minnesota with a green that doubles as a basketball backboard (slight – very slight – exaggeration). Two holes later there's a Biarritz green with three diabolical pin positions that are all a blast to attack. Two holes after that, a drop-shot Par 3 with views for 100 miles, followed by another epic Par 5. And that's only the FRONT nine!!!
Those of you who have never been to The Wilderness are putting your hands together in the "Timeout" sign. Hold up. Where is this incredible course? I'm glad you asked. The Wilderness at Fortune Bay is located north and west of Tower, which is just west of the popular Ely (Gateway to the Boundary Waters Canoe Area). That's 200 miles north of the Twin Cities – only three hours away from a couple hundred thousand golfers. GM Ryan Peterson told me at the Minnesota Golf Show, "It always amazes me how many people tell me daily that it's their first ever visit there. You'd think at some point in time there'd be more repeat players than new players, but new people just keep coming and coming."
The Wilderness at Fortune Bay is a popular destination for Twin Cities golfers, to be sure, but it's also a major draw to those north of the border. "We get TONS of golfers from Thunder Bay," Ryan says. "And all over Ontario for that matter." They're coming for The Wilderness – yes – but they're also coming for Fortune Bay.
Fortune Bay Resort and Casino is a destination in and of itself. The 173-room and suite palace sits on 40,000 beautiful acres of Lake Vermillion, and is an alluring beacon of the north to year-round outdoor fanatics categorized by their passion – fishing, boating, biking, hiking and/or (yes) golfing. That's on the outside. The inside at Fortune Bay offers so much more. The hotel has a family-friendly side, boasting an indoor pool and sauna area with panoramic floor-to-ceiling windows overlooking the lake with a game-loaded arcade just down the hallway. Kids can find something to eat at any of the four restaurants, but the adult menus are FAR more diverse and inspiring.
The Sunset Steakhouse showcases steaks (obviously) but also an assortment of seafood and fancy appetizers (even some PB&J Wings)… soups, sandwiches, fish and some international favorites. Everyone can find something to love there. Or you can continue down the hall to The Gold Mine Grill for a quick bite, snack, dessert, drink and a look-around at all the action on the Casino Floor. Also in the Casino (but on the 2nd floor) the North Star Bar, has comfortable chairs and large TV's for hanging out and watching the game.
The Casino floor is packed with action, with some 800+ slot machines, including keno and poker. There's a Blackjack Pit and No-Rake games (plus some high-stakes action on weekends). The Poker Room entertains with spread-limit games. Once again, the "something for everyone" theme resonates throughout. COVID put a damper on the concert and event hosting, but all of that is making its way back as the demand grows steadily for more outdoor sights and sounds in the Great North. While the biggest of events might be harder to schedule, the resort stays packed with corporate events (from Minnesota, Wisconsin, and Canada), especially considering the Fortune Bay event center has the capacity to host 400+ people in the Woodlands Ballroom. In all they offer some 10,000 square feet of meeting and ballroom space across three separate meeting rooms.
I let the ball drop a few paragraphs ago when I left off on the course description after hole 9. Those who don't know better might think that's because I like the front nine better – or feel the back lacks the necessary "je ne sais quoi" to close the deal. The exact opposite is true. The back nine channels out from the clubhouse (beneath the restaurant patio) between the two distant mounds then climbs "the mountain" to the casino, before running along Lake Vermillion (across an island green Par 3 and two superb back-and-forth short, lakeview Par 4's. You then go from the lowest point on the course to the highest point on the course before dropping on hole 18 to the pond next to the golf clubhouse.
Whenever I visit Jeff Brauer at his home in Dallas, Texas I remind him that The Wilderness is my favorite design of his. "I get it," he says. "A lot of people score well there, so they love it." He's too quick to give my game credit. I couldn't tell you what I score there, but it's seldom good. On the other hand, I can remember every single hole forwards and backwards and no two of them are remotely the same. THAT is what I love… that and it is so darn photogenic. My social media accounts are stacked with Wilderness pics.
There are courses whose names don't make sense, and then there's The Wilderness. That's exactly what it is… exactly what it feels like. No houses. No noise. No pollution. Just pure, natural beauty. Is it worth the three-hour drive from the Twin Cities? Yes.
It's worth the twenty-hour drive from Dallas.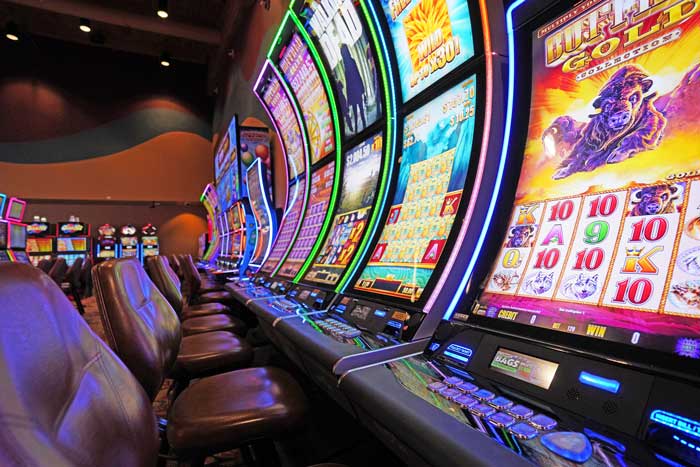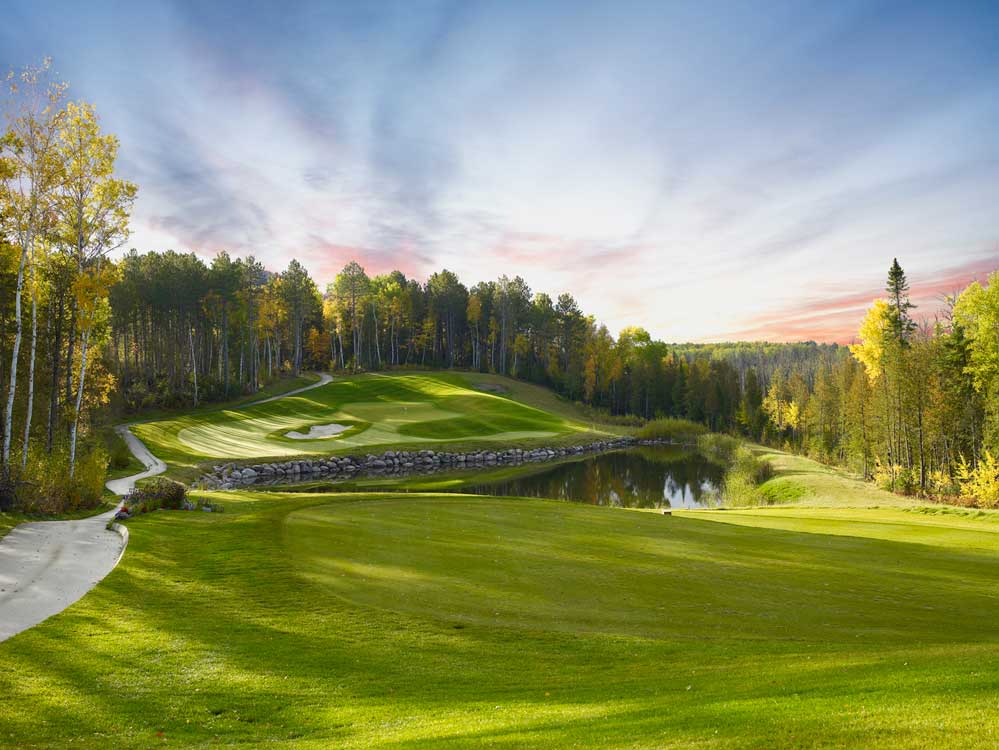 The Wilderness at Fortune Bay #3 Photo Courtesy Peter Wong Photography