Want a Career in Golf? Tee it up at the University of Nebraska-Lincoln!
By Will Brogan
"You'll never work a day in your life if you do what you love!"
The above saying could be considered a goal to achieve in the "real world". If you love what you do, it never feels like work. Well, what if there was an opportunity available where "you can turn the game you love into a career you love"?
Most people would jump at such an opportunity! For almost a decade, the University of Nebraska- Lincoln (UNL) has been doing exactly that through their PGA Golf Management Program. If you or someone you know is interested in having a career in the golf industry, UNL should be the first place to look!
ABOUT THE PROGRAM: The PGA Golf Management (PGM) program at UNL, which was established as an official program in 2004, is an undergraduate bachelor's degree through the College of Agricultural Sciences and Natural Resources. Upon completing the program, graduates will also be eligible to become a Class A PGA Professional.
Students will complete a specific curriculum of classes in golf course management, all of which are directly related to the golf industry. In addition, students will also receive a well-rounded education in subjects such as business, hospitality, restaurant management, tourism, and turf- grass management, as well as a comprehensive university education from the state's oldest and largest institution of higher learning.
To accompany the classroom-based lessons, PGM students have the opportunity to take their game to several of Lincoln's – and Nebraska's – finest golf courses. While Wilderness Ridge is the official home course of the University of Nebraska-Lincoln PGM program, PGM students have unique access to over nearly a dozen partner courses!
For winter months, rainy days, and even regular classroom sessions, students can sharpen their skills in the "state-of-the-art" HD teaching lab, or play more than four dozen courses from all over the world on one of two simulators. The teaching lab includes some of the best technology available in analyzing the golf swing; such as their FlightScope ball launch monitors, a putting system and technology for club repair.
As their website explains, the centerpiece of their technology is the high speed, high definition Phantom camera, which is capable of capturing images of the golf swing from 800 to over 2,000 frames per second. The Phantom camera's technology is the same caliber to those Swing Vision cameras you see when watching PGA TOUR events. Additionally, the PGM program has swing analysis technology that allows students and teachers to break down the golf swing using that same high-speed camera. To date, Nebraska's PGM Program is the only teaching lab in the country with that combination! Further, UNL's high- speed cameras are portable! They were able to get high-speed footage of the swings of many touring professionals at this past year's PGA Championship at Kiawah Island.
REQUIREMENTS – BEFORE, DURING AND AFTER: Alan Baquet, Ph.D., the Director of PGA Golf Management at UNL, says, "Our students are interested in a career in the golf industry, and to become a PGA Professional." Baquet actively recruits individuals to join the program. "Our typical incoming student has been a high school golfer, who usually played well in high school. They have to have a certain handicap – 12 or lower – to get into the program." In addition to a verification of playing ability, students need to be admitted to UNL and receive written confirmation of their acceptance into the program by Baquet.
Academic requirements for continuing in the program include: maintaining at least a 2.5 cumulative GPA, paying all program fees, competing in at least three PGM golf tournaments per semester, and participating in the PGM Student Club. Each year, the PGM Student Club puts on more than 30 competitive tournaments, so students will get to battle it out regularly on the course!
"To graduate, they have to pass a playing ability test, which requires about a 6 or 7 handicap", Baquet says. According to the PGM program's website, 120 credit hours, sixteen months of internships (full time, in three different fields of the industry), and completion of Level 3 of the PGA curriculum are also needed to graduate with a degree in PGA Golf Management from the University of Nebraska-Lincoln.
Part of the requirements of a PGA Professional's modules is to give lessons and teach the game of golf. Students regularly use the technology in the training lab to teach members of local high school golf teams, as well as the students of PGA Professionals throughout Lincoln and Omaha.
A NEW MARKETING APPROACH: The program has really started to gain recognition in recent years, so they're stepping up their marketing that much more! In addition to attending events like the Minnesota Golf Show, the PGM program has been featured on campus-wide recruitment materials, as well as being highlighted during ESPN's broadcast of the Nebraska- Penn State football game this past fall.
UNL's PGM program is very active in updating their Facebook page, often posting videos using the Phantom camera and their other advanced technologies. Even if you have no interest in the program, they still offer very fun facts and visually stunning videos that any golf fan would enjoy watching.
A CAREER YOU LOVE… Another saying often used in a variety of settings is to "save the best for last". Thus, how about we conclude with the best fact about UNL's PGA Golf Management Program? Since its inception in 2004, the program has produced 117 graduates. Every single one – including those who just graduated in December – has a career in the golf industry. Not just a job in golf, a career in golf! If that's "par for the course", then it's a great idea to make a tee time with UNL's PGA Management Program to "turn the game you love the career you love!"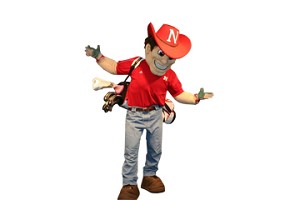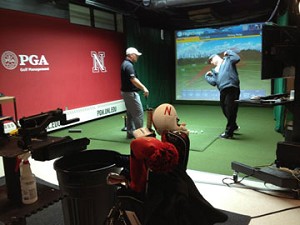 University of Nebraska PGM Program Teaching Lab