Territory Golf Club – St. Cloud Nines
By E. Nolan
I thought I had played all the best courses in the state of Minnesota. Territory took me completely by surprise. I should've known better though. Tradition Golf courses, Legends and TC of Iowa, are among my favorites in their respective states. I should've seen this coming. And yet, in a way, I'm kind of glad I didn't.
We need more pleasant surprises in the game of golf. There are far too many unpleasant ones. Hooking your first tee shot to a fairway three fairways over, losing all three balls from the $15 sleeve you just bought (on one hole), and four putting for a double bogey come to mind… We need surprises that let us see the good side of this sadistic game we love.
The residents of St. Cloud deserve a course like this. Pebble Creek in Becker is a worthy, proximate option, and everyone here is a fan of Troy Malo (Pebble's GM), but Territory marks its own uh, territory… 5 miles southeast of St. Cloud. Like the Carrie Underwood song… I was "Blown Away." It bears a striking resemblance to Dacotah Ridge, just without the casino marketing engine. A very prairie friendly course, with tall blowing grass, wide-open firm fairways (on the front), picturesque ponds and marshes, manageable carries, it has elevation changes galore, and choose-your-own-adventure options off every tee. It is likely, and unfortunate, that many state rankers for various publications have overlooked this course. If you're reading this, and haven't played here, don't make the same mistake.
Managed and operated, inside and out, by the Stang brothers, their relationship is definitely a unique one. Built like football players, and both looking too young for their designated positions, I told Mike (Golf & Marketing Director) to make sure he told his brother Dan (GM and Course Superintendent) how thoroughly impressed I was by the course conditions and he nodded. "I'll tell him they sucked," he said. Brothers.
He was kidding, of course. I wasn't. Incredible conditions. The first ten holes, and the 18th, are Scottish-links style, with greens averaging over 7,000 square feet. Firm fast fairways, thick rough, fescue lined, and playing around several ponds, over the Elk River, and over even more marshes, you can err pretty much anywhere else and have a great scoring 11 holes… but it's a different story on the other seven holes across the road.
Crossing over from 10 to 11, you enter a different world. The tall tunnel of trees leads you to a beautiful downhill par 3 hole boxed in by a wooden bridge on the left, a river short, and woods long and right. The lack of trees on the other eleven holes is made up for on these seven, and the water hazards are nearly doubled. Tight landing areas off several consecutive tee boxes will have you holding your breath and hoping you can do the impossible… hit it straight. If you can manage, persevere and have a short memory you can have the round of your life out here. Or… never mind. Stay positive!
Considerably unassuming, without even a roadside sign to promote their entrance (or existence), Territory Golf Club is as pleasant a golf surprise as they come. You're not surprised when you go to Pebble Beach, Pinehurst or Bandon Dunes and love it. You are when you go to St. Cloud and find this. And I love St. Cloud. And clouds. Nevermind.
Lest you think I must be overstating the quality of design, and conditions of the course, get on your computer or mobile device and go to www.TerritoryGC.com (I never do this in a review.) Check out their aerial Course Tour photos and Photo Slideshow. What you see is what you'll get… and much much more. Dan is far too modest to accept credit for the results, but as former Superintendent at Legends Club (in Prior Lake) he knows how to handle a course of this magnitude. "Every course has things you'd like to change, but here they're mostly small ones. The people of the area have been great to us, and my brother does a great job running the shop. Just don't tell him I said that." You got it.
When pressed to state what "small things" he would change, he admits he'd love to see every bug on earth disappear (few holes have any), and that it wouldn't snow in May again… (No guarantees) but that's about all he'd provide. Mike, on the other hand, wishes people know what they wake up to every morning out here. We saw deer, turkey, baby ducks and a lion (that turned out to be a dog). It was peaceful, beautiful, open-aired, nature at its best. I challenge ANY Minnesotan to identify 20 courses in the state, private or public, better than this one.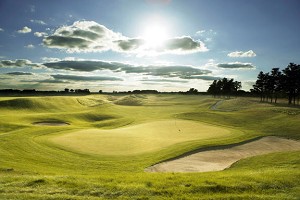 Territory Golf Club #8 Photo Courtesy of Dan Stephenson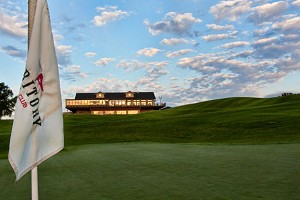 Territory Golf Club At Dusk Photo Courtesy of Dan Stephenson