Mississippi National Golf Links – Reborn
By Seamus McGee
Minnesota is known best as the state of hockey. It is also quite often referred to as the state of purple and gold, and, lest we forget, Goldy Gopher or the Minnesota Twins? Minnesota, too, is a state whose citizens proudly boast their abundance of lakes and rivers. Plus, there are streams of dreams for fishermen, boaters, and photographers alike. And then of course, the snowy months of drear that are here sometimes until early April.
What the great state of Minnesota is known best for in the golfing world, though, is the number of special sets of holes laid about the luscious land; from north to south and east to west. And south in Red Wing, there is great news emerging from the depths of the frozen streams and tundra. See, a special set of 36 holes known as Mississippi National is happily announcing via all major channels:
GOLF IS BACK!
WE WILL BE IN OPERATION AS SOON AS THE SNOWFLAKES FLY AWAY!
What happened? We'll spare the grassy knoll version, but the summary is as follows: Mississippi National was formerly operated by the Wendell Pittenger Group (who also designed the 36 holes), decided to not renew their lease, and thus the turning the golf course back over to the City of Red Wing. With little time to plan the City decided that 2013 would be a good year to take off and regroup. During this time, the Red Wing Municipal Golf Corp. was formed by a group of local residents who couldn't stand to see their golf course closed for another year. The volunteer board convinced Red Wing City Council to support the endeavor and began fundraising to provide the necessary working capital to make the restart a realistic possibility.
So now what? The Lowlands Course will be open as soon as the snow melts enough, with the Highlands Course soon following. A classic golf course, reminiscent of famed architect Seth Raynor's flavor and gift of flair with a nod to tradition, "The Lows" really has a lot going for it.
Number one, it's a fun course because it's a 'simple' and straightforward set of holes. Plus, it's super walker friendly. Face it, it's a lot more enjoyable to play a course that is in good condition, at a reasonable rate, and walk it without being sore for the next five weeks. Too, in a state that leaves a scatter of leaves, which often pose their own sets of problems, The Lows stay clean because of the types of trees and good work done by Superintendent Randy Juliar and his staff. Juliar, the Certified Golf Course Superintendent has been overseeing the grounds for over a quarter century.
The Highlands Course is known to be a tricky, but fun little stretch of spectacular. "The Highs" is a spectacular course and is as breathtaking as the view. The plan is to open it up as soon as weather dictates. "It's a little tougher to get up there as it takes a little longer for the snow to melt," said Nathan Gale, PGA Head Golf Professional. "But we'll be opening the Highlands as soon as possible."
Mississippi National comes equipped with new carts, a more convenient and player friendly approach, many learning opportunities, has incredible views, unique holes that won't leave you speechless (you'll be talking about them with your buddies over a cold pint of ale), and both courses are a ton of fun.
Nathan Gale, a Ferris State Professional Golf Management alum, is excited to be a part of the team leading the reopening of these two fine sets of links. With many ancillary talents, "the golfer's Pro" is eager to offer a great place to play golf and a fun atmosphere all year.
A Hastings, Minnesota native, Nate has been on staff with the First Tee Minneapolis in conjunction with the Minneapolis Golf Academy for the past two years. Prior to that, he learned a thing or two while working at Trump International in West Palm Beach, FL. "It is a really good thing what Red Wing Municipal Golf Corp. (with the support of local residents and the city council) is doing by bringing this great facility back to the community," he said. "Both courses along with our modernized décor and improvements will be great for the people who love this place to come back and enjoy all of it again."
The clubhouse, a stately manor straight out of a southern plantation, provides a perfect venue for your wedding. Once again, Mississippi National will be hosting outdoor weddings and receptions with a beautiful setting at the base of the incredible bluffs of the Hiawatha Valley.
Make a weekend out of it! Stay and play packages are available at the historic St. James Hotel in Red Wing. The St. James Hotel provides a charming 19th century atmosphere with incredible dining options at their three on site restaurant.
If you haven't been to Mississippi National, you don't know what you're missing. If you have been to Mississippi National, then you do know what you're missing, and you're glad it's back!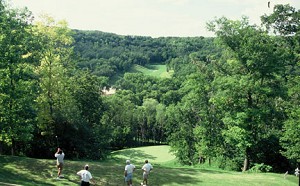 Mississippi National Highlands Course #17