From The Architect's Desk – Keeper Of The Green
By Kevin Norby
Golf courses are essentially big parks where land gets set aside as open space as opposed to being turned in to housing developments or some other more-intensive use. Some golf courses are developed or owned by cities, counties or park boards and some are privately owned as a for-profit business enterprise. In other cases, the development of a golf course is undertaken as part of a residential development to provide an amenity that will help increase lot values, accelerate lot sales or meet park dedication requirements. Regardless of who owns or who develops the course, golf courses provide a number of benefits. They preserve open space and provide social and recreational opportunities for the residents of the town or community. In recent years, I've noticed some changes in golf and golf course development.
Golf And The Environment
In addition to the recreational, social and economic benefits, golf courses provide a number of environmental benefits as well. According to the Golf Course Superintendent's Association of America (GCSAA), the average golf course is situated on about 150 acres of land. However, of those 150 acres, only about 100 acres of that consists of maintained turf. In addition, only 46 acres of that turf consists of more highly maintained fairways, tees and greens. Here are a few facts:
According to the Environmental Institute for Golf, the average golf course consists of:
• 30 acres of fairway
• 7 acres of driving range/practice facilities
• 3 acres of greens
• 3 acres of tees
• 3 acres of clubhouse grounds
• 1 acre of turfgrass nursery
• 51 acres of rough
• 24 acres of non-turfgrass landscapes
• 11 acres of water
• 6 acres of buildings
• 4.5 acres of parking lots
• 4.5 acres of sand bunkers
Because golf courses have such large areas of woodlands and non-maintained areas, they serve as wildlife corridors and provide habitat for birds and animals. They also serve as natural filters and storage areas for runoff. In recent years, there seems to have been a shift towards creating more sustainable golf courses. In particular, I see a lot more interest from owners and municipalities in working to reduce maintained turf and water consumption. We've also done a number of projects with municipalities and watershed districts where we've been asked to design stormwater storage basins on the golf course to handle runoff from surrounding residential neighborhoods or street improvement projects.
The Golf Course Superintendent
Golf courses are often accused of using too much water or too much fertilizer. However, I think people often forget that or maybe don't realize that the people that are responsible for maintaining the golf course are in fact highly trained and highly educated professionals that are licensed by the State.
If you're picturing greens superintendent Carl Spackler portrayed by Bill Murray in the movie Caddyshack, you couldn't be further from the truth. Most superintendents have a college degree in agronomy or turf management and, unlike the average homeowner, the superintendent is required to maintain a chemical applicators license. They have the proper training, experience and equipment to understand how and when to apply only what is required.
Like professional architects, engineers and attorneys, the golf course superintendent is required to complete annual continuing education training to insure that they are familiar with new products, new regulations and new research. With a staff of 12 or 15 people, the last thing a golf course superintendent wants to do is go over budget by spending more than they need to on water or fertilizer.
A Shift In The Status Quo
In America, golfers take for granted that the fairways and tees will be nicely manicured, the bunkers will be raked and the greens will be smooth and consistent. We've been told for decades that green grass is better and that's what we've come to expect – not only on television but also at our own courses. However, there is somewhat of a revolution occurring in the world of golf course architecture. Courses with a more natural appearance like Whistling Straits, Sand Hills, Chambers Bay and The Bandon courses have risen to the top of the golf rankings in recent years. These courses and many of the other higher-rated courses have a different look that incorporates natural landforms, fescue roughs and shaggy blowout style sand bunkers.
It seems to me that this revolution began back in 2002 when the USGA hosted the U.S. Open at Bethpage Black and then two years later held the Open at Whistling Straits. Prior to that time, most Americans idea of what a golf course should look like was wall-to-wall turf and tree-lined fairways. Although I love watching The Masters at Augusta National as much as the next guy, it's not realistic to think that other courses can or should aspire to provide those kinds of conditions.
The American golfing public seems to have finally begun to warm up to the more natural look that Europeans have embraced for decades. I find it amusing how golfers can take a trip to Ireland or Scotland and come back and rave about the amazing courses they played but then complain when the rough at their own course is too long or the fairways are not dark green and perfectly manicured.
With today's unsettled economy golf course owners, superintendents and architects are placing more emphasis on making golf more enjoyable and more affordable. One way to accomplish that is to create courses that are more sensitive to the environment and easier to maintain. That translates to lower costs for the owner and lower green fees for the golfer. We still like our dark green grass and perfectly raked bunkers here in America, but if the golf rankings are any indication, the public is warming to the idea that there's an acceptable alternative to wall-to-wall turf and fairways lined with ash trees.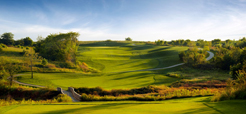 No.5 at The Preserve on Rathbun Lake in central Iowa. The natural landforms, fescue roughs and native grasses provide habitat, reduce water consumption and provide a natural setting for golfers.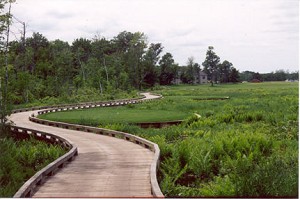 Wetlands like this one on No.17 at The Refuge in Oak Grove serve as stormwater detention areas and natural filters for stormwater runoff from surrounding roads and residential developments.