Dacotah Ridge – It All Adds Up
By E. Nolan
It's hard to imagine what made Rees Jones, one of the greatest architects in the history of golf (and son of another one – Robert Trent Jones), decide to come out here to Southwest Minnesota of all places and create this masterpiece surrounded by golden fields of corn and tall, tall grass. Probably money. Well, if that is what it was, whatever he got, he should have gotten more. Talk about leaving a place nicer than when you found it! Take the greatest public courses in the Twin Cities area, be it StoneRidge, Troy Burne, Legends Club or whatever and picture them without houses, without highways, without a packed tee sheet, just pure wide-open golf. That's Dacotah Ridge. That's what "The Open Doctor" gave us.
All right, perhaps more credit should be given to the Lower Sioux Indian community, the owners of Jackpot Junction Casino Resort and Hotel, the rightful "parents" of this incredible golf course. Jackpot Junction and its Lower Sioux Lodge are a glamorous host for these surroundings, with 378 deluxe rooms (many of which have Jacuzzis and/or fireplaces), a heated indoor pool (we are in Minnesota after all) and 440,000 square feet of gambling action. Jackpot Junction has over a thousand slot machines, thirty-some table games, regularly hosts poker tournaments, $70,000 Bingo events, and even has a new high stakes lounge with an intense laid-back atmosphere. (How's that for a paradox?)
A few feet over 100 miles from the Twin Cities, (just Northwest of New Ulm) it is just far enough removed from the hustle and noise of the metro, just far enough away to be considered an escape, and when you're here you do feel like you're on an island… albeit one surrounded by corn. Another luxury of these surroundings is the food. With lounges, bars, the Seasons Buffet, Caribou Coffee and Papa Johns, as well as their signature Full Deck Grill and Dacotah Restaurant, you have options galore to choose from. You won't have to leave to eat, that's for sure. Not only is the food fresh and refreshing, but the atmosphere, overlooking their championship golf course, really gives you something else to look forward to on your visit… a round of golf on (what GolfWeek considers) one of the 5 best public golf courses in the entire state of Minnesota.
Dacotah Ridge Golf Club. Safe to say this is the best golf course Southwest of the Twin Cities. You can even extend that "X axis" as far West as Rapid City and the "Y axis" as far South as Des Moines, if not further. (I apologize to those of you who failed geometry and/or 5th grade math… Translation: "a long, long way.") Which is why it's no surprise that, as remote as the course location is, it's always relatively busy here, all golf season long. "You'd be surprised at how busy we get here every single day," (I feel like I just said that.) Head Pro Eric Hildreth said. No. I wouldn't be. I've been there, and make it an annual "pilgrimage." I'm not awed in the least by how popular Dacotah Ridge is. A golfer even told me last year that it's the best course in Sioux Falls. (And, according to Google Maps, it's 140 miles from Sioux Falls.) Maybe that's why there are so many people with strange accents here. We don't have accents in Minnesota. But we've got great golf.
For a prairie course Dacotah Ridge is anything but flat, and far more than just grass and greens. Built on 240 acres of "rugged (rolling) prairieland" and featuring the many-headed snake-like (think Medusa) Wabasha Creek… those features, the trees, the acres of lake and winding design collaborate for one successful, wild, ride. People who have been here keep coming back. Magnetic repeat business, positive word of mouth, it all adds up. So, no, none of us are surprised. The course, on the other hand, surprises plenty. The topographic (elevation) changes are actually quite bewildering, and there's no way (on the drive over here) you'd imagine a course with so much definition, so much distinction, would be sitting here at the end of this road. The shock turns to awe pretty quickly. When thousands of people come here to gamble at the casino weekly and it only takes 200 people to fill the tee sheet. You do the math. (Really wish you'd have listened in math class now don't you.) This place is always rocking!
How about a little more on the golf course? It tips out at 7,109 yards, but can be played from the forward tees at just over 5,000. If you play from the right tees, a thoroughly enjoyable round is found somewhere between those numbers. The rating and slope are high, for both men and women, but then so is the beauty, so it balances out. Kind of. The first hole is a great starter, an uphill downhill combo that allows you to see all the elements of the course and sample the speed and bunker/fairway/green conditions that fortunately remain very consistent throughout. Water comes into play on many holes, and presents a healthy dose of beauty to several, including the pretty little par 3 4th, and each of the trio wrapping up the front nine. You're unlikely to forget cresting the hill of #9 and calculating your daunting approach across the creek to a very dangerous green, often with a captive audience overhead in the clubhouse. (A gentleman at the turn, on our last visit, suggested the best was yet to come. I asked him if he had any tips and he said he gave them all to the cart attendant. Uh… okay. Thanks.)
The eleventh hole is typically considered the "signature" hole, mostly for its jaw-dropping beauty, an all-carry par 3 over water to a rock wall, mound and bunker guarded green. Twelve and thirteen continue the aqua threat and then you're given a water break (double meaning not lost on me) for a few holes. Take advantage of the slight lapse in pressure from holes 14-16 because the two doglegged defiant closing holes require 106% of your attention and accuracy. Guarded by deep ravines, and that pesky Wabasha Creek again, you're wise to stay right, but foolish if you're too right. (Husbands everywhere can identify with that.)
When you're in this business long enough you gain a certain appreciation (or distaste) for particular golf course designers. Some torture you with their greens (Nicklaus), their bunkers (Dye) and others with sheer beauty (Doak, Coore & Crenshaw… and Rees Jones.) It sounds cliché (and it is) to say that in golf architecture, it can be quite the challenge to keep up with the Joneses. Rees is quite the magician. And at Dacotah Ridge, he somehow made the unbelievable… believable. If seeing is believing, you need to visit at least once. The Head Pro's message to anyone within 500 miles is, "You need to come here at least once." (I feel like I just said that.) Regardless, he's right. And it's certainly worth repeating.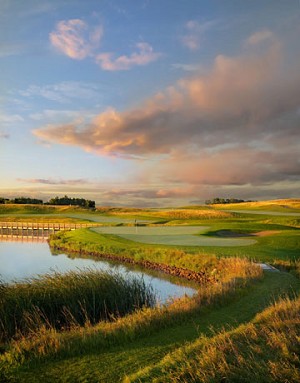 Dacotah Ridge #11 Photo Courtesy Peter Wong Photography