Cragun's Resort And Hotel On Gull Lake Presents The $600 Challenge
By E. Nolan
Let's start where we're going to end… with a loaded question. What is the best $600 you can spend in golf? I'd never thought of it before until Cragun's General Manager Eric Peterson asked me. Good question, though.
Let's see… In California that wouldn't even get you a round at Pebble Beach (since you now have to stay at the resort two nights to play there). In Las Vegas that wouldn't even cover the round at Shadow Creek (for similar reasons). You couldn't play the two courses at TPC Sawgrass in Florida for that, nor the two best courses at Pinehurst. (Definitely not with lodging figured in.) $600 barely buys you a new driver or Scotty Cameron putter. Man, what does $600 even get you anymore in golf?
I needed some parameters. Back to GM Eric Peterson. Would it involve staying in one place? (Yes.) Does it include food and beverage? (For the most part, yes.) Do you get more than one round of golf? (Yes.) Good golf? (Four of the Top 10 courses in the state of Minnesota.) Whoa! Wait. What?
It seems Eric already had the answer to the question. I just needed to look a little closer to home.
Everyone knows the Brainerd Lakes area is the Golf Capital of Minnesota. Four of Minnesota's top six golf resorts are there. What you might not know is how close those four resorts are to each other – geographically and in partnership. They have a "Three Musketeers Mentality" – all for one and one for all – and they reap the rewards from the masses of golf travelers and families that pack their pristine lakes and beaches each year.
I take my family to Brainerd annually – as every Minnesotan should – and I typically play five courses: Deacon's Lodge at Breezy Point, The Classic at Madden's, The Dutch and Bobby's Legacy courses at Cragun's and the Pines at Grand View Lodge. Every year.
Price out those five rounds and you're well over $600… but that's the best Brainerd has to offer. I'd almost feel ripped off not getting to play those courses on a visit. I told Eric as much and he smiled. "You're close. Real close." Really? Interesting. Not quite sure how that's possible.
So now I had to know and he was more than happy to reveal what Cragun's Resort appropriately calls their "Best 600 Package." You get three nights lodging in a Cragun's Lakeview Fireplace Room. (Okay, that's cool.) You get three breakfasts AND three dinners at Cragun's. (Nice. Thrice.) You get unlimited access to a huge indoor pool, outdoor pool, whirlpools, sandy beaches and an indoor Sports Centre. (Okay, we've got to be close to $600 now.) And then you get golf. (Excellent. So we get to pick one of the two Legacy courses at Cragun's to play? That's a heck of a package deal.) "No." Eric says. "You get to play BOTH of them. With cart. And you get a round at The Classic at Madden's with cart. And you get a round at Deacon's Lodge with cart."
TIMEOUT! I hold my hands up to form a "T" either for timeout or technical foul. This is too much. Excessive use of resources… or something like that. You're telling me you get six meals, three nights and four eighteen hole rounds of golf – with cart – all for $600 person (double occupancy)? "Yes." The General Manager nods.
So… you get to play the four best courses at three of Minnesota's best resorts, you get lakeside lodging and six meals ALL for $600? At this point he's probably wondering why this is so hard for me to grasp. But he's the one who needs to understand that the rest of America's Golf Industry doesn't usually work this way. The opportunities (vs. the costs) are seldom so rewarding to the golf traveler.
I raise my hand (and he tells me to put it down). But I think I've got the answer. I've discovered why Cragun's Resort is so frequently booked full – and why so many of those visitors are annual ones like our family. Value hunters who find great value seldom forget. The rewards – as diverse and plentiful as they are at a resort like Cragun's – keep them coming back for more.
Whether or not you've stayed at or played at Cragun's before you should know that they're always spinning the wheel – always coming up with new and successful uses for their fabulous amenities. This past year they added FootGolf to their reversible course and it has been a huge success with families – a great way to introduce the youth and soccer fans to the game of golf.
So much attention is paid to the packages at Cragun's – with good reason of course – but it's easy to overlook so many of the bonuses that come in those packages. Cragun's as a lakeside resort on Gull Lake provides access to so many different water activities: fishing, skiing, tubing and swimming among them.
Our family eats most every meal at the fabulous Legacy Bar & Grille – with all their theme dinners and the lively atmosphere – but the Paul Bunyan Basket Meals at the Hungry Gull are always a fun (and filling) diversion from our routine. There are other dining options, of course, but it's hard to stray from what you know everyone loves.
The heart of Cragun's Resort is – no surprise – the golf. Robert Trent Jones, Jr. left a lasting legacy here with his two championship designs – Dutch and Bobby's. GolfDigest awarded Dutch with one of only 24 5-Star Awards as recently as 2009. And, as GM Eric knows, I prefer the other! Furthermore, the entire facility is an Audubon International Signature Sanctuary. That's quite a testament to the quality of the golf conditions and experience at the resort… even without the reversible nine and the FootGolf courses factored in.
The Dutch Legacy course has a handful of signature holes. The stunning wraparound third and 3-par fourth and sixth holes give the front significant punch but that backside is just loaded with risk/reward and super high quality shots from the split-fairway 11th, the loon friendly lakeside 12th, and the incredible five-hole marsh run from 13 to 17.
Bobby's Legacy is every bit as impactful overall – if not more (depending on which golf writer you ask). There's the church pew bunker "Oakmont" fourth, and stunning eighth… bookended by another stellar pair of 3-pars at seven and the jawdropping 9th. And again, it's the back that takes the cake with four of my favorite holes in all of Minnesota at 10, 13, 17 and 18. The seventeenth hole was even featured in GolfGetaways Magazine's "101 Best Holes in America" special – one of only 3 holes in Minnesota included.
This golf and wildlife sanctuary begs you to keep your camera out. The call of the loon echoes through the woods and across the lake, eagles circle through the sky, and birdies are in abundance on the well-kept fairways and greens. Each of these two Legacy courses is the total package.
And we're back to where we began. What is the best $600 you can spend in golf? Well, to really maximize your value you've got to have the best of all worlds. You certainly get that at Cragun's. Three nights lodging, six meals, and four sensational rounds of golf. You could easily do much worse. But I'd challenge you to do much better. Anywhere.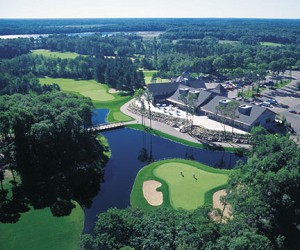 Dutch Legacy #12 Photo Courtesy Peter Wong Photography