Pete Dye, The Marquis de Sod: A Conversation With A Legend
By Will Brogan
Even in his late eighties, Pete Dye is still going strong designing and building golf courses. His career dates back to the early 1960's when he and his wife, Alice, co-designed what was then known as El Dorado Country Club, a modest nine-hole course outside of Indianapolis.
Dye's courses have played host to countless "major" golf events, including: four PGA Championships (with a fifth coming in August at The Ocean Course at Kiawah Island), a Ryder Cup, two Women's U.S. Opens (and a third this year at Wisconsin's Blackwolf Run), three U. S. Senior Opens and two Senior PGA Championships. In addition, the PGA Tour has annual stops at four of his designs, as well as one each for the Champions Tour and Nationwide Tour.
Dye's book, Bury Me in a Pot Bunker, co-written with Mark Shaw, is a must-read for any golf fan. But, to hold you over until you can read the "Dye-ography", here is my conversation with the "Marquis de Sod"…
Tee Times: This month's biggest event on the PGA Tour is THE PLAYERS Championship. What is your most vivid memory of building TPC Sawgrass?
Pete Dye: It was wet! The lakes that you see on the 17th and 18th holes are about five or six feet below sea level. Most of the fairways are below the surrounding land. We did that because I thought it looked better for one. Two, people [fans] walking along the edge of the fairway would be above the fairway [where the players would be hitting from]. We did that on most of the golf course.
TT: If you had to offer one piece of advice to an average golfer going to play TPC Sawgrass for the first time, what would it be?
PD: Most of the holes don't have bunkers in front of the greens, so even high handicappers can just roll the ball around the golf course, with the exception of the par threes. With the par threes, you know where they're hitting from, so we set it up so that they can carry the green.
TT: In this month's issue we're featuring Big Fish Golf Couse in Hayward, Wisconsin. Are there any design features or stories that are unique to that course?
PD: Tim Liddy was working with me at that time, and he did most of the work up there. It was a sandy area, and so far I guess it's held on! Most of the golf courses I build I'll keep going back to three or four times a year, but I've never been back to Big Fish. Unfortunately, I really don't know as much about it as I should!
TT: You and your family have never done a course in the state of Minnesota. Why is that?
PD: Never have, no. Most of my [golf course design] friends will design a course, then have a contractor build it. But Whistling Straits and all those, I built. You gotta be crazy to build up there because the weather's bad!
TT: Is there a particular type of land that is your favorite to work with?
PD: Sand, sand, sand! If you build a golf course that has sand, you've got it made! I've always wanted to build a golf course on a plot of sand, but never had one. All the great courses in Ireland, England, Spain and Scotland are on sand. Pinehurst No. 2's got fifty feet of sand underneath it. If you've got sand, you're in business!
TT: Can you offer some advice to someone who aspires to design golf courses?
PD: Find out what the owner wants. If you disagree, you can try to convince them. Or you may agree with them, you never know! But, when you're building a golf course, the changes you might make during the process of building it, whether you see something with the soils or something else you'll run into, modify them [right away], because at that time, the modification doesn't cost a whole lot.
TT: You have a unique way of creating angles on your courses to challenge the tour players while offering a fun and playable course for the high handicapper. Other than angles, what design features do you include to create courses like that?
PD: As long as you leave [the green] open in the front, the higher handicapper can get in. A good player can carry anything. But nowadays, to make the variation between the back tees and the front tees is almost impossible. Some ladies hit the ball 130 yards, which was the same twenty years ago, while the pros are now hitting it 330 yards. That's a 200 yards difference in what they're doing! The game is golf, but it's different than how they played years ago. So the variation of tees is very difficult, especially if the course is intended to host a major championship.
TT: What is the best part of designing golf courses from your perspective?
PD: I get a bunch of young kids that are usually right out of agriculture school or turf school, they don't know much about building. I'll teach them how to use a bulldozer, do this and run that. Then they'll start pushing dirt around and we'll build a golf course! Then they'll go out and now Bill Coore works with Ben Crenshaw [Coore & Crenshaw Design] and Tom Doak has gone out on his own. I enjoy working with all the young fellas!
There is little doubt that Pete Dye has had a more significant impact on golf course design than anyone else that started in the business in the latter half of the 20th century. Just look at this issue of Tee Times Press alone, as three of his courses are presented in some form or another: TPC Sawgrass (host of THE PLAYERS Championship), Big Fish Golf Club (as part of the Hayward, Wisconsin feature), and on the succeeding pages as the ladies of the LPGA Tour prepare to take on Blackwolf Run across the border in Wisconsin for the 2012 Women's U.S. Open in July.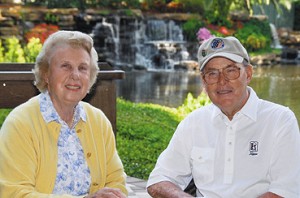 Pete and Alice Dye, both former Presidents of the American Society of Golf Course Architects, complement each other with their knowledge of the game and empathy with a broad range of players.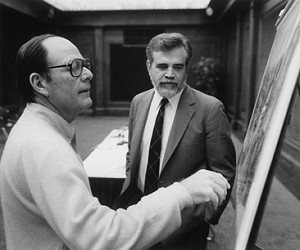 Herb Kohler and Pete Dye discuss the routing for Blackwolf Run.