Wisdom For Weddings: Tips For Couples Out There
By Will Brogan
There are only truly a handful of days in one's life that can be considered an unforgettable milestone; the birth of a child, an ultimate career achievement, the purchase of a home or dream car, and of course, getting married.
These days, "tradition" isn't exactly "mandatory", meaning you can come across an incredible array of ideas and styles when attending just a handful of weddings throughout the season. While that may mean that nearly anything goes, the mainstays of weddings are as strong as ever.
One of those mainstays is, of course, having your reception, and possibly even the actual ceremony, at a local golf course. Pristine scenery, landscaping, photographic locations, and beautiful banquet halls are all cornerstones for any golf course that prides itself in hosting weddings.
In this article, we'll explore a little bit of several aspects of planning a wedding – though all of it will naturally be centered on having at least a portion of the celebration taking place at the local links. Grab your garters and bouquets, and let's start walking down that aisle!
The Local Venues
You won't find a shorter golf season in the contiguous United States than what Minnesota has to offer, but that doesn't mean we lack outstanding golf courses. Many have gone to great lengths to prove that their wedding hosting capabilities are as good as their golf experience itself. Think about it: the wedding industry is considerably bigger than that of the golf industry, so why wouldn't golf courses dive head first into that industry, especially considering all the amazing wedding amenities practically built in to every eighteen hole-plus facility?
Some of the most wedding-friendly venues in the state include Crystal Lake, Mississippi Dunes, The Wilds, Oak Marsh, and The Links at NorthFork, each of those for a variety of reasons. Resort courses throughout the state can provide incredibly fun packages as well. Certainly, budget will dictate a great deal of what a couple are able to enjoy on their special day, but the good news is that this state has enough variety, both local and otherwise, to allow wedding parties to plan their day as beautifully as they desire to do so.
The amount of venues we have throughout the region means that you'll want to take a good hard look at many of them to assess the ones that truly stand out above the rest. What makes a course unique? Is there a view, a room, or a service that differentiates a course from the others that truly makes it your "must have" location? Certainly have an idea of what you're looking for in this regard before even calling around to set up appointments with coordinators. It will help you eliminate some courses to get down to a "short list", but also give you some specifics to look for, and it will allow you to get "beyond the basics" when actually meeting with wedding coordinators. They are there to help you, but you'll make their jobs considerably easier if you understand what is typically done and how you can take those processes and customs and mold them into your desires to make an experience true to you!
Guidance For The Grooms Out There
(Writer's Note: I chose to target the grooms with a majority of this piece because, let's face it, we didn't start thinking about "wedding" until shortly after we started thinking about "proposal". So in general, the groom is a little behind and in the dark about this process. Agree?
Okay, let's get back to it!)
Like any life-altering decision, doing due diligence and homework is totally necessary. You did it when choosing a bride, right? (If not, please stop reading this and DO THAT!)
Chances are, your bride has already envisioned, or even decided on, a great deal of details, many of which you never even thought were relevant. Roses or lilies? Flowers or candles? Plum or periwinkle? Yeah, it didn't matter to me either… Still, it's a smart idea to sit down with your bride and take the time to understand the thought process she has behind those decisions. Doing so may give you a greater insight into the decisions that will come down that line that will be more stressful because time is getting more and more scarce.
Ask how you can help. That will not only show you care and want to be involved, even if it's just "taking orders", but it will also allow you to mold your experience so that it's about your enjoyment as well. For example, try to take a proactive approach to the "guy side" of the wedding – within her wishes, of course. I'm not talking a trip to a certain "club", but more along the lines of planning the golf for anyone in the family who wants to play. Most courses, including the private ones, will allow for groups to play. In many cases the rounds will be at a reduced cost, or perhaps even free!
By doing things like these, you'll be more invested in the entire experience of planning the wedding with your bride, instead of "just showing up for the day". Don't be that guy. Help your girl. She'll thank you for it, but you'll also become closer as a couple the more you do together in planning your day.
Regardless of the "type" of bride you have, whether she's the "I've had this planned since Kindergarten" type or the "I can't make this decision without you" type, or even somewhere in between, it will likely be a very stressful time for her. There will be opinions from everywhere, only heightening the stress of the planning process. Your role as the groom… strike that… "soon-to-be-husband", is to support her as best you can. You know what you do well… find a way to contribute somehow using those skills. You know what makes her tick – both good and bad – so use that knowledge to your advantage to help her when times get tough for her.
Again, this will lay the foundation for a wonderful celebration and a strong marriage. It may seem tedious at times, you may not understand the stresses of a decision, but it doesn't matter. Make it happen for her, and her visions will make it an incredible day!
Love Your Day!
Your wedding day will be unlike any other in your entire life. For any of our readers who have yet to experience those milestone moments, allow me to provide some personal perspective: I played football all the way through college… and I played quarterback. (Not tooting my own horn here, just using this as a means to describe a feeling.) That means that thousands of eyes were locked on to what I did every single time I was on the field. For some, it can be overwhelming. Fortunately, I had gotten used to it over the years. It wasn't until our actual wedding day that it hit me… every single person there was in attendance for either my bride or me. The day truly was all about "us". All eyes were on "us", all night, though fortunately they were usually on her! Still, at some point it will hit you that everyone is there solely to see you and your husband/wife cross into married life. You will never forget that feeling, and it will overwhelm you, but in absolutely the BEST way you can possibly imagine.
Enjoy that moment, enjoy the entire process, enjoy that incredible day, and enjoy your marriage!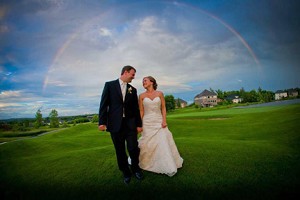 Will and Carla Brogan wedding at The Wilds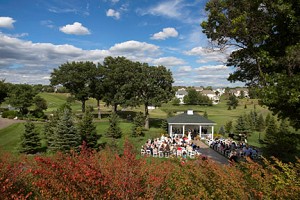 Crystal Lake Wedding Gazebo