Golfers And Wine – A Perfect Blend
By Leslee Miller
As many know we are fortunate to be hosting the 2016 matches of the Ryder Cup at Hazeltine National and the U.S. team is captained by golf professional, Davis Love III. A gentleman that not only shares great passion for the game of golf, but of another subject that happens to be quite near and dear to my own profession and passions, wine. On September 16th, just weeks from the professional tournament that will give bragging rights to some of the biggest names in golf, I will host one of the only events with the golf captain that will find Mr. Love III sharing more than just the subject of golf.
Wine, a subject that many sports professionals, musicians, actors and more have come to find have more than just a love for at the dinner table. As the years have passed, we've not only seen celebritized figures sink millions into creating their own wine labels, but actually take pride creating portfolios that work to mimic their own palates, tailoring wines that are truly all their own. In the case of Davis Love, it was not only his love for wine that connected him to the world of wine, but it was the lifelong friendship of an old college friend, already of the wine industry, that put him the position of creating his own wine label, Aledru. So as I ready myself to host a wine event with Mr. Love this September and speak on behalf of the wines, their food pairings and education as to the South African wine industry, I am reminded of the hundreds of sports figures before him that have put their name behind wine labels.
Let's start first with the golfers. One of the biggest golf names to date connected to the industry is Greg Norman. Greg Norman Estates no longer a small 'fish' in the pond of wine, but a whale in the industry making wine in Australia, California and Argentina. While the wines have never truly intrigued me, they can be found on most country club wine lists for the sake of well, golf. Next up, golf legend Chi Chi Rodriguez. The golfer owns a fun Amador County, California Mourvèdre label that comes to us by way of collaboration between Chi Chi and Californian Robledo Family Winery. The wine is named after its vineyard, Chipatchi Vineyard, so named for Chi Chi and his wife, Pat. Rounding out the list of high profiled golf pros, we add David Frost for his South African wine, Gary Player for his own South African collection and American, and Luke Donald, as he partners with wine mogul, Tony Terlato (as Jack Nicklaus did), to create another monstrous Cabernet from the Napa Valley.
As the list runs long with a slew more, followed up by a heap of athletes, musicians and rock stars, there are really just two that I can honestly say have hit my mark for excellence (without having yet tasted Mr. Love's wines). Both are labeled by professional athletes and one that still swings a golf club 'easier' than anyone on the course. Of course I'm talking about 'The Big Easy' himself, Ernie Els, of his South African wine project. Secondly, rock star quarterback, Drew Bledsoe for his most recent Walla Walla, Washington portfolio. Here's why they make my list… One, while I'm never a fan of throwing a celebrity's name on anything that isn't excellent, there have been many that perhaps, never really hired the right man or woman for the job of winemaking. Not the case with these two. In Ernie's situation, he originally teamed up with longtime winemaking pal, John Engelbrecht and his family to create a portfolio of South African wines. Since then has created a wide variety of wines that not only range in price, are comparable to their price-points but has worked to create wines that truly represent his home country. From his Guardian Peak blended red labels to his Ernie Els Signature reds and his 'Big Easy' Shiraz blend and Chenin Blanc packaged white, the golfer, in my opinion, has positioned himself well with a fantastic retirement project. The second of my fist bumps and high fives goes to NFL retiree, Drew Bledsoe as he works with longtime friends of mine and U.S. winemaking celebrities, the Figgins' Family of cult-statused Washington winery, Leonetti. Again, making a variety of solid wines from his 'Doubleback' label, his kitschy Grolsch topped liter red fondly named 'Bledsoe Family Wine' to his 'Signature Series', Drew did right by hiring the right winemaking consultants for the job.
With all of the wine in the world and a slew of family owned wineries out there still trying to get their names even barely recognized, it's hard as a wine professional to promote the big guys that use 'buying a winery' as a way to fulfill a hobby. But in the case of these professionals, I support their endeavors. Not only did they both do it right, in my opinion (making good wine), but have used their status as a way to raise money for charities that are truly their own.
Clink Clink, Ryder Cup fans! May you find a wine that is worthy of the championship at hand.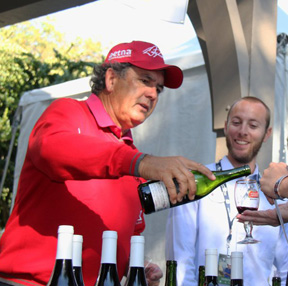 David Frost sharing his wine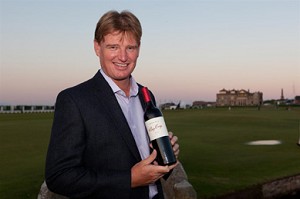 Ernie Els displays his wine "The Big Easy"