The Greatest Mother Of All, Mother Earth
By Leslee Miller
As another Mother's Day approaches and we take another full year's turn around the sun, I am reminded of all things that keep us grounded as individuals. Each and every Mother's Day, we celebrate this grounding as we honor the women that gave us the opportunity to become the individuals we are today. Within my company, Amusée, we've celebrated Mother's Day in a number of different ways: wine & yoga inner goddess classes, winemaker's dinners hosted by some of the most talented female winemakers in the world to art and wine & art paired classes focusing on the inner female spirit. This year, however, as we plan for a new series of Mother's Day wine classes, I focus our energies towards the greatest mother of all, Mother Earth.
As wine drinkers, we often take for granted the elements that make up the favorite parts of the wines we love so much. These components breakdown as: the sight, nose and palate of wine. Whether it be the aromatics that lure you in or the mouth-feel that keeps you encapsulated, it is the vintage, otherwise known as the year that the grapes were grown and harvested, that truly drives the force of how, what and why your favorite wines look, smell and taste a certain way. But as you sip and savor your favorites, have you ever truly understood the role of Mother Nature as it relates to your wine? Was it wet, very cold, hot and arid or simply perfect during the growing season? There is a term that the French use called 'terroir' that clearly defines all aspects of a grape's destiny from the year of its birth to its harvest. From land to hand, the all encompassing aspects of this life give us a clear definition as to how the wine will taste, evolve and ultimately cellar. In the end, it is Mother Earth that we can thank for all of these attributes. Therefore, within the coming weeks as we celebrate and pay tribute to some of our favorite mothers, I thought it appropriate to share some of my favorite all encompassing, nature nurtured gems to share with your favorite women.
First, let's start with a wine that is made by one of the world's most recognized winemaking South American women, Susana Balbo. In 1981, Susana became one of the most celebrated women in Argentine winemaking history, graduating with honors as the country's first female enologist. Today her wines are some of the world's most highly ranked; as her two children join her in her own winery. Try Susana's most recent gem, the 2010 'Brioso', a combination of Cabernet, Merlot, Malbec, Cabernet Franc and Petit Verdot. Rich and concentrated – full of blackberry, violet and spice – this wine is a perfect combo to all things grilled if you plan to pop something on the grates for mom's special day.
Next, a wine not only driven purely by Mother Nature's unique vintage, but a winery guided by one of the region's most dedicated women, Ornella Correggia. The winery, Matteo Correggia (founded by Ornella's late husband Matteo), is still an institution of the Piedmont region of Italy today producing some of the most profound whites and reds of its sub-region, Roero. My recent favorite, the 2015 Arneis, is not only a wine of interest accentuating notes of fresh green apple, almond and mint, but it is the perfect wine for a sunny Sunday in May. Arneis is the grape in this equation, yet the Correggia version is not like the others of its region. While others of the area can be a bit more rich and sometimes lacking structure, this family fun winery is famous for producing whites of extreme structure and minerality. Great with fresh salads, seafood or even veggies straight off the grill.
Lastly, a wine made by one of the world's most famous winemaking women, Anne-Claude Leflaive, one of Burgundy's most respected winemakers and a leader in biodynamic viticulture worldwide. Last year, we sadly lost this influential historian, yet the wines of her direction live on. Looking to try a wine, perhaps a bit outside of your comfort zone, yet will change your view of bold red wines forever? I invite you to try on the 2012 Clau De Nell Cabernet Franc of the Anjou region of Loire, France. Cabernet Franc, one of the original parents to Cabernet Sauvignon (Sauvignon Blanc being the other), is one grape to appreciate if you love full structured, red-fruited styled reds. The Clau De Nell is one of the best I've had in years: poignant, textured and layered with notes of earthy licorice, bright cherry, violet and leather. One of those 'head turning' wines that will have you dreaming of its complexity for months, yum!
From whites to reds, light to bold, the world offers a variety of wines that intertwine the hand of Mother Nature amongst Mother Earth's care. They are wines of influence, character, and care, often made some of the most attentive, nature loving winemakers in the world. Enjoy a few this May as you celebrate some of the world's most celebrated mothers!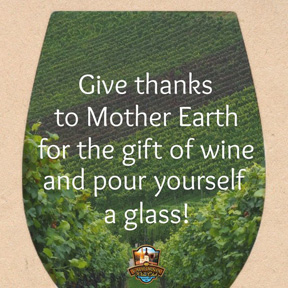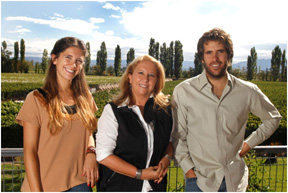 Susana Balbo and her two children Ana and Jose.