BOYNE Golf MICHIGAN
By E. Nolan
When you think of the resorts with the most golf courses and amenities in the world, you might not think of BOYNE Golf… in Northern Michigan, the region often referred to as America's Summer Golf Capital, but you should. And when you think of the place you should be planning your next big golf trip to, you might not have BOYNE Golf at the top of that list, but there are PLENTY of reasons why… well… you sure as heck should.
I've played them all – all 10 golf courses – plus the scenic 9-hole Cuff Links Par 3 and the fun Putting Course at Boyne Highlands, which could be argued to count as golf courses. Short courses and putting courses are being counted as official courses nowadays at some golf destinations (ask Pinehurst and Bandon Dunes).
BOYNE Golf's selections are spread across three gorgeous properties in the "northern mainland" of the mitten-shaped state. Conveniently serviced by nearby Pellston Regional Airport and the Cherry Capital Regional Airport in Traverse City (only 60 miles south) or private planes are welcomed at Boyne Mountain's mile long runway. Golfers don't have to drive 1,000 miles (as I regularly have) to get there. If you're using Michigan's BOYNE Golf as the "Hub" for a big golf group get together (as thousands annually do), and need a more "mainstream" converging point, Detroit's Metropolitan Wayne County Airport (DTW) is an easy four hour drive.
Why do thousands of golfers come to BOYNE each year… and why did I ask my editor if I could write about the largest privately-owned "Golf and Ski" company in North America? I'm glad you asked. Here's why:
People are drawn to the water – and to the thousands of America's beautiful lakes. Few lakes feel more like an ocean than Lake Michigan. And few resorts (if any) on the shore of Lake Michigan are more iconic, stupendous and opulent than the red-roofed, white-walled, Inn at Bay Harbor – a Marriot Autograph Collection Hotel. A favorite for high-end golf getaways and romantic escapes, you can build a package to please ANYONE.  The Inn at Bay Harbor has plush rooms and spacious suites (many with panoramic lake views), plus more private, home-like cottages just steps away from the main lodge and its assortment of restaurants: Vintage Chophouse & Wine Bar, The Sagamore Room, Inn Café, Cabana Bar and The Links Grille at Bay Harbor Golf Club.
Bay Harbor Golf Club was recently listed as "The 13th Most Beautiful Course in the World" by GolfAdvisor. (Think about that for a minute.) With three diverse 9-hole arrangements – Links, Quarry and Preserve – you can fill a fun day up with fantastic golf, most of it overlooking Lake Michigan.
All designed by Arthur Hills, each nine presents unique looks and challenges. The Preserve nine is quintessential northern Michigan – a parkland routing that saves its flair for the dramatic for the finale. In contrasting style, the Quarry nine has no qualms about showcasing its remarkable features inside a rock quarry right in your face. External elements aside, it is the most challenging of the three courses, with a middle mix of holes that dance around the water and wetlands in the quarry. Then there's The Links – the marquis nine among all BOYNE Golf properties given its prominent position on the bluffs of Lake Michigan. The views from several of the Links holes are unmatched in Michigan, the Midwest, and arguably the country. Reason enough to make sure The Links is ALWAYS part of an 18-hole round here.
Across the street from Bay Harbor, Crooked Tree Golf Club is essentially an extension of the resort – a club with a very private feel (and great practice facility). The course weaves through portions of a high-end residential community, with a half-dozen holes that will stick in your mind. Crooked Tree has a few scenic Par 3's perched high above the lake, with mega-mile views demanding serious club-selection consideration.
Boyne Mountain
Located 19 miles south of the Inn at Bay Harbor, the Four-Season Golf and Ski Resort – Boyne Mountain – provides more lodging options than most Orlando time-share properties. That's worth noting for the mere fact that, regardless of your travel company (juniors to seniors, golfers to skiers, picky to indifferent) Boyne Mountain quite literally has something for everyone, including 36-holes of fun golf, the Alpine and Monument.  These two courses annually host Michigan's Tournament of Champions.
The Alpine is a pleasant mountainous parkland layout that doesn't get nearly the credit it deserves for just how playable and enjoyable it is for every level of golfer. That ten-minute ride to the first tee (up Boyne Mountain) is part of the thrill package that launches both courses off that tee and continues back down the mountain across a pretty-open vista with scenic views of Dear Lake.
The Monument – is a wild ride from 1 tee to 18 green. A tad bit shorter than Alpine, the tightness and challenge make it feel like it plays longer. Unique in Michigan, BOYNE dedicated many of Monument's holes individually to some of the game's greats: Byron Nelson, Gene Sarazen, Bobby Jones, Walter Hagen, Kathy Whitworth and Sam Snead among them. The historic notes throughout the course are of interest, as are intriguing features like the bunker guarding the first hole, the Nash automobile buried beneath the fairway on hole 16, and the island green-finish on the Par 4-18th. NOTE: If you're playing both courses at Boyne Mountain (as you hopefully will) start with Alpine (if possible) and build up to Monument.
Boyne Highlands
Fourteen miles north of the Inn at Bay Harbor – through Petoskey and around Little Traverse Bay (just 6 miles past Tom's Mom's Cookies in Harbor Springs), Boyne Highlands is another golf and ski paradise – the third corner of the Michigan BOYNE Golf Triangle.
I won't save the golf for last this time – I can't – I'm too eager to dive into it. Boyne Highlands has a plethora of golfer playgrounds – six to be exact – and I still wish they had more!
The Donald Ross Memorial Course is as diverse as a summer solstice day is long. This rendition of classic Ross pays tribute to holes that are located at private clubs and not available for public play, including Oakland Hills, Seminole, Pinehurst #2, Inverness and Oak Hill.
The Moor Course was the second course built at Boyne Highlands and hosts many elite local and regional events. With water and marshland as prevalent throughout the design as doglegs, it's a round that demands calculation and accuracy with the irons and wedges and ends with an "S-Shaped" hole I call "Crazy 8" because it's crazy to play and impossible for me to score less than an 8 (or so it seems).
My personal favorite course at Boyne Highlands is the Arthur Hills course. I contend the diversity is more noticeable on the Hills Course only because of the dramatic elevation changes. There are some bomber-friendly holes out here (#13-"Everest") where you can launch off crazy high perches with 40-mile views to widely-receptive valleys. You can and will use every club in the bag frequently and my favorite feature of the Hills Course are the holes I call "The Catacombs" – the (towering) tree-lined holes at 5 and (personal favorite) 10 – where you legitimately feel like you're in another world. I could play The Hills course every day, have on every visit, and would on every pursuant visit. And, arguably the best part, it's nothing like The Ross Course, but shares the same clubhouse. (Back-to-back Home Runs!)
I've sung the praises of Hills and Ross – alone worth a Stay & Play – and haven't even touched on the most awarded course on the property – The Heather. Michigan Golf Course Association's 2018 "Golf Course of the Year" and the National Golf Course Owners Association's "Course of the Year" in 2019, The Heather was designed by world-renowned architect Robert Trent Jones, Sr. back in 1966. The old classic parkland design is why so many celebrities have come here to play, and why so many elite tournaments (AJGA and Michigan Amateur) have been hosted here. The scenic journey through the trees and wetlands culminate in a dramatic lake-crossing finish to give the golfer a bit of everything in their experience—ending right next to the stately Main Lodge.
I do want to mention again the Cuff Links Executive Par 3 and Putting Courses at the Main Lodge. Those new to the game, golfers looking for fun games and (especially) kids covet the loops on those two courses, just outside the doors of the Slopeside on the back of the Boyne Highlands Lodge. Short as those courses are, don't shortchange their genuine and respective offerings of fun!
Look… This is the condensed version of everything you can find at BOYNE in Michigan. I could obviously go on and on beyond this, but you'd be so much better served by hopping on their website and exploring it yourself. Visit www.BOYNEgolf.com then call 844-591-8931 to discuss your options with one of their experience agents.
https://boynegolf.com/?utm_medium=Print&utm_source=IBM-Watson&utm_campaign=BOYNEGOLF_2020-Fall-Travel-Issue&nck=8445918931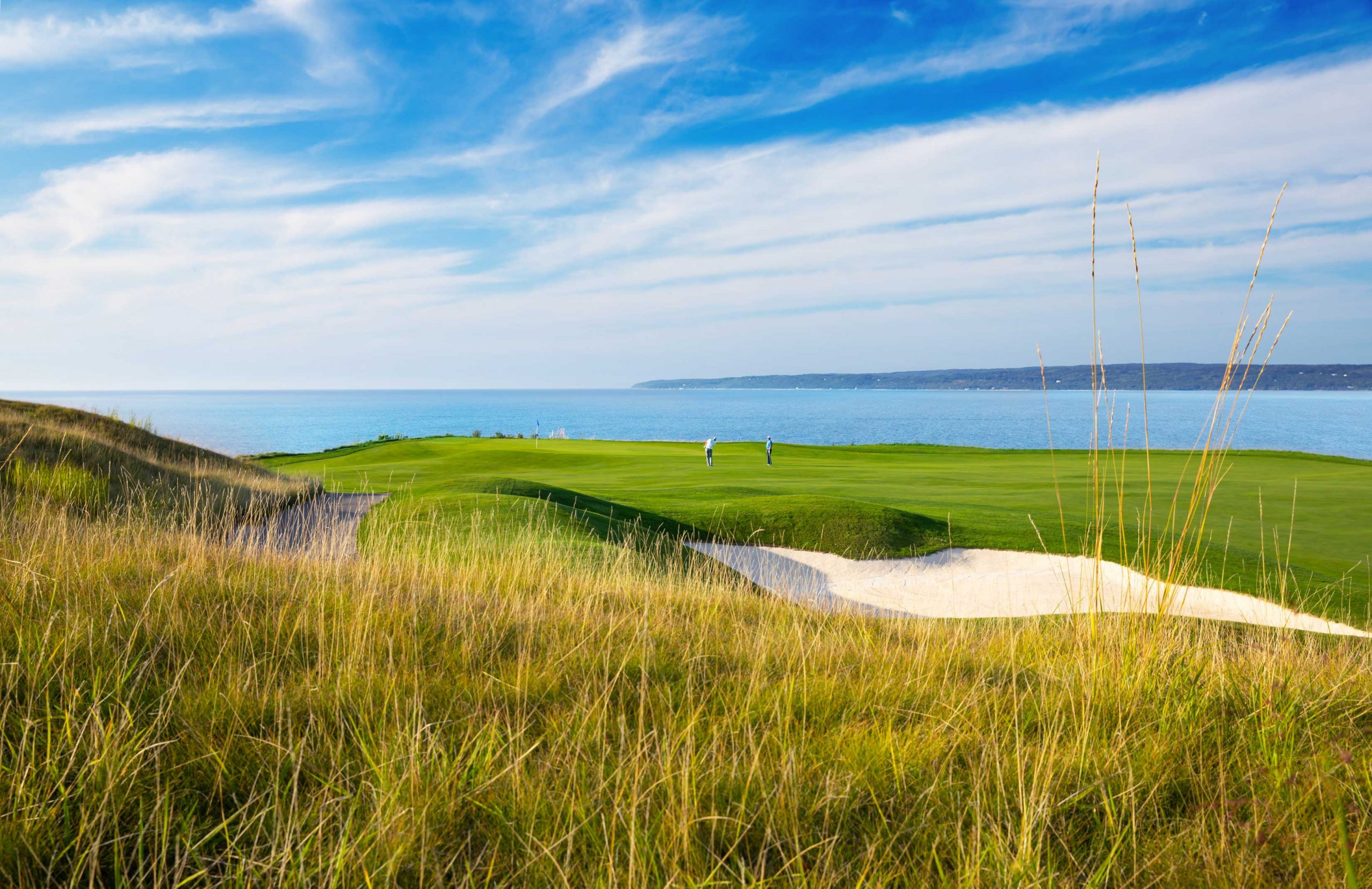 Boyne Bay Harbor Links #7 overlooking Lake Michigan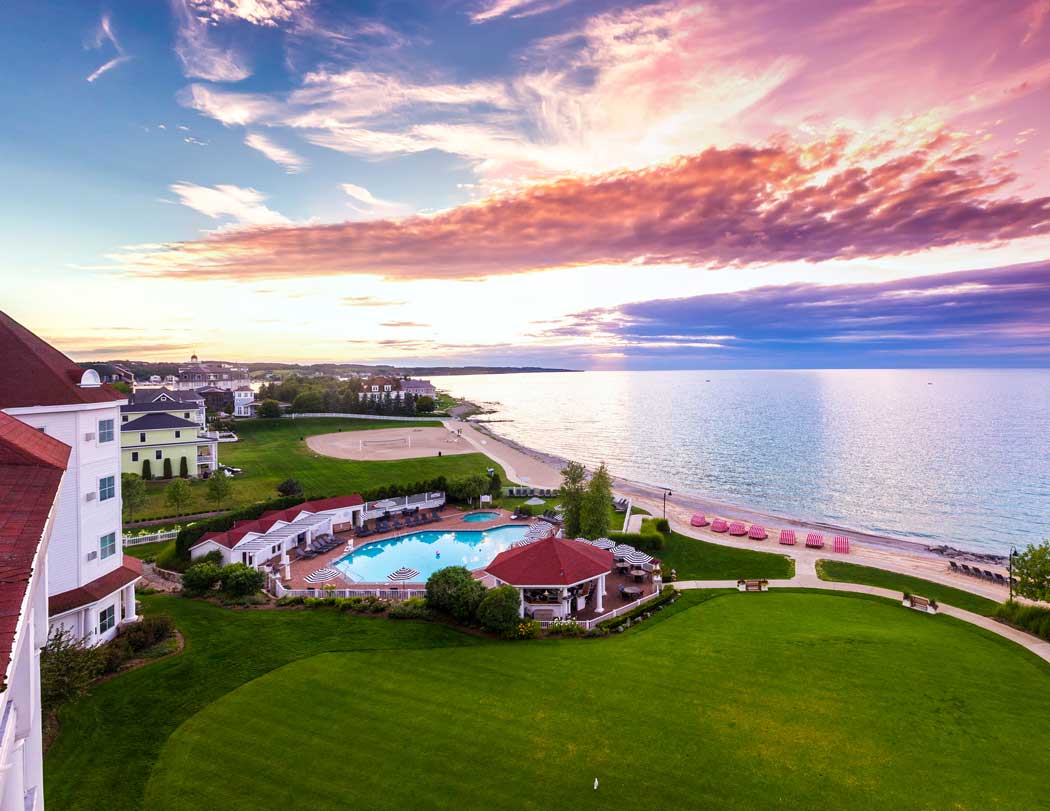 Inn at Bay Harbor looking west over Lake Michigan at sunset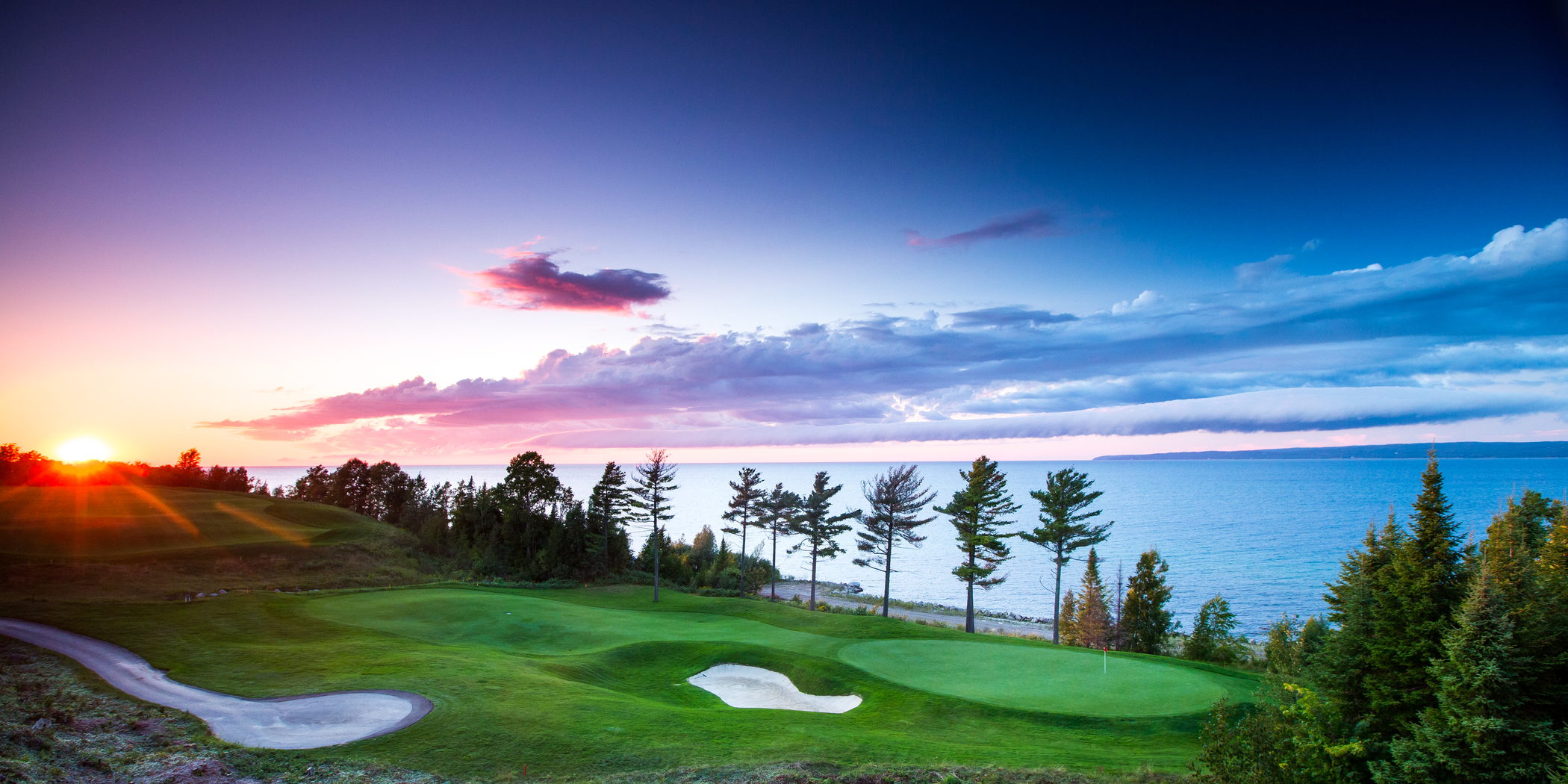 Sunset over #18 on The Links/Quarry course at Bay Harbor Golf Club