Sand Valley Golf Resort – The Sand of Opportunity
By E. Nolan
Golf has taken a lot of hits over the years for being too rigid, too exclusive, too hard and too… well… anti-fun. We've all been to some of those places – most of them places we never care to go again. But, if you're looking for a place that is NONE of those bad things and ALL of the good things… that's Sand Valley. Whether or not you've heard of it… whether or not you've already been there. Plan to go. And plan to go again.
It's been a hard year for most of us – a year with very few bright spots. That's true on so many levels. But, what's true on even more levels, is that 2020 has been a GREAT year for golf. And, thanks to golf (specifically places like Sand Valley), many localities have been able to ride the erratic economic wave through to smoother waters. How true is that?
Well… who would have ever thought that central Wisconsin's largest economic-impact development in the last century would be a golf resort? Not me. Not you. Not pretty much anyone. But one man did. This project was built in a place that few in the golf industry would have ever considered for a new project – a remote  and vastly unpopulated county (200 miles east of the Twin Cities) in a region that both shuts down and ices over five to six months a year. How could that business plan possibly succeed? Would you have invested millions on a "tree-covered sandbox?" Nope. But there was a word in that description that intrigued the self-made businessman who'd already built America's greatest golf resort from scratch… he'd been there and done that before. That word was "sand." That man was Mike Keiser.
Story has it that a local visionary named Craig Haltom literally stumbled across the property around 2010, and got Mr. Keiser to invest in 1,700 acres in the area  in 2013, pointing out the massive sand deposits that would be almost worthless in every other development industry… except golf. In golf – sand is gold. "Fools gold," some said. "Pure gold," Mike Keiser knew. He'd build it. They'd come. From Dyersville, Iowa and Minneapolis, Minnesota… from Bandon, Oregon and Cabot, Nova Scotia… from Australia and, well, literally everywhere. Golfers are moths to a flame with the Keiser name on it, and Sand Valley was a proverbial blowtorch.
I've built castles out of sand. Mike Keiser… he and his sons (Michael Keiser Jr. and Chris) and their incredible project team built back-to-back "Best New Golf Courses in America."
The original course, Sand Valley, opened for preview play in August of 2016. I was there with a handful of local journalists and couldn't believe my eyes. "Wait. This… was HERE?" It was… but it wasn't. The dynamic duo of Bill Coore and Ben Crenshaw (architects of incredible projects like Sand Hills, Kapalua and the revision of Pinehurst #2) found it… created it. They took a sea of sand and molded it into some of the Midwest's greatest golf land.
Wisconsin didn't instantly become the center of the public golf universe, but the Keisers fired a shot that was most definitely heard around the golf world. "Did you say the Keisers built a golf course in the middle of Wisconsin?" (Yes. I did.) "Did you say it's good?" (No. I said it's freaking amazing.) "How good can one golf course really be?" (That's actually the wrong question now.)
Believe the hype or not, the Keisers capitalized on the fame and acclaim of Sand Valley by opening up cabins and a lodge, a restaurant and a panoramic perch known as Craig's Porch from which you could order drinks, an ice cream sandwich (or 4) and watch the sunset from what has to be one of Wisconsin's "Top 3 Sunset Watching Spots." THEN (oh, I'm not finished), the Keisers brought in Scottish Superstar David McLay Kidd (he of Bandon Dunes and Gamble Sands fame) to build the second 18-hole championship course on property – Mammoth Dunes.
"Mammoth Dunes… has to be an exaggeration, no?" (Umm… No.) "Okay, so there's seriously that much sand there?" (Umm… Yes.) "Why didn't they just call it The Sandbox?" (Will you let me finish?)
Mammoth Dunes takes everything that everyone loves about golf and multiplies it by "infinite playability" – massive runway-width fairways you can swing out of your socks at, massive greens you could easily six-putt on, massive mounds you can play creative shots off of, and massive amounts of spectacular golf scenery that you can fill all your social media feeds with. Mammoth Dunes took what other places would call big and made them seem small. I'm sure you all have questions.
"So, these Keisers… they brought three of the greatest architects in golf history to Central Wisconsin and gave them blank checks canvases to build whatever they wanted out of his land?" (Essentially.) "And these courses are public? So ANYONE can play them any time?" (Yes. Anytime pretty much from April to October.) "Two NEW nationally ranked courses at one resort, so close to Minneapolis, Milwaukee, Madison and Chicago?" (Yes. But…there's more.) "Wait. More?"
Bill Coore and Ben Crenshaw made such an impression on the Keisers with their Wisconsin work (and relished that opportunity so much) that he convinced them to build a 17-hole (Par 51) short course – seventeen 3-pars with the same ingenuity of their "Best in the World" short course at Bandon, comfortably wedged between the Sand Valley and Mammoth Dunes courses. I toured those holes before they opened with Michael Keiser, Jr. and he asked us, "Think people in the Midwest will appreciate a Par 3 course as much as people on the West Coast do?" Well… considering there is nothing else like it in any of the states around Minnesota… I was guessing they would. (Winner, winner.)
At this point some of you might be saying to yourselves, "Okay, three great courses, a hotel, cabins, restaurants, ice cream sandwiches… but will anyone go there?" (Hold on. Give me 20-25 minutes to stop laughing.) If you want to Stay and Play at Sand Valley next summer, you'd better call months in advance. Literally… months. And, with plans for a 4th course from yet another architectural genius (Tom Doak) in the works, the demand is unlikely to subside anytime in the next… well… century.
So, why don't more developers fly over random parts of the country looking for massive piles of sand and throw piles of money at them? Because, it takes more than money… more than you would ever imagine to pull off a project like this from scratch. It's not just time investment and commitment, it is people, politics, visionaries, marketing and ambassadors. Sand Valley was bound to be a success from the very first time Keiser put boots on the ground, but only because he worked with people he knew would never let him down. KemperSports, in Chicago, markets and manages his other incredible properties. Josh Lesnik and the team are the best at what they do. The architects are consummate professionals that don't settle for anything at 99%. Bill Coore, Ben Crenshaw, David McLay Kidd (and Tom Doak)… they are ALSO the best at what they do. Writers, photographers like Brian Oar and Evan Schiller, media masters like Matt Ginella – they are all ambassadors, bound to tell the golfer the absolute truth. And… that truth, in regards to Sand Valley in Nekoosa, Wisconsin, is that NO ONE could have pulled off a golf resort like the Keisers have here, and NO ONE who comes here and stays/plays all three courses here will walk away disappointed. Big promise. Mammoth delivery!
What Sand Valley has done for Central Wisconsin economically can be measured, but it can't be overstated. Conversely, what the Keiser family has done for the nomadic golfer can't be measured, but it should be stated. "We want more. Please build us more!"

Lake Leopold Cottage at Sand Valley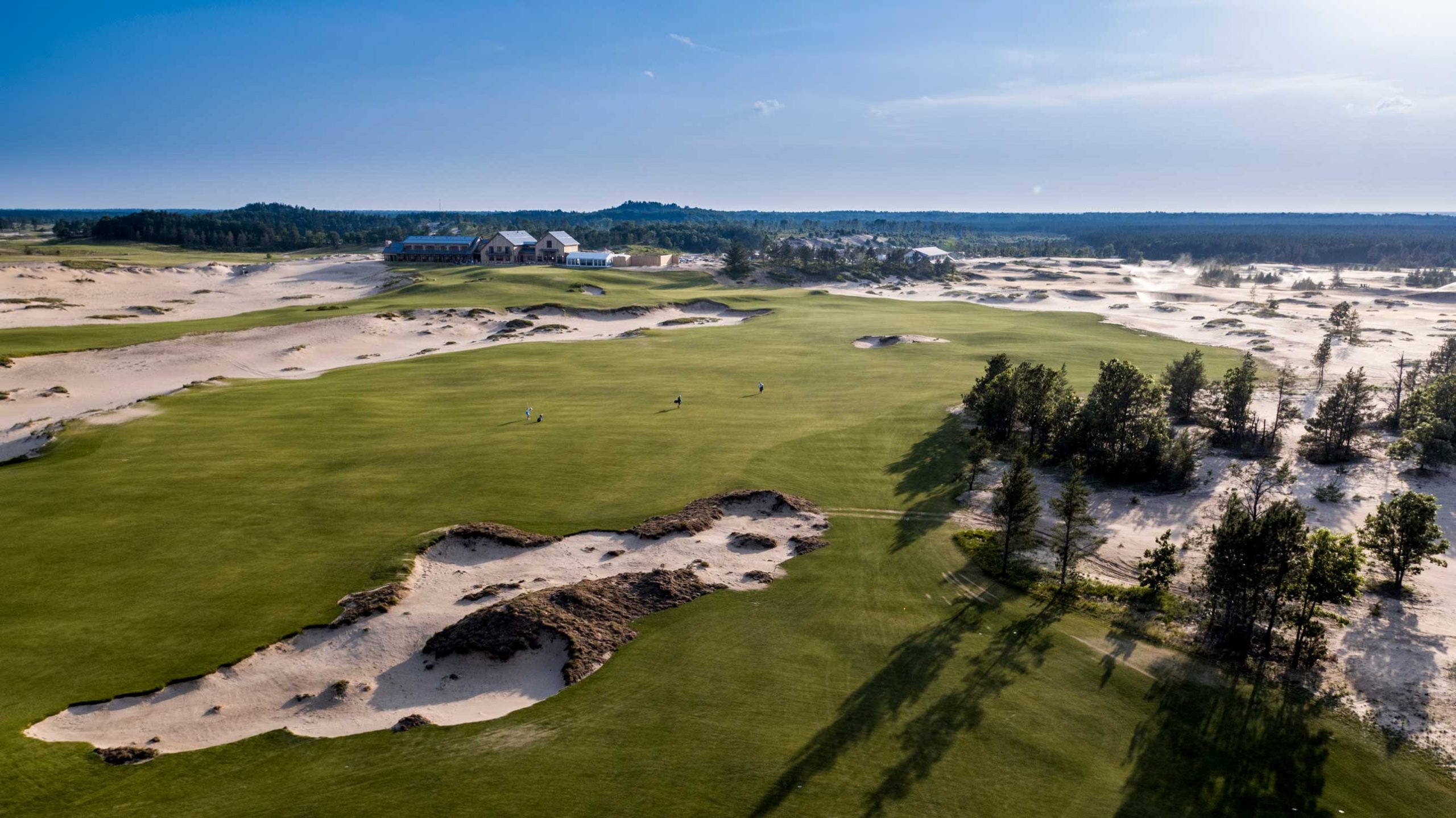 Mammoth Dunes #18 Photo Courtesy Jeff Bertch