Decade Of Dominance – Sharing The Top
By Rhett Arens
This is the last installment in our series on the Decade of Dominance. It is fairly obvious there was no Arnold Palmer, or Jack Nicklaus or Tiger Woods that emerged from the pack during the 2010's. What has emerged is an exciting week-to-week battle for the number one position with plenty of pure athleticism and a crazy amount of Sunday afternoon playoffs. There is still an upper, elite tier of players (6-7), and then another tier below that which is comprised of occasional but steady winner's (15 or so). So with this last installment we highlight a collection of long hitting, pure striking, smooth swinging, highly endorsed, highly compensated, highly skilled, 30ish year olds that bring the stick and share dominance at the top of the leader board.
Drawing the line on who dominated the 2010-2020 era is tough. There are one or two year stretches where each of these players brought their 'A' game to the masses and held on for plenty of wins and notoriety. Keep in mind any of these guys could flip the switch and dominate for a five year run. That upper tier during this decade includes DJ, JT, Day, Spieth, Rory, Bubba, Koepka and Rose. When you tally up the PGA wins and factor in the Majors the list narrows down to these dudes. Both Phil and Tiger deserve nods during this era as well given the visibility, stewardship and leadership they brought to the game (not to mentions wins). When you take a step back and look at that list what is the first thing you think of? For me, it's athleticism.
These guys are cut, they are lean, they stand straight and they pound the ball. They go driver – wedge on most par 4's, which has the PGA scratching their heads and wondering about lengthening courses and/or introducing restricted flight equipment. It seems technology and conditioning have combined to create a new breed. What should we call them? Millennial Ball-Busters? Crush-It Crew? Generation Bombs Away? Whatever history names this era in retrospect, it will be remembered for a temporary form of dominance where a good year might include one or twp Majors and two or three TOUR wins. Those stats would crown your Player of the Year during this era. Each of the guys highlighted here have rose to that level and held the crown for a brief period.
Let's not forget the rankings are full of young athlete's right on the cusp. I'm thinking out loud here but names like Rahm, Morikawa, DeChambeau, Fleetwood and Champ have yet to show consistent staying power but they are showing flashes of playing brilliance and plenty of mental strength down the stretch. As an old friend of mine is fond of saying, "I like their cut of jib."
The two key components to assessing dominance is the frequency of wins and the type of wins. No surprise there. The PGA TOUR plays every weekend for x-number of weeks, so how many of those weeks did they finish at or near the top? The second component is 'where' they won – Majors, Players Championships, World Golf Championships and Team events (Ryder, Presidents', Solheim). There is a third component that factors into a player's legacy is 'how' they won, or… didn't win. Comebacks, big leads, long putts, surgical irons, 18th hole heroics, you name it, if it's got drama, people will remember and it will become legacy good or bad.
Take Dustin Johnson for example. A straight-up TOUR winner. TaylorMade and Adidas have been on his coattails for years. With his 18 TOUR wins and one Major, he is considered a baller. This lean South Carolina hitter won the 2016 U.S. Open for his first Major Championship. Having finished second twice in other Majors he also won 6 WGC's. Clearly crushing the ball translates into winning as Johnson became only the third player in PGA TOUR history to win a TOUR title in each of his first 13 seasons thus joining some elite company with Jack Nicklaus at 17 and Tiger Woods at 14.
Justin Thomas has been steadily in the upper ranks during the last half of this past decade. With 13 PGA wins since turning pro in 2013, he experienced his breakout year in the 2016-17 season with an incredible five wins, his first Major (PGA Championship), the FedEx Cup and Player of the Year honors. That is a year to behold. He has gone top-ten in many tournaments, often down the stretch with his pal Jordan Spieth during those years.
Speaking of Jordan Spieth, he has lost his winning ways of late, but never count him out and keep in mind that during the past decade many crowned him the next Tiger. His resume says it all – 14 TOUR wins, which includes three Major titles. The 2015 campaign was his dominate year where he was named Player of the Year after winning the FedEx Cup by closing the deal on The Masters and U.S. Open. Notch another three TOUR wins onto that year for the Dallas gunslinger and hand him the $10 million dollar check. Trust me, there is plenty more in the tank.
The young man from Holywood, County Down came roaring out of Northern Ireland with a sturdy frame and a no-nonsense swing just before the beginning of the decade. In no time Rory Mcllroy had won the first of his four Majors in 2011 at the U.S. Open. He would go on to capture 18 more PGA TOUR wins in addition to his 14 European titles. The tell-it-like-is 'Rors' has been PGA player of the year three times and has won two FedEx Cups in his 13-year career. In 2013 Nike jumped on board, which triggered additional product deals, and in-turn brought Rory into the stratosphere of sports endorsement money. He wears his Irish on his sleeve during the Ryder Cup contests, which have brought that event tremendous fanfare. You can expect more cups held high by this talented ambassador of the game. If I had to pick one from the 2010-2020 decade it would be Rory.
Koepka has been a bit of an enigma. First off, he is an apex athlete. He brings muscle but has the finesse to trim wedges and feel the greens when it matters. He is clearly focused on the Majors and has gone on record as such. That's his jam and he makes no apologies. But there have been injury setbacks and some indifference to TOUR stops. He dominated during the last half of the 2010's with his first Major coming in 2017 during the U.S. Open at Erin Hills. Like a shark with a taste of blood he went on to win three more Majors and barely missed out on two more. That would-should-could have been six Majors in three years to go with his six European wins. So at the moment he has more Major titles than TOUR wins (7 in total). Not surprisingly he walked away with back-to-back PGA Player of the Year Awards in 2018 and 2019.
The rest of the elite group managed to jump into the #1 ranking for weeks at a time only to fade out but all are still in the hunt and hungry for more. Jason Day, Bubba Watson and Justin Rose keep the flame burning with the clock ticking on their window of opportunity. Those three have a combined total of 34 TOUR wins with four Majors among them. I'm not taking anything away from them, but hold that against the backdrop of Tiger, Jack, Watson or Arnie's careers and you can see the difference in how individuals have dominated the last 10 years or so.
The 2020's appear to be a shared stage. In many ways this keeps things more interesting. This means more countries involved, more hometown cheers from all corners, more swing dynamics and styles, but most importantly… more personalities. This keeps our enduring spectator sport on the radar, in prime time. Of course, all of this might change and a lights-out dominator could emerge, but I'm hoping that doesn't happen. Variety is the spice of life and sharing the future of golf should be available to everyone.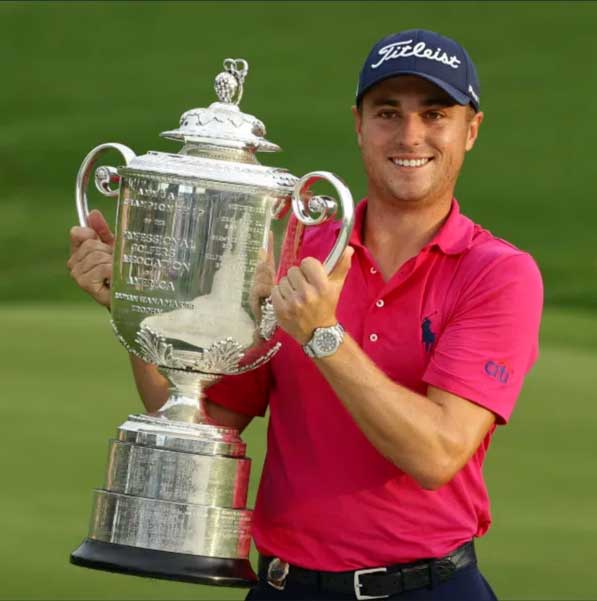 Justin Thomas 2017 PGA Championship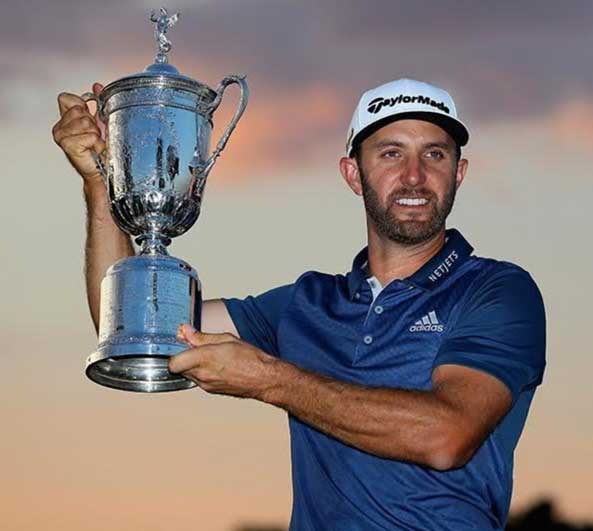 Dustin Johnson 2016 US Open Champion