Treasure Island and Mount Frontenac Golf Course – Minnesota Mountain Highs
By E. Nolan
Rocky Mountain Highs it does not have, but Minnesota is a beautiful state… most of the year. The cold and snow get a bit old from December through February, but when the first hints of Spring arrive in March there's unbridled excitement, and when the Fall kaleidoscope takes over the trees in September and October, we can't help but go looking for the prettiest places in the state to golf.
Residents of the Twin Cities have it good – we're lucky. We can head north, south or east along the river for crazy beautiful Fall views, and the golfers among us can fawn over fun rounds surrounded by that beauty… bringing us to a course that emphatically fits the "Minnesota Mountain High" bill – Mount Frontenac Golf Course.
Mount Frontenac Golf Course sits up in the rugged limestone bluffs just north of Lake City (only an hour south of the Mall of America) overlooking the Mighty Mississippi River Valley and Frontenac State Park. That gives you a hint of the surrounding beauty, but merely scratches the surface of the dramatic views and entertaining rollercoaster of a ride provided in a round at Mount Frontenac. Area golfers know this is a valley stretch rich in great golf, from the Twin Cities all the way down to La Crosse, but few other courses along this road boast the clifftop views that Mount Frontenac does, and that's saying something.
Seems like every time I've been there, a wedding or reception has been taking place. Brides and grooms and graduation parties waiting their turn for pictures by the famous clifftop green. It's no secret among area event planners that the memorable backdrops here will hang on walls and draw the awe of all who see them. "Where was that incredible shot taken? Is that in Minnesota? Is that a golf course?"
Mount Frontenac. Yes, in Minnesota. Yes, it's a golf course.
Mount Frontenac Golf Course can go toe to toe in beauty with all the area courses, but it easily one-ups them in the amenities department, given its direct affiliation with Treasure Island Resort and Casino. Treasure Island Resort bills itself as a Caribbean getaway in Minnesota – a tropical description that defies imagination but at least merits investigation. The investigation yields a resort with a hotel, casino, luxury spa, water park and restaurants loaded with activities (including river cruises), hosting all sorts of events and entertainers and (again) only an hour or so from the Twin Cities.
The hotel features towers of comfortable rooms. The Buffalo tower has smoking and non-smoking rooms adjacent the active gaming floor. The completely smoke-free Eagle Tower is next to the Wave Spa and Lagoon Water Park, set up perfectly for families, and the newest rooms (in the Wolf Towers) offer more space, modern décor and the best views.
The casino has over 2,200 slot, video poker and video keno machines. You'll find table games like Ultimate Texas Hold'em, Crazy 4 Poker, Three Card Poker, there's Bingo, Blackjack and Roulette and, of course, pull tabs. Winter may dampen the spirits of golfers but guests at Treasure Island hope to get dampened in the Lagoon Water Park – an indoor aquatic zone loaded with spray-and-play areas, zero-depth splash zones, buckets, geysers, slides, lazy rivers and (thank goodness) an Adults-Only zone with hot tubs and a swim-up bar reminiscent of similar ones in Jamaica and the Dominican Republic.
The resort gives you more fun and games at the Island Extreme Bowl, with weekly and monthly challenges and tournaments in a state-of-the-art bowling facility. There's a Cyber Quest Arcade there featuring many a favorite carnival (and interactive) game. Spirit of the Water isn't in the bowling alley, but IS a 52-passenger yacht with brunch, lunch and dinner cruises zipping up and down the Mississippi, and the resort's Marina from where Spirit of the Water departs has 56 slips welcoming waterway walkups looking for a fun pit stop. And, speaking of water …
The modern and tranquil Wave Spa offers an assortment of massages and body treatments, with some of their best bargains built into the Wave Experience Package. If nothing else, the spa is a great place to get away from all the noise and stress outside those walls and a fabulous way to unwind before you explore the resort's dining offerings, of which there are several noteworthy.
Currents Restaurant is an all-day favorite, with breakfast served all day (for the kids) and great sandwiches, burgers and comfort food selections for lunch and dinner. Tado Steakhouse dishes up steaks, prime rib and fine-dining sides with a great selection of wines and other adult beverages. The Mongo Bay Grill is a quicker get-and-go grill option popular with families and those always on the move. Island Perk has Caribou Coffee, with pastries, sandwiches and salads, and Xtreme Café is located within Island Extreme Bowl with even more grilling favorites served for those playing the games.
From food to further entertainment, Treasure Island has a 2,800-seat Event Center that brings in some of the world's biggest acts. This fall you can catch Lizzo, Trampled by Turtles, Wilco, Terry Fator, Chicago and Carrot Top (among many others) at this venue (see their Live Entertainment page for further details).
Beyond those indoor games, thrills and entertainment, we return the focus to the fun outdoors, and climb back up the mountain (only 20 miles south of Treasure Island) to Mount Frontenac Golf Course. If you've never been to or played golf at Mount Frontenac, I'll gladly spend a little time telling you what you're in for, and why it's worth a drive down there still this Fall.
Yes, there are the views. Yes, there are the thrills of elevated tee shots. Yes, there is the tremendous value of an 18-hole round of golf for less than $30 on weekends (cart extra) combined with those elevated views and shots. But Mount Frontenac Golf Course also offers a tremendous variety of golf holes – right and left doglegs, fun par 3's, short par 4's that are "easy" to birdie, and some challenging risk/reward holes that can either make your day or break your pencil. The greens are wide open, so they look big but play small and many of them have tricky, hidden slopes. The Gordon Emerson design opened in 1985 and has been tweaked time and again to maximize the visual and entertainment benefits. Given its "mountaintop" perch on a tricky pinch of land, the course isn't overly long (at only 6,226 yards from the tips) but can certainly play long if you struggle with accuracy and/or don't put yourself in the right spots on approach. The Par 71 course will challenge even the good golfer, regardless of its length, and you'll want to have a camera along (especially these next two months) to take advantage of the stunning foliage backdrops.
I'd urge you, if you've never played the golf course, to check out the photo gallery on their website. Combine that golf experience with an overnight of entertainment at Treasure Island Resort and you've got yourself one last Stay-and-Play Getaway to make and take this Fall.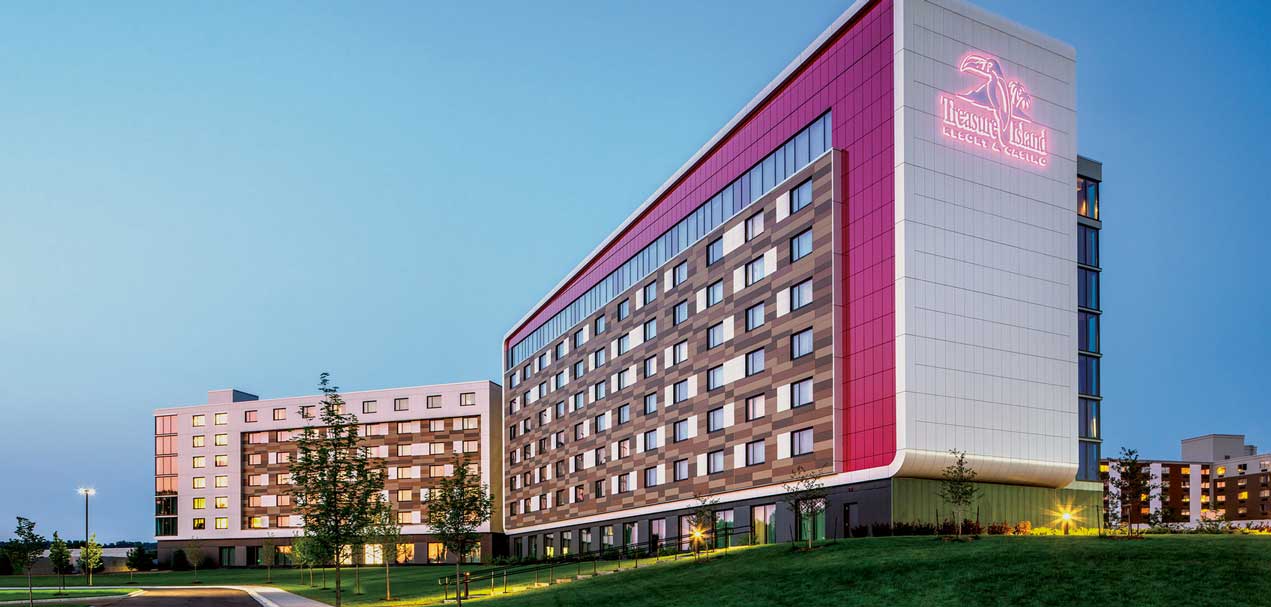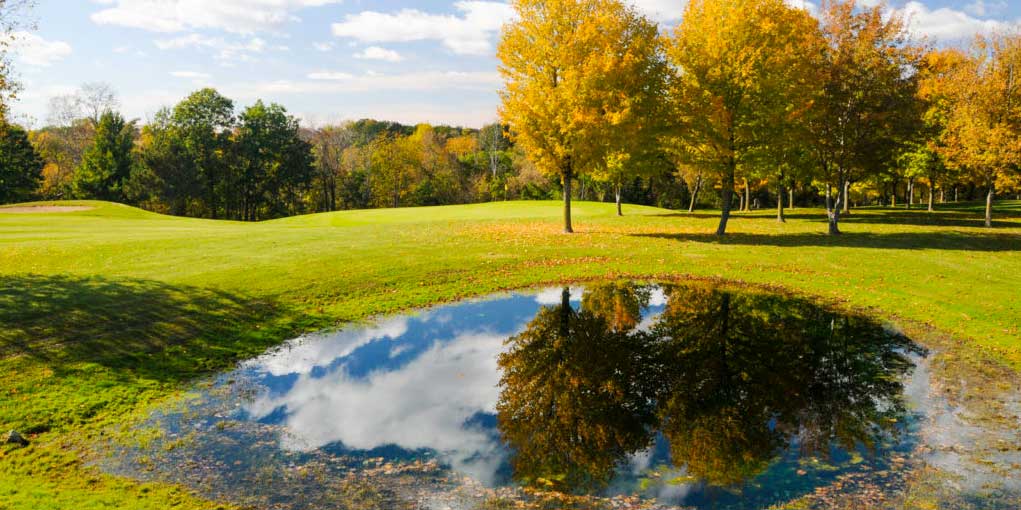 Mount Frontenac Golf Course