Dominating The Decades – The Tiger Effect – Domination
By Rhett Arens
Any attempts to neatly fit a single decade of PGA TOUR dominance into a 10-year span went awry when I turned the page into the 1990s. The player who arguably emerged as the greatest player of all-time started his professional career in the mid-nineties. He continued a tidal wave of dominant play well into the 2000s where he single-handedly transformed the commercial clout of the game while tallying wins on a weekly basis. Of course, I'm referring to the young man from Cypress, California named Tiger. An athletic teenager who stepped out of Stanford University surgically dividing fairways with his driver, bombing 200 yard pins and sinking 30-foot putts. Most of us watched his Sunday fist-pumping finishes in bright red Nike apparel with awe. In turn, we put down the remote control, got on the phone to our local course and set-up a tee time. Thus, the game's resurgence was underway. The resulting 'Tiger Effect' quickly drove golf expansion into the stratosphere.
There were other great players from this 20-year stretch from 1990 to 2010, but Tiger stalked, dominated, fist-pumped, smiled and then dominated over-and-over again. During this era, he carded an astounding 69 PGA TOUR victories, 16 World Golf Championship wins and a stunning 14 Major titles. Fist bump that boomer! Not that he wasn't challenged by the likes of Faldo, Price, Norman, Els and others… he was. These guys logged wins and majors too but remember, Tiger only caught the back-end of the 90's when he turned professional in 1996 and still put-up numbers better or similar to his contemporaries in half the amount of time. The marketing machines at the apparel and equipment companies took notice and the monetary impact of Tigers roar was heard around the world.
Thankfully there is more to Tiger Woods impact on society than just golf. Recent historical events tell us that race relations in the U.S. is not a finished project, far from it. Historically golf has been the domain of white, elite and male propriety. Barriers spoken and unspoken have been entrenched for years at private country clubs and within informal golf communities across the country. We've almost forgotten that the sight of the most coveted Major Tournament (Augusta) only opened its doors to people of color (and women) in 1990 and 2012 respectively. It would be hard to imagine that door swinging wide open without the effects of Tiger's visibility and professional stature. Tiger himself describes his ethnic make-up as "Cablinasian" (an abbreviation he derived from Caucasian, Black, American Indian and Asian). It doesn't get more American than that.
Born in 1975 to Kultida and Earl Woods who had met in Thailand during the Vietnam War while Earl was deployed in Southeast Asia. Tigers' nickname was borrowed from Earl's friend Col. Vuong Dang Phong, who was known to his friends as Tiger. The name certainly suited the young boy as his focused pursuit for golf wins was evident even as a child. The Woods settled in Orange County after the war where it was clear that this kid could swing a club, famously taking his first rips at age two, on camera. From there it evolved into TV appearances, magazine interviews and an unrelenting drive to master all the clubs in his bag. With a healthy dose of Earl's military discipline thrown into his training regimen, Tiger was soon winning amateur tournaments, gaining national recognition and laying the groundwork for his next move towards a PGA career.
The accolades started pouring in early and often for Tiger. He was a 15 year sophomore at Western High School in Anaheim when he became the youngest U.S. Junior Amateur champion in history. In 1991 he was named Southern California Amateur Player of the Year (for the second consecutive year) and Golf Digest Junior Amateur Player of the Year. In 1992, he defended his title at the U.S. Juniors becoming the tournament's first two-time winner. That same year he competed in his first PGA TOUR event on an exemption at the Nissan Los Angeles Open (he missed the 36-hole cut). Later in the year he was named Golf Digest Amateur Player of the Year, Golf World Player of the Year, and Golf Week National Amateur of the Year. More honors and wins followed during his High School years where as a senior in 1994 he was voted 'Most Likely to Succeed.' Yes, I would imagine that tag would have been hard to argue with. Succeed he did.
The college recruitment letters had been filling the Woods' mailbox during his high school years. Of course, he wanted to win, so he chose Stanford University (the 1994 NCAA champs) and became a Cardinal. He selected a major in economics (in hindsight a forward looking choice!) and was nicknamed 'Urkel' by college teammates for his diligence. In 1995 he was voted Pac-10 Player of the Year, NCAA First Team All-American, and Stanford's Male Freshman of the Year. The drive for dominance was hitting second gear.
At age 19, Woods played in his first PGA TOUR Major (the 1995 Masters) where he tied for 41st as the only amateur to make the cut. Amazing to think two years later, he would win the tournament by 12 strokes! He decided to leave college after two years in order to turn professional. Apparently two years of economics courses at Stanford was enough to convince him that there was money to be made as a pro. At age 20 he was saying hello to the PGA TOUR, an agent and an inbox full of endorsement deals.
Within a year of turning pro Tiger was ranked as the number one player in the world at age 21. Logging a slow year in 1998 he turned it around in 1999 and won 8 PGA TOUR events, including the PGA Championship. In 2000, the numbers kept piling on when Woods won six consecutive PGA TOUR events (the longest winning streak since Ben Hogan did it in 1948). At the 2000 U.S. Open, Woods broke or tied nine tournament records in what Sports Illustrated called "the greatest performance in golf history," winning by a record 15-strokes! He became the youngest player to achieve the Career Grand Slam at age 24 and by the end of 2000, Woods had won nine of the twenty events he played in and broke the lowest scoring average record in PGA TOUR history. He was named the Sports Illustrated Sportsman of the Year, the only athlete to hold that honor twice. What a spectacular start to the new century.
When Woods won the 2001 Masters he became the only player to win four consecutive major professional golf titles, a milestone that became known as the 'Tiger Slam.' Following successful 2001 and 2002 campaigns, he finally showed his human side when things slowed down in the 2003-04 period. He finally relented his number ranking in September 2004 when Vijay Singh overtook him. This ended his streak at number 1 at an astonishing 264 weeks. Remarkable as that seems he would fight his way back within a year claiming six PGA TOUR events in 2005 and reversing the top spot with Vijay in July. Tiger began 2006, winning his first two PGA TOUR tournaments. After the death of his father Earl in May, Woods took some time off and immediately returned to his winning ways with six consecutive tour event wins. The juggernaut was still rolling strong.
Woods' decade of dominance continued through the 2007 season and into 2008. All of that torque and explosive power eventually caught up with his body when knee surgery was required in 2008. He returned from his recovery in time for the 2008 U.S. Open and eventually claimed that win over Rocco Mediate on the final day where he and Rocco had the media electrified. He announced later in the week he would miss the rest of the season due to knee complications which let the air out of his comeback attempt. His time away from the game would become the beginning of the end of his dominance.
A combination of injury related setbacks as well as disparaging headlines around his marital problems may have contributed to his play hitting a plateau and an inevitable backlash. At the end of 2009 he announced his departure from the game for an indefinite period. He needed to get healthy on several levels. Given the high visibility of his struggles both on the course and off resulted in several high profile endorsement losses. The following years were plagued by starts and stops related to intermittent injuries. An emotional win at the 2019 Masters (his 15th Major) brought a silver lining to the uncertainty surrounding his future. Hope remains in the discussion, but total dominance has left the building.
Today Woods picks and chooses his moments. He smartly conserves his health with an eye on the prize. The prize being the coveted record of 18 Major Titles currently residing with Jack Nicholas. Tiger sits at 15 Major Titles with perhaps 10 more years of 'quality' playing time left in his bag. He also remains tied with most PGA TOUR wins of all-time with Slammin' Sam Snead at 82, a record that is likely to fall sooner rather than later.
There is no disputing who dominated golf during this 20 year period. There can be no doubt who transformed the games popularity and in turn enriched all of those involved in the industry. What remains of Tiger's legacy has yet to be played out but it most certainly will settle at the highest levels ever achieved. The clock is ticking, we are all watching and we should remember with respect… the sport is bigger than all of us.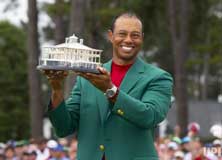 Tiger Woods wins his 5th Masters in 2019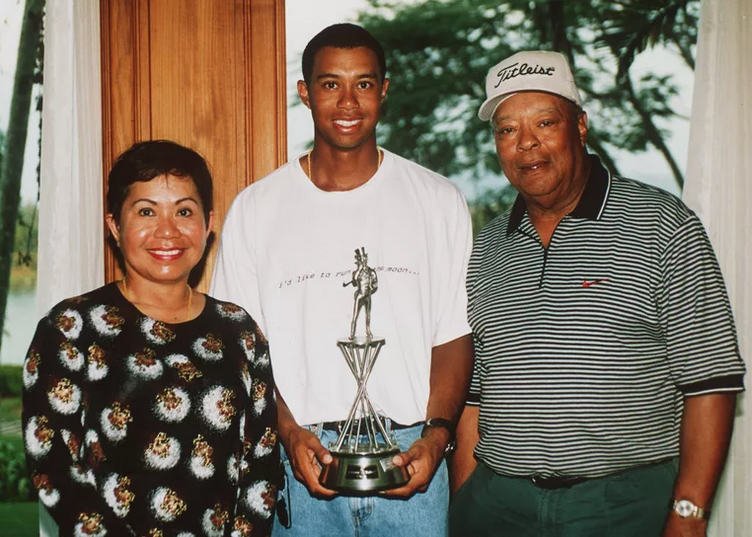 Tiger with his parents Kultida and Earl in 1998