2020 3M Open Recap – Validation For Thompson
By Jim McNaney
The second edition of the 3M Open at TPC Twin Cities was already very different from its inaugural year. From no fans and limited media access to player health/safety protocols including multiple COVID-19 testing, year two had a completely different look and feel.
The one constant thing that everyone hoped for was the course's propensity to produce drama coming down the stretch on Sunday. Fortunately for Hollis Cavner and his team… the 2020 3M Open did not disappoint.
Day 1
Day one saw some relatively unknown players at or near the top of the leaderboard.
Massachusetts native Richy Werenski fired an opening round 63 to take a one stroke lead over Michael Thompson (64). A more familiar name, Tony Finau sat in 3rd place just two back after a first round 65. In fact, 7 players equaled that number including defending champion Matthew Wolf. Brooks Koepka, a pre-tournament favorite, shot a seemingly unimpressive -1, 70. Considering his poor performance at the 3M in 2020, it was good to see him in red numbers.
Perhaps the biggest surprise of the day was the 78 posted by former world #1 Dustin Johnson. Johnson withdrew with a bad back after the round, but his real issue was handling the water on holes 17 and 18. Starting on the back 9, Johnson found the water on his 8th hole leading to a double bogie 5 and then followed that up with a quadruple bogie on his 9th hole of the day. Johnson almost "Tin Cupped" it as he dunked three balls in a row in the water trying to reach the par 5.
"Hit a great drive on 18 and we only had like 199 (yards) to cover from where I was, 208 flag, it was a perfect 6-iron," Johnson explained after the round. "Hit it right at it and never once did I think it was going in the water. That never crossed my mind when it was in the air. Just went in the water, and I hit two more shots in the water, then I hit a good one (from 186 yards to 3 feet), made a tap-in for a 9."
While DJ made a mess of 18, Two-Time PGA TOUR winner Sangmoon Bae made perhaps the best par save of all time. After finding the water right with his tee shot, Bae found himself 250 yards out for his 3rd after his drop. Given that 18 is a Par 5, Bae tried to save par by reaching the green with his 3rd shot. Unfortunately, his approach also found the water guarding the front of the green. After another drop, Bae again attempted to hit the green only this time he was hitting his 5th shot. This time… he found the bottom of the cup! His hole out from 250 yards made that the longest par save ever in the Shot-Link era on the PGA TOUR.
Day 2
In round two, both Finau and Thompson followed up their impressive first rounds with a pair of 66's. First round leader Werenski also played solid carding a 67.
Perhaps more surprising than the names at the top of the leaderboard were the big names that found themselves outside the cut line of –3. Bubba Watson, Brooks Koepka, Troy Merritt, Tommy Fleetwood and Paul Casey all failed to make the weekend.
Local favorites Tim Herron and Tom Lehman also ended their work week early.
Day 3
Saturday is commonly called moving day on the TOUR. The 3M was no exception. Favorable scoring conditions led to a slew of good scores. Twenty-one players shot 67 or better. Adam Long and Cameron Tringale shared the low round of the day shooting 63.
Young stars Emiliano Grillo and Max Homa fired 64 as did 2018 Web.com Tour Championship winner Denny McCarthy. McCarthy hit 10 of 14 fairways and 15 of 18 greens in regulation and finished the day bogie free. McCarthy entered round 4 tied for 6th at 11 under. Michael Thompson and Richy Werenski found themselves where they were after day one… on top. Only this time Thompson and Werenski were tied for the lead. Tony Finau and Charl Schwartzel sat tied for 3rd at 13 under.
Day 4
The final round of any PGA TOUR tournament can lead to life changing events. On any given Sunday, someone might find themselves holding the trophy at the end of the day. Sure, most of the time it is a big name like Tiger, DJ or Rory. Players that are known simply by one name. But every once in a while, a player catches fire and holes a big putt on the final hole to take the title.
A win on the PGA TOUR brings with it a bevy of benefits. A two-year exemption on the TOUR is just the start. Most wins get you into major tournaments like the U.S. Open. One win almost guarantees you making the FedEx Cup playoffs as well.
Life changing events happen in many ways. While Thompson, a previous TOUR winner, knew what a win would mean, his life away from the course recently had a life changing event. The week following the TOUR's decision to cancel THE PLAYERS Championship due to the COVID-19 pandemic, Thompson and his wife Rachel traveled to Kansas to adopt the couple's second child. After a long delay due to the pandemic shutdown, the Thompsons brought home a baby girl.
On Sunday in Blaine, Thompson's life would change again. Thompson's only other win came back in 2013 at the Honda Classic. TOUR players talk about wanting to validate their first win by following it up quickly with another. His second victory took 7 years.
If not spectacular on Sunday, Thompson was steady. He hit 16 of 18 greens in regulation in round 4. After hitting all those greens, he made it count. Riding a hot putter, he had ZERO misses on putts inside 10 feet.
After a tap-in birdie on 16, Thompson made a steady par on 17 leaving him one clear of the field going into the final hole meaning his chasers would have to make eagle on the final hole. That one-shot cushion meant he could play the par 5 more conservatively. After a safe drive down the left side of the fairway, Thompson chose to lay-up to 125 yards out. He then landed his approach shot to within 15 feet of the pin setting up a possible breathing room birdie.
A two-put would have been good enough to stay in the lead. He only needed one. When that final putt dropped on the 72nd hole, he had a 2-shot lead, and no one was able to catch him.
"You can only dream of making a putt on the last hole to win a tournament." said Thompson. "Definitely nice to know that I had a one-shot cushion, so I only had to two-putt, but had such a good read, it was an uphill right-to-left, exactly what any right-handed golfer wants."
"This win validates the first win," Thompson continues. "It solidifies kind of my presence on the PGA TOUR and proves to my peers that I'm a threat every week and that's what I want to be."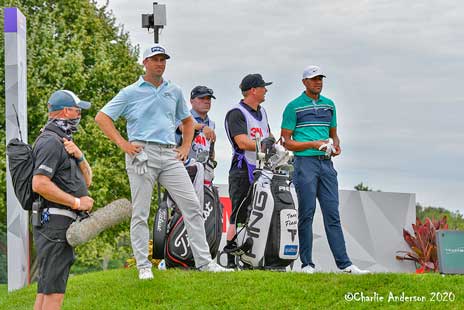 Michael Thompson and Tony Finau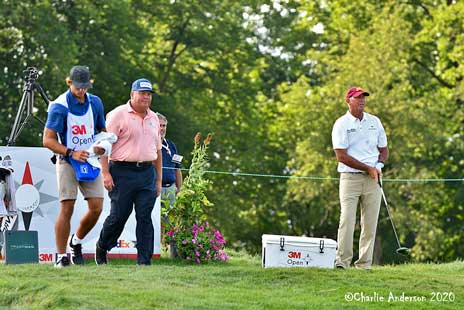 Local favorites Tom Lehman and Tim Herron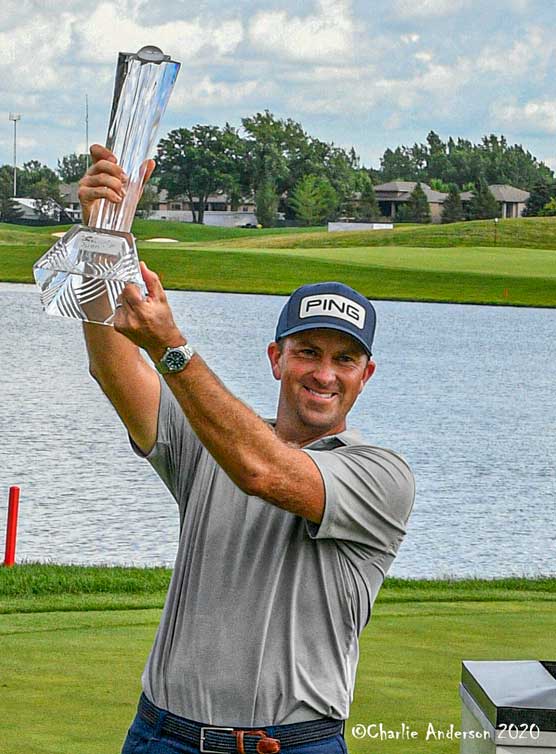 2020 3M Open Champion Michael Thompson