POWER PLAYERS – A "Golf Profile" Series CADDIES
By E. Nolan

PEOPLE move the needle in golf, from visionary developers like Mike Keiser to architects like Jeff Brauer and players like you and me. But non-players like caddies can be just as important to game development—carving their own niche in the sport, making the game easier on the high end resort and PGA Tour level. If you've never had the caddie experience you don't know what you're missing. Yes, the first time is a bit intimidating. Yes, there are some terrible caddies (even on the best courses), but MOST caddies are in it to make money (it is a REAL job), and they really are only successful if they're great at what they do. (As MOST are.)
In Minnesota, the caddie experience is 99% exclusive to private clubs, with only The Classic at Madden's on Gull Lake offering it to the general public. In my personal travels, playing 588 courses around the world, I've played 59 of those courses with caddies (including The Classic). I rate every caddie in five (20 point) categories adding up to a 100-point score: (Course) Knowledge, Effort, Fun/Friendliness, Professionalism and Character. The best caddie I've ever had was at Bandon Dunes Resort (20/20/19/19/19 = 97%). The worst caddie I've ever had was at Erin Hills (12/10/5/5/5 = 37%). I've caddied at a private club, wanted to be a caddie master, have a son who wants to caddie and I LOVE the caddie experience.
For this Profile Piece I interviewed two full-time caddies, one at Whistling Straits (Nicknamed "Rage") and one at Bandon Dunes (Nicknamed "Jelly"). These guys have been through it all, and both had interesting takes on the profession.
What is the best tip you've received for carrying a single bag? Worst?
RAGE: $200. Sometimes we'll carry two bags at once and I've gotten $360 for that. $100 a bag is considered good. Anything under $60 kind of…well…isn't good.
JELLY: At Bandon we receive $100 for our services automatically, so "tipping" is a bit hard for me to work with… do I include that $100 or not? That's a generous amount already, and further tips are pretty much a "bonus," but I've had guys "tip" me an additional $200 per bag so…I love what I do and where I do it…and when you get a guy who tips you great your first round (at a resort where they play multiple rounds) you try to keep that same guy with you all week.
What is considered a good annual income for a caddie where you work?
RAGE: It's not hard to make $20K or so a year caddying at Whistling Straits.
JELLY: If I carried one bag a day all year I'd make $36,500. That's always my goal. I can tell you that our top ten jocks (caddies in Caddyshack lingo) each made over $80K last year.
What is the strangest thing you've witnessed while caddying? Funniest? Scariest? Dumbest?
RAGE: We caddie for so many weird people. (Funniest) I had a group show up in kilts and thought it was going to be terrible. Turned out the guys just wanted to get drunk and ended up being awesome. I caddied for them all week and they were great tippers. (Scariest) I had one guy throw a golf club at me on the first hole because I couldn't find his ball. The club hit me in the chest, hard, and he yelled at me the entire round. That was my first year and I didn't feel like I could say anything back. (Dumbest) I've had guys ask which ocean that was. (Pointing at Lake Michigan.)
JELLY: (Strangest) I saw a giant porcupine eating gorse one day. I thought – "Giant armored rodent eating natural barbed wire…makes perfect sense." (Funniest) I was caddying for Vijay Singh with Greg Norman one day. Both of their tee shots on a par 5 landed close to each other in the fairway. Greg approached the away ball, lying near a sprinkler head, and tried to get a free drop from Vijay. Vijay refused. Greg Norman stood up tall and smiled, walking away. "Too bad," Norman said. "It was your ball anyway." (Dumbest) I've had guys ask me, "What lake is that?" (Pointing at the Pacific Ocean.)
Who is the favorite person you've ever caddied for?
RAGE: Dierks Bentley, the famous country singer, and he was absolutely awesome—such a down to earth guy with no ego. Brought his band along to play the course and they all treated the caddies awesome—great tipper and excellent golfer.
JELLY: Guy named Brian Trowfield. He started real quiet then got really friendly fast. He played great with little help from me, but acted like I was responsible for all his success. He was excited and fun and friendly and to this day I still caddie for him whenever he's in town. Tremendous guy!
What are the biggest differences you notice in caddying for men vs women?
RAGE: It seems women are generally nicer and willing to blame themselves when they aren't playing well. Women also seem to find (and stay in) the fairway more than men. Caddies seem to like caddying for women more than men because it is less work and often more reward.
JELLY: You have to keep the vulgarity in check around the women. We typically caddie for men so we sometimes forget who is around. Women seem to pay more attention to amenities and scenery, and they often are more generous. Women care most about being properly lined up. My rule of thumb is "never judge a book by its cover" because oftentimes the assignments you cringe at end up being the most rewarding.
Tell me a little about your co-workers. Any jerks or particularly cool people? Do most of the caddies get along well?
RAGE: There was this guy named Burrito that was absolutely crazy—no one ever knew what he was talking about. The most popular and respected guys are Benson and Phil—older guys but super hard workers and really good guys to caddy with. A lot of the caddies are stoned all the time. They don't drug test because they know pretty much everyone would fail.
JELLY: Seniority reigns supreme at our resort, but there's only light bullying and it's easy to fit in and stay afloat. Honestly, the more you can take and dish out appropriately, the better off you'll be with the golfers in the long run. Some caddies will talk crap all round. I try to be respectful of my golfer and lemme tell you, if they ain't playing good, the last thing I'm doing is talking crap or being wise—that's critical considering that 90% of our clientele probably couldn't play their way out of a Port-O-Potty at a pitch and putt.
What do you LOVE and HATE about being a caddie?
RAGE: LOVE the money. Love being outside and I've met a LOT of really cool people. I HATE the daily uncertainty—rainy days, heavy golf bags, jerks, some caddie masters and the really windy days on The Straits, when even good caddies struggle to get their players decent scores.
JELLY: I LOVE the exercise, being able to watch golf up close for "work," networking and meeting interesting people, the great pay and flexible schedule. I don't love that we're uninsured, and that there is no guarantee of employment. And no one likes working in bad weather, which we get a lot of.
If I were to ask you for the "10 Commandments of Caddying" what would you insist be included?
(Rage) "Know how to handle horrible golfers and get used to seeing horrible golf."
(Jelly) "Don't talk or move when someone is hitting."
(Rage) "Make the most of your playing privileges."
(Jelly) "Always get to your ball before your boss does."
(Rage) "Act confident, even if you're not."
(Jelly) "Never let the flagstick touch the ground."
(Rage) "People liking you pays more than people playing well."
(Jelly) "When in doubt, club up."
(Rage) "Keep everyone hydrated."
(Jelly) "Let your golfer do their thing."
You really get to know your caddie well during a round. Most of the time that's a great thing, and you get to hear some pretty great stories. If you've never had a caddie before, find a club that has them and give it a go. Whether you play well or not, it is bound to be a memorable experience.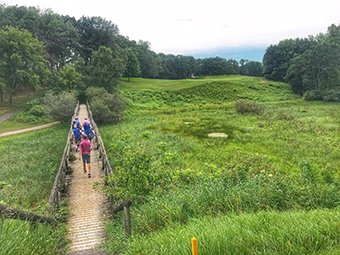 Caddies carrying at White Bear Yacht Club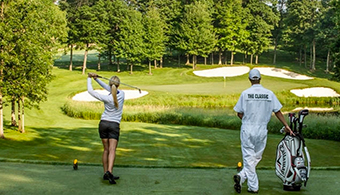 Caddy and player at The Classic at Madden's