3M Open Recap
By Jim McNaney

Lone Wolff
Much needed to change in and around the inaugural 3M Open at TPC Twin Cities. From course design to player security, from a free event to a paid event, almost everything about this event was different from the prior PGA TOUR CHAMPIONS event the 3M Championship.
That was exactly what Hollis Cavner and organizers of the tournament wanted. They wanted the world to know that this event was not a rebranding, but an entirely new tournament. The only thing they hoped would stay the same was the course's propensity to produce Sunday back 9 drama.
Ultimately, change is difficult, and no one knew for sure how all the changes would turn out. Fortunatly for Cavner and his team… the 3M Open did not disappoint.
Day 1
Fitting that on the 4th of July, fireworks would appear at the TPC Twin Cities on day 1 of the inaugural 3M Open. Minnesota native Tim Herron started things off with a bang by carding a hole-in-one on the par 3 8th. Herron used a "little cut 5 iron" to ace the hole.
"Hit a nice high 5-iron and it just kept fading in there," said Herron. "I can't see probably past 200 yards so I didn't really see it go in. I think I saw it jump up, but I had no idea."
First round leader Scott Piercy used nine birdies, including four over his final five holes, for a 9 under 62. Piercy tied his best round and his most birdies on the season. Piercy relied on a hot putter on the back 9 draining a 30-foot bomb on number 15 for birdie.
"The one on 15 was huge just to keep the momentum going," Piercy said. "The one on 8 was a pretty good putt, it was probably 15 feet. The one on 15 was about 30 feet. You know, I made sort of those mid-range, 10 to 15-footers, a few of those that helped, really helped things go."
Piercy held a two shot lead over Hideki Matsuyama of Japan and Canadian Adam Hadwin. Five players sat just 3 back after round one including the grandson of Arnold Palmer, Sam Saunders. On the course originally designed by his grandfather, Saunders carded 7 birdies including four in a row on the front 9.
World number 1 Brooks Koepka finished a pedestrian first round at -4, 5 strokes back of the leader Piercy.
"I thought I played really well," said Koepka. "I drove it pretty nicely. Only missed the fairway there maybe three times, you know. Cost me bogey there on 9, but that's because of a poor drive. Putted really well. I felt like I made all the putts – at least hit good putts but they missed. I'm pretty satisfied with it."
Crowd favorite and World Hall of Famer Phil Mickelson did not have a good day. While Piercy and others were taking the teeth out of the TPC Twin Cities, Mickelson felt the pain. Firing a 3 over 74, Mickelson was in danger of not seeing the weekend.
"Oh my goodness. You know, I had seen penalty strokes. You can't do that and compete," said Phil.
Course redesigner and defector host Tom Lehman shot a solid 4-under.
Day 2
Day two was defined by one man, Bryson DeChambeau. The mad scientist himself opened up a two shot lead over Adam Hadwin and a four shot lead over first round leader Scott Piercy.
DeChambeau shot a career round 62 to vault to -14. Relying on a new and hot putter, Bryson rolled in 137 feet of putts on the TPC Twin Cities greens.
"Well, I made a couple more putts outside of 20 feet and I definitely converted the par 5's," said DeChambeau.
While he might not have seen a -9 coming in his future, DeChambeau was confident he was trending in the right direction.
"Certainly not 9, but, you know, it's obviously nice when you can make some putts that your weren't thinking you were going to make and get you to a place that you haven't been before," he continued, "What I did today was kind of an anomaly."
After a rough front 9, shooting 38 with 5 bogies, first round leader Scott Piercy settled in on the back 9 to follow up his opening round 62 with a solid 70. Canadian Adam Hadwin highlighted the afternoon wave, following up a first round 64 with a second round 66 to take sole possession of second; just two behind DeChambeau.
"Yeah, I'm in great position. Playing really well again. Kept it in play," said Hadwin. "A couple bad shots here and there, but made a bunch of putts again today. Yeah, it's nice to play well and to get a few more there on the back side, get a little closer to Bryson and certainly within striking distance with 36 to go."
Sam Saunders comes back from "Rock Bottom"
Another storyline that only Hollis Cavner could provide was Sam Saunders. The grandson of legend and TPC Twin Cities original course designer Arnold Palmer, Saunders was in a very dark place leading into this tournament.
"To be honest, I just wanted to be done," said Saunders
It's been a difficult year on TOUR for the former Clemson Tiger. In 20 starts on the 2019 PGA TOUR schedule his best finish is T26 and had banked just over $200K missing the cut half the time and 6 of his last 7. But with the 3M Open, Saunders hopes it will be the start of something big.
"I feel good again, I feel normal, back to my happy self, smiling on the golf course, which you've got to do. It's an effort sometimes, it really is. I want to play out here and I'm not done yet. I've got a lot left to accomplish out here." But he knows the realities of life on the PGA TOUR no matter your lineage. "Yeah, I need a win. That's pretty much it."
Day 3
Day three is commonly called "moving day" on the PGA TOUR. Day 3 at the 3M Open was a day of what was and what could have been.
What could have been was a blowout. Bryson DeChambeau had just fired a 62 on Friday and looking like he was in form to run away with it. Putts that were dropping the first two rounds were not finding the bottom of the cup on Saturday. DeChambeau finished with a -1 70 to at least stay tied for the lead.
"I just think putts didn't go in today and my iron play was a little off," said DeChambeau. "I didn't make birdie on 12, I had a perfect look on 10 and 11, even 9 I had a pretty decent look."
While DeChambeau stalled, moving day was full throttle for some of the game's newest names. In fact, by Saturday afternoon, it looked more like the NCAA finals than a PGA TOUR event. Rookies Collin Morikawa and Matthew Wolff both carded career low rounds of 64 and 62 respectively.
Day 4
WOW! Just WOW.
The 3M Championship always had a knack for producing wild finishes. Day 4 at the 3M Open made all of those pale in comparison. No less than 6 players were tied for the lead on the back 9 on Sunday. Story lines were everywhere. Local golfer Troy Merritt, one of the many that briefly tied for the lead, finished one back. The leader for the first three days was Bryson DeChambeau. After a less that stellar opening 9, DeChambeau would not go away. Needing birdie on the Par 5 18th hole to tie for the lead, Bryson made a dramatic eagle to get to -20 (the number Lucas Glover predicted would win earlier in the day) and leap frog Matthew Wolff and fellow rookie Collin Morikawa for a 1 stroke lead.
But as had been the case over the years, the 18th hole at TPC Twin Cities can give up some low numbers at the most opportunistic time. Both Morikawa and Wolff reached the green in two with eagle putts of their own. Neither appeared to be all that makeable, but that does not seem to stop the young players today.
While Morikawa's eagle attempt looked good most of the way, it slipped by leaving him a short birdie to tie DeChambeau at 20 under. Then it was Wolff's turn. His eagle seemed less probable, but when it found the bottom of the cup, even his fellow competitors were stunned. The eagle gave Wolff not only a one stroke victory, his first on the PGA TOUR, it meant he earned his PGA TOUR card and a two-year exemption.
"It's life changing," said Wolff. "I've seen it so many times before, like even the last two weeks, Nate Lashley, and before that. You know, it really changes your life."
Change can be difficult, but, in the case of the 3M Open, changing from the PGA TOUR CHAMPIONS to the PGA TOUR proved to be a change well worth making.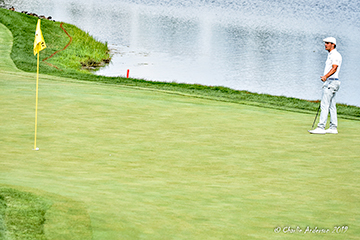 Bryson DeChambeau on the 18th hole. Photo Courtesy Charlie Anderson/3M Open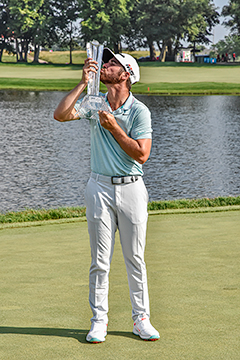 Matthew Wolff 2019 3M Open Champion. Photo Courtesy Charlie Anderson/3M Open