Golf That Matters
By JP McNaney
All PGA TOUR events are notable for their charitable contributions. In fact, local charities are the single biggest benefactor at any TOUR stop.
The 3M Open Fund, based in Minnesota, is a non-profit 501(c)3 foundation created when the tournament was founded by 3M and the PGA TOUR in 2019. The 3M Open serves as the principal fundraiser for the organization's efforts to support local and regional charitable organizations. The foundation's mission aligns with 3M's commitment to improve lives in communities where we live, work, and learn. 
3M Open officials announced its 2022 charitable giving efforts will be directed largely toward local nonprofit organizations which are focused on supporting individuals, groups and companies impacted by the ongoing COVID-19 pandemic. Additionally, the 3M Open Fund is proud to support those organizations that are committed to bolster racial equity.
This year, there will be 6 pillar charity partners: M Health Fairview, YWCA of St. Paul, YWCA of Minneapolis, Greater Twin Cities United Way, The First Tee, and The Science Museum of Minnesota.
The 3M Open Fund initiatives focus this year on creating more equity in healthcare for underserved communities, supporting individuals economically impacted by the pandemic and advance social justice programs in the local community.
"3M looks to build on our promise that the 3M Open is a community-first event," said Denise Rutherford, 3M's senior vice present and chief corporate affairs officer. "The 3M Open is a year-round platform to help build stronger communities and our tournament ethos of Golf That Matters continues to drive this effort."
Each of the pillar charity partners have very specific goals in mind that are in line with what Tournament Director Mike Welch says organizers are striving for.
Greater Twin Cities United Way
The United Way's mission is to galvanize the community and build pathways toward prosperity and equity for all. They create a region where all people thrive regardless of income, or race. The Greater Twin Cities COVID-19 response and recovery fund is making a huge impact on the community.
The 3M Open, in partnership with Greater Twin Cities United Way, presented Jessica Rogers the Social Justice Leadership Award and provided a $7,500 grant to her nonprofit organization, Connections to Independence. Rogers' established her organization in 2010 with a mission to provide unique programming and advocacy for foster care youth, ages 14-24, to promote a successful and healthy transition to living independently as they reach adulthood. Rogers also serves as the Executive Director. 
Through Rogers' leadership and collaboration with multiple other local nonprofits and foundations, the outcomes of the youth in the program have exceeded national outcomes. This has gained attention from other states who are looking to Connections to Independence for insight on how to adapt the program in their own communities.
The YWCA of St. Paul is on a mission to eliminate racism, empower women and promote peace, justice, freedom, and dignity for all.
YWCA Minneapolis has been cultivating an inclusive and healthy community through a range of programs, classes, and workshops. The YWCA provide high-quality Racial Justice, Early Childhood Education, Girls and Youth, Health and Wellness and Workforce Development programs that help build a vibrant, healthy community for all.
M Health Fairview and The University Of Minnesota Masonic Children's Hospital
As a land-grant university and an academic health system, M Health Fairview has been a leader in the Twin Cities community and beyond, providing clinical research and expertise to support of those that have been affected by the COVID-19 pandemic. Additionally, through teamwork and collaboration across the entire system, M Health Fairview and the University of Minnesota Masonic Children's Hospital respectfully addresses the physical, emotional, cultural and spiritual needs of pediatric patients and their families. Their compassionate, innovative approach has repeatedly received national recognition.
The Kitty Andersen Youth Science Center STEM Justice approach creates the space for young leaders to apply STEM to address critical community issues. Since the Kitty Andersen Youth Science Center was established in 1996, it has directly engaged youth from groups that have been historically underrepresented in STEM fields.
First Tee – Minnesota
First Tee-Minnesota continues its commitment to impact the lives of young people by providing programs that build character, instill life enhancing values and promotes healthy choices through the game of golf. 
According to Welch, the charities selected as partners are ones that not only have a direct impact on the community but also see the partnership with the PGA TOUR as a way to increase donation dollars year over year.
The goal is to work with charities that work directly with tournament organizers and volunteers to allow hands-on involvement with the daily work they are doing for the community as well as facilitate connections between the 3M Open and other donors.
"Charities that allow us to have boots on the ground are the ones we want to support," said Welch
Welch cited the Greater Twin Cities United Way as doing "a phenomenal job supporting not only families, but businesses."
For charity dollars to continue to grow, the reach of the tournament needs to expand. As an example, the Waste Management Phoenix open has annual donations around $42 million dollars each year. It takes decades to get to that level, but that is where Welch and the rest of his team want to take this tournament.
Working with each charity is not just about collecting ticket revenues and advertising dollars over a week and then writing a check. The 3M Open Fund works year-round with the charity partners.
"Social justice is important," said Welch "I can see the vision on how we can grow this."
Admittedly it will take time to get to the level organizers seek but they are sticking to a proven plan.
For more information about the various charities visit 3mopen.com/3m-open-fund.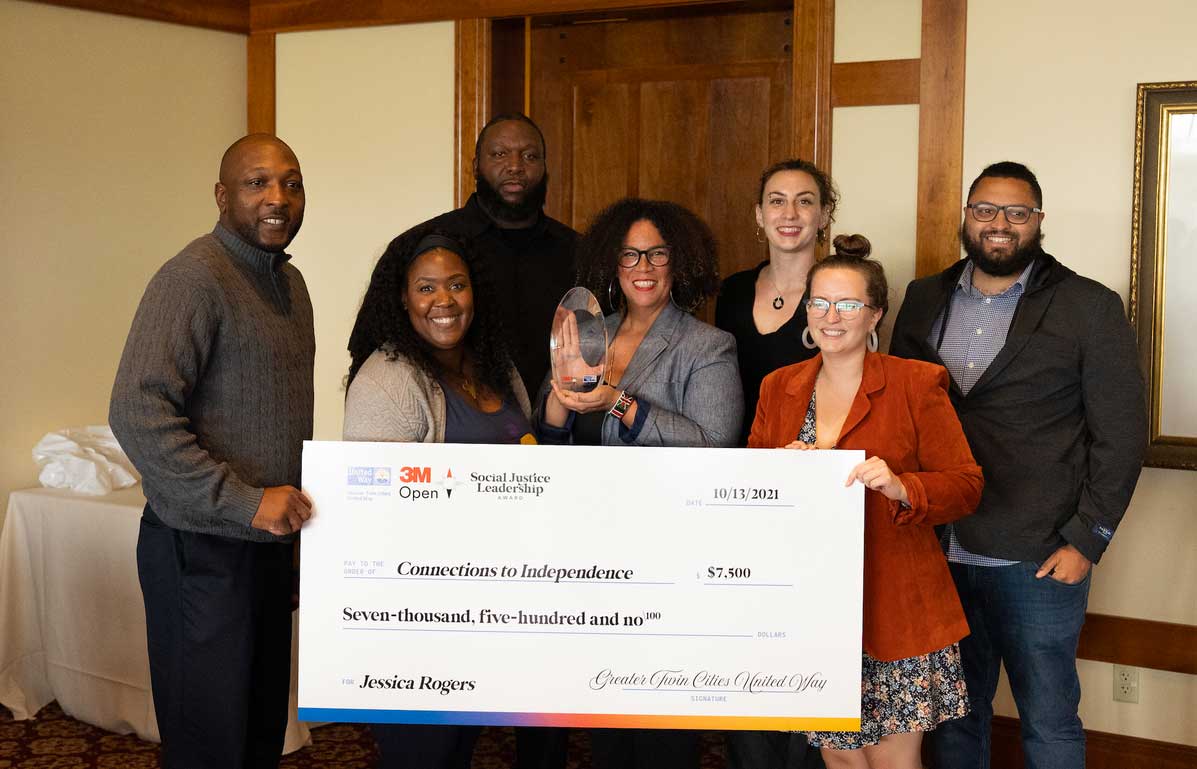 Jessica Rogers presented with the Social Justice Leadership Award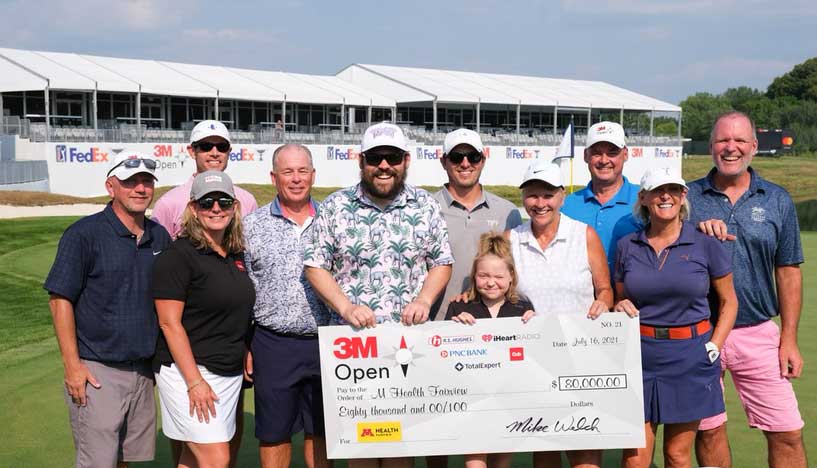 3M Open M Health Fairview donation check