Post It: Fans, Fairways, Food & Fun At The 3M Open
By Judd Spicer
Entering its fourth year as a PGA Tour event, the annual 3M Open continues to craft an identity as one of the game's most inviting, fan-friendly events.
After debuting on 4th of July week in 2019, running amid the pandemic season of '20 and then sandwiched between The Open Championship and WGC-FedEx St. Jude last year, this year's 3M, again held the week after the British, will begin a torrid TOUR homestretch to the FedEx Cup playoffs.
Alongside headliners Hideki Matsuyama, Sungjae Im, Jason Day and Rickie Fowler (himself a FedEx "Bubble Boy" at 124th), players around or outside the playoff's top 125-point qualifiers no doubt enter the 3M eager (or desperate) to keep pace.
"We're the first of three tournaments prior to the start of the playoffs," says Mike Welch, tournament director at the 3M Open. "So, if you're a player that perhaps had an injury earlier in the year or in a position needing to catch up in the FedEx, you want to play as much as possible. We certainly see benefit in our placement."
Exampling as such: Defending 3M winner Cameron Champ was sitting at No. 155 the week prior to the 3M Open, while former Golden Gopher Erik Van Rooyen was also on the outside looking in, at No. 132 in the FedEx.
From community to course, the event continues to positively impact those sans club in-hand. From a philanthropic perspective, the tournament's charitable arm, the 3M Open Fund, is coming off a season of diverse donations to the YMCA, First Tee, M Health Fairview, the Science Museum and beyond.
And for event week, the on-grounds spectator experience outside-the-ropes will provide equal engagement.
"Our goal is to make the 3M Open more than just a golf tournament," Welch continues. "And in the sports and event business now, you need to have an incredible food, beverage and fan engagement platform for your guests."
From a drink and dine vantage, 3M spectators will be well-sated, with prime perch options to watch the action while enjoying some summer sipping and snack sampling.
Minnesota-made Gray Duck will host its eponymous deck perch on 12 green/13 tee, featuring its signature Birdie Juice and assorted seltzers; and, in the nexus of the Fan Village, the Maestro Dobel Tequila Cantina will pair perfectly with direct viewing of the on-course action. 
"No shortage of golf watching and options from a cocktail perspective," adds Welch. "There's a number of great vantage points, and a few new spots this year for great viewing and socializing. Right behind the 9th green, we now have The Lookout, opened to the public and presented by Josh Cellars and Gray Whale Gin; it's a great spot to have a beverage in a tented area with a terrific vantage point."
The tourney director sees a full scorecard of viewing options across the grounds of TPC Twin Cities.
"Holes 4 and 7 are also great spots, with shading and concessions," says Welch, "and a good sneaky spot is on the 14th, where there's an area of tree cover just to the right of the green; and, from that same spot, you can also see players putting out on the Par 3, 17th."
The bustling home hole grandstands couple with 3M's Northwoods area and the TimberTech Backyard fan space. 
"We talk a lot about, 'What is the vision of the 3M Open?' And what we compete with – along with the other sports teams – is Minnesota weekends," Welch says. "So, we've worked to bring the cabin to the 3M Open; and, sometimes, that's yard games. We have that right off the 18th fairway, where you can toss bean bags and play games with a beverage in-hand while watching golf at the same time."
A drink in one hand, a snack in the other. For dining, local favorites, sporting standards and ethnic options present a full menu of fare, including the Parlour food truck, Red's Savoy Pizza, and the return of bibigo Korean Kitchen.
"We have a wide array of food choices, which is so important," enthuses Welch. "If you're a 'golf curious' fan and maybe not a hardcore PGA TOUR follower, you want to come out and have that unique drink and dining experience. If you're the hot dog and burgers-type, or if you want to deviate a bit and get kinda' crazy with the taste buds, we'll have that covered as well."
And for spectators seeing to pair swing and science, a stop at the Titleist/GOLFTEC Performance Center in the Fan Village can get the swing analyzed by a PGA teaching pro; concurrently, all guests should make a 3M Open day complete with a visit to the 3M Science Dome. 
"It's an incredible space and really highlights a number of new products that are coming out from 3M," Welch says. "When people walk in, they'll be amazed at what they see."
Featuring equal opportunity to enjoy live golf check-ins with a full-on sponsor experience, the massive Dome highlights with a 360-degree, IMAX-like theater, and the film, The Impossible, Possible World.
The sensory adventure ranges from technology to nature to fashion.
"We're working with Houston White, a gentleman who has a clothing line here in Minneapolis whose fashion is for people of all ages and all demographics," explains Welch. "This year, with his Viictory line, he's collaborated with 3M and their reflective material, and created a line which can be worn both on and off the golf course."
Floating chairs (really) at 3M's VHB Hangouts, a "Loudest Drive Competition" and a sonically designed set of golf club chimes all fly for the Dome's curious visitor, just as the area's entrance offers further wings. Be sure to ready the phone pics for 3M's Dichroic Film Butterfly Garden at the main entrance.
"It's all about the Instagramable moment," concludes Welch, "and this spot really fits the bill."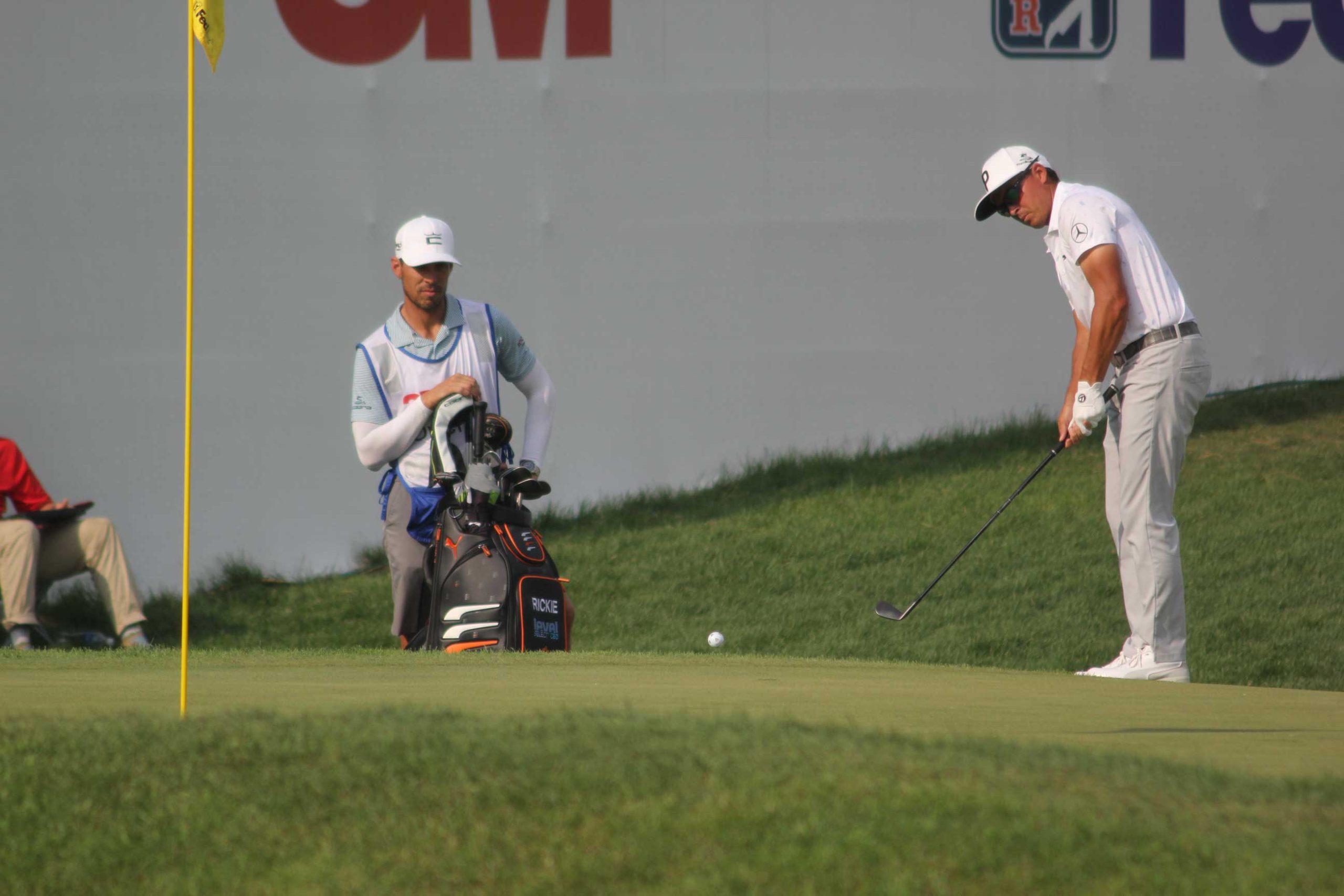 Rickie Fowler chipping on #18 in 2021