Feeling The Magic – The Meadows At Mystic Lake
By Rhett Arens
It all starts where the giant tipi in the sky shines bright in the night. As they like to say in the Prior Lake area, simply 'Follow the Lights.' Like a pot of gold at the end of the rainbow you'll find a multi-faceted entertainment complex that is guaranteed to hit your sweet spot. That spot might be gaming, it might be fine dining, it might be world renown stage acts – both indoors and outside, it might be luxurious accommodations, a spa visit, or some combination of all the above. There is one spot that is guaranteed to hit, and that is the golf sweet spot. The Meadows at Mystic Lake Golf Course has it all. They have looked at every angle and every customer need and assembled a player experience second to none. There is a level of understanding around hospitality that only casino management in conjunction with experienced golf operations could fully grasp. For us golf fanatics, that is our version of the sweet spot.     
Director of Golf, Mike Luckraft has brought his sizable knowledge of golf operations to the Meadows last July when he was hired to enrich and expand their customer focused philosophy. His initial impressions were that the course design was exceptional, the par 5's are quite challenging, the water features are stunning, and the Native American monuments carefully landscaped into the layout are a captivating differentiator within the overall design. In summary, the fun factor and the challenge factor were riding side-by-side throughout all 18 holes.  
Your golf experience will likely start with some warm-up putting on the generous expanse of practice greens (14,000 SF and 8,000 SF respectively). The clean, well-organized driving range is within view of the starter, so tee times happen on-time and the range is set-up with 35 stations which provides plenty of elbow room. Another player-friendly feature that translates into an uncrowded, unhurried, relaxed round is the use of 12-minute tee time intervals. Given this reduces the number of tee times sold on any given day, it's honorable that the Meadows would give up revenue to insure a better playing experience.  
It's highly recommended that you let The Meadows Bar and Grill come into play at some point during your visit. This classic, window filled, large indoor, outdoor venue is perfect for a pregame sandwich or post-round sit-down with friends. While enjoying a post-round refreshment and some appetizers or a burger you can take in the views overlooking the golf course and the 18th hole island green which can be quite entertaining at times. Inside, the river rock fireplace is the perfect setting for those chilly spring or late-season rounds.  
It is rare to find courses private or public with bent grass tees and bent grass fairways. Maintaining this level of excellence is simply more work but the groundskeepers are tireless in their efforts – which is also seen in the pristine swaths of natural grasses, wildflowers, and native prairie plantings. It should come as no surprise that the staff are eco-minded given the Mdewakanton Sioux tradition of being good stewards of the earth. Through the championing of the NativeGreen initiative, they have created a greener, more sustainable grounds keeping operation. Using treated wastewater from a reclamation facility to irrigate fairways and greens The Meadows at Mystic Lake estimates a reduction in groundwater withdrawal of approximately 35 million gallons a year! There are numerous circulating water features throughout the course layout which not only adds head-turning, camera-ready vistas but they also entice mallards, Canadian geese, muskrats, and other wildlife into the 'meadows' wetlands. 
Remember, golf is one aspect of the entertainment smorgasbord at your fingertips under the soaring tipi lights. Let's take a look at the whole menu, starting with one of the largest gaming floors in the Midwest and best of all… it's open 24/7. Without jinxing anything let's hope we have the worst of the COVID pandemic in the rearview mirror. The Mystic Lake Casino Hotel complex is mask optional at this time and taking all the right precautious to keep patrons safe. A big part of the fun is the ever-evolving promo calendar which brings you everything from Bingo to texting clubs to Cosmic blackjack to giveaways of all kinds. There are slots in all kinds of configurations along with pull-tabs, blackjack tables (with side bets) and Bingo in many shapes and forms. The stakes can be high or low, but you are always surrounded in a fun atmosphere while enjoying these tried and true games.
At some point you will want to settle in for some dining. There are 10 options to choose from which run the gamut from white tablecloth, fine-dining to a grab-n-go. The Fusion Noodle Bar offers Asian fusion in all its flavors from Pad Thai to a steaming bowl of pho. The Mystic Steakhouse is exactly that, big juicy steaks served to order with all the accompaniments. They serve superior cuts of prime-aged heritage beef along with savory seafood and a large selection of fine wines. The Minnehaha Café offers a classic all-American menu with hearty favorites like hot turkey sandwiches, stacked burgers and seasonal salads. Sometimes you just need a plate of comfort food prepared just right. The Gambler's Grill will allow you to keep moving with a handy selection of burgers, nachos, and other appetizers to go. The DrinX Bar is an ideal central spot to settle in for the big game on TV and some drinks. Live music is played on weekends at DrinX where the dancing begins while the gaming keeps chugging along next door. A few quieter options for a cocktail and some relaxation are the Lobby Lounge and the Promenade Bar.
The Mystic Lake Casino Hotel entertainment calendar is back in full swing after a long, mandatory COVID pause. A quick look at the acts lined up over the next few months shows an incredible cross-section of styles and acts. Everything from Standup Comedy to Motown to Classic Rock. A short list includes: The Temptations, Earth, Wind and Fire, The Black Crowes, Ringo Starr and more. Comedians Chris Rock, Nick Swardson and Jeff Dunham are slated to play the Mystic Showroom while the music bounces between the indoor Mystic Showroom and the outdoor Mystic Amphitheater. 
The hotel offers several tiers of luxury accommodation with a smartly appointed compliment of amenities. Those amenities come in three customized packages that speak for themselves: Let's Celebrate, Let's Romance and Let's Play. Starting at the top-tier the Suites feature contemporary furnishings, large windows for plenty of airy, natural light, a separate living area with a game table, 55" HDTV'S, oversized bathrooms and Keurig coffee makers. The Promenade and Lobby Towers offer upscale furnishings with plenty of comfort and style.
Whew! If that that isn't enough, the Meadows at Mystic Lake is hosting the Land O'Lakes Legends Classic August 12-14. Featuring Legends of the LPGA such as Nancy Lopez, Juli Inkster, Rosie Jones, Jan Stephenson and many more, the Land O'Lakes Legends Classic is sure to provide an unforgettable golf experience to fans in the upper Midwest.
Start thinking about all the ways you can put together an all-out stay and play. An overnight extravaganza that brings in a round of golf with some happy-hour gaming, a special dinner followed by some live entertainment at one of the outstanding theater venues. Cap the night off with more gaming or dancing and if your luck is going well… feel free to stay up as long as you like… you can always sleep in. The magic of the Mystic Lakes resort experience never ends.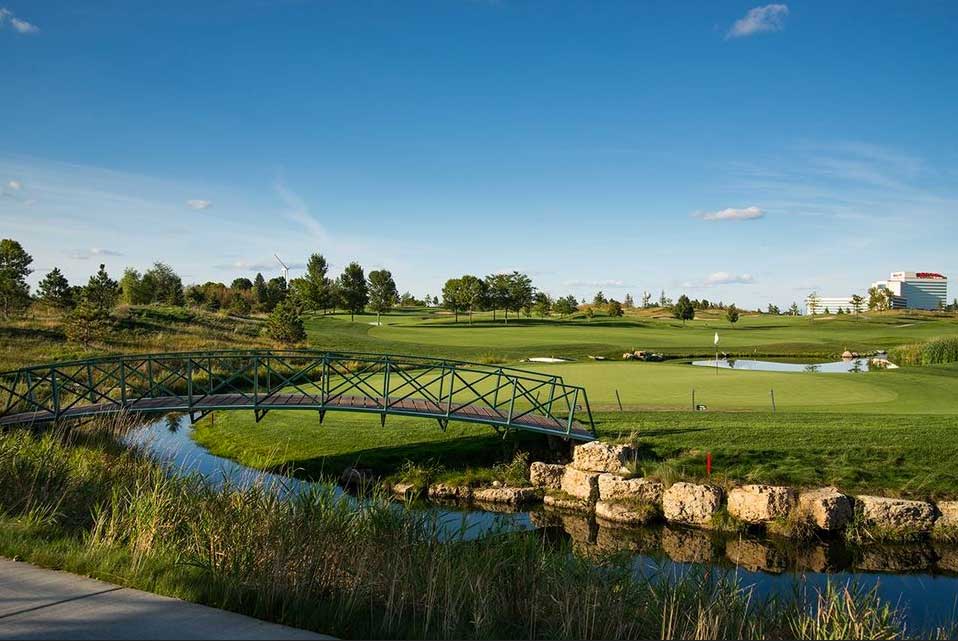 The Meadows at Mystic Lake #7