A New 'Legacy' at Cragun's Resort
By Rhett Arens
The old adage that 'change is good' can make people squirm. Those who are cautious of trying new things, or are long on tradition, or prefer things to 'stay the way they are' can get uncomfortable with change. The status quo is not the Cragun's way. At Cragun's and the Cragun's Legacy Courses, change is good. That doesn't mean the Cragun's brain trust throws tradition out the window, they definitely understand the value of time-honored recreation. It simply means they keep moving forward, they keep improving with the times and they certainly don't rest on their sizable laurels. This is a big year of change, especially on the award-winning golf side where a massive $10 Million redesign of the Legacy Courses including the addition of a new Tom Lehman championship 18-hole course, which is approaching completion, and hosting the 2022 CRMC Championship (August 22-28). The golf action around the Legacy Clubhouse is hot in 2022.   
Cragun's Resort has always prided itself on providing a little of everything on a family vacation wish list (make that a lot) – a long, soft sandy beach on a beautiful lake, a giant indoor swimming pool, don't forget the award winning golf courses (3 of them), dining extravaganzas both casual and upscale, all the water toys known to man, rental boats, sunset cruises, walleye's by the stringer full, fire pits waiting for marshmallows, enough elbow room and privacy to bring the family and feel like you have the place to yourself, spa's, gift shops… can I stop now? No? OK, top-tier golf instruction (Chris Foley), a fully equipped marina (including bait shop), snowmobile center, volleyball courts, fitness center, organized games, biking trails. Ok, that's enough. It's not everything they do, but you get the idea. 
The Midwest's golf fanatics, who have tested their mettle on the Legacy Courses over the years, are in for a wonderful reintroduction. This is the type of change that gets your blood flowing. All I can say is – it must have taken some crystal ball visionary type focus to rework this majestic landscape into a truly new experience. Please know Cragun's is currently booking tee times on 18 of the new 'Dutch 27' holes and course conditions are great!
To hear new Head Golf Professional Jack Wawro describe the transformation, it's clear Cragun's went all in to do it right when they selected Minnesota's most decorated PGA Tour professional and golf course designer Tom Lehman (Troy Burne is on his list!) to work his magic. The Lehman Design Group prioritizes playability with a capital 'P' while incorporating the natural topography that gives the property its individuality. The groundwork for the $10 Million renovation and expansion kicked-off in April of 2021 and will continue through the spring of 2023. When this project is complete the Legacy will be a golfer's dream, offering 54 holes of northern Minnesota infused golf. Jack joined the Legacy Golf Management Team after 20 years at Grandview, he is well aware of the evolution of the Brainerd golf mecca during that time, and he is pumped about this 'game changer.' He says, "Tom brought a visionary, creative concept to the table that supports playability and dovetails perfectly into a resort golf priority."
The new "Dutch 27" will feature three renovated nines (red, white, and blue), which will offer players three different 18-hole combinations. Every hole on this course has been retooled and touched by the Lehman Design Group. There are newly paved cart paths to the upgraded, white sand, new flash bunkering, fringe green surrounds and length changes. The overriding goal is improving playability. The addition of the 'full-on' 7,400-yard Lehman Legacy course is the talk of the golfing community. I had the good fortune to meet Tom during an on-site visit and his excitement for his latest creation is clearly on display.
The property, a 1,000-acre wooded sanctuary is like providing an artist a lifetime supply of canvas and oils. As the course works its way around Stephens Lake it offers spell-binding views of the natural wetlands with a forested backdrop. The full Lehman 18 is projected to open in the fall of 2022. The reversible par 3 which runs alongside the practice/instructional area is still intact, a perfect track for families and beginners to enjoy. In summary, 54 holes and a million smiles. Jack has posted some excellent drone footage on Facebook at 'Craguns Legacy Courses' showing the work in progress.
This year Jack and his team are ramping up to host the first-ever PGA TOUR Canada event on U.S. soil. It's a big deal when you consider that these players (130 or so) are a step away from the Korn Ferry Tour and some are on their eventual way to a PGA playing card. The CRMC Championship (title sponsor: Cuyuna Regional Medical Center) week is August 22nd – 28th with lots of events and fun activities built into the celebration. General Manager, Eric Peterson has been pursuing hosting this event for several years and is pleased to see all the hard work come to fruition. The fact that Tom Lehman's name is now front and center at Cragun's does not hurt. The event has presenting sponsor Gertens with Tom Lehman as the honorary chairman. All of it is wonderful golfing visibility and support for the greater Brainerd area.        
I'm guessing I'm not alone in my love of the Legacy Clubhouse. From the welcoming 'all-hands-on-deck' bag drop to the post-round relaxation on the wrapped deck overlooking several greens and a tee box. It's standard practice for non-golfers staying at Cragun's or patrons coming in from vacationland to grab a table and order some lunch. At over 35,000 square feet, there is plenty of hospitality space to accommodate larger groups and dinner parties. The Legacy Grille makes you feel right at home amongst the sporting TVs, horseshoe bar and great views of the surrounding course. There will always be a table in the spacious restaurant with your name on it.
At heart, Cragun's Resort on Gull Lake is a family resort. That means accommodations in all sizes and flavors. The only real question is which type do you choose? There are lakeside cabins which range from 1-10 bedrooms, lakeside lodge suites with balconies and fireplaces overlooking the lake. There are poolside lodge rooms overlooking the indoor pool which are ideal for families in all seasons and reunion houses for well… family reunions, all air conditioned.  
With all this 'resorting' going on you might ask yourself where is my dining going to happen? There are five answers to that question, and they all offer a deliciousness. They range from simple appetizers at a sit-down bar to northern elegant dining with signature chef selections. The aforementioned Legacy Grille is comfortable and casual with a fun atmosphere. The Lakeside Dining room is the very definition of a resort, buffet atmosphere with its wall-to-wall windows and a combination of large community tables and round individual tables. A small army keep things moving and clean in a feat of hospitality excellence. Irma's Kitchen is where you'll find a quiet, intimate space and enjoy an all 'in-house made' menu that features Irma's own recipes made from local, fresh ingredients. The Cabana Café and Beartrap Lounge round out the dining choices while providing a nice stop for a drink or two with an oven fired pizza.
As you can see, Cragun's is all in. Whether you're bringing the entire family tree or hiding out on your honeymoon, they have never stopped changing for the better. 2022 sees Cragun's Legacy Courses entering a new era – all this investment aimed at building on the legacy of customer satisfaction.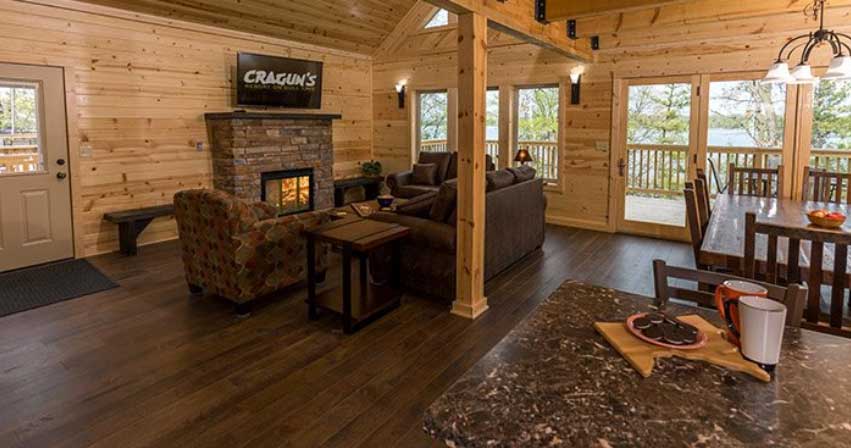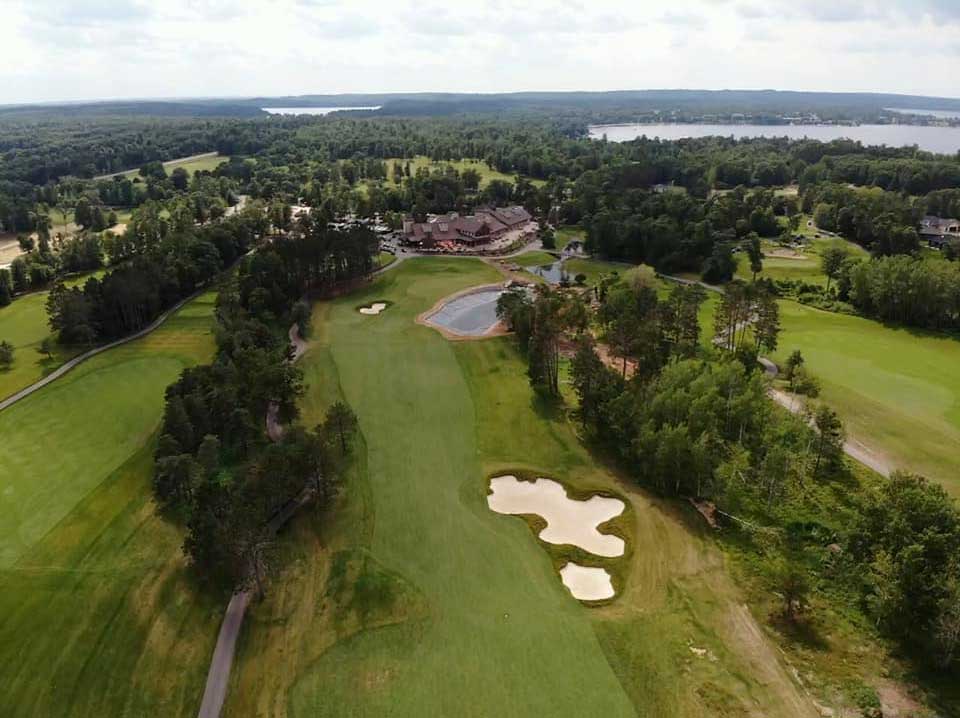 Cragun's Legacy Course White #9