Relax AND Play At Breezy Point Resort
By Rhett Arens
Destination resort golf trips are a time-honored Minnesota tradition like no other. Breezy Point Resort has been the golf resort king of the hill for many years. Through the numerous upgrades, expansions, acquisitions, additions and lots of hard work, Breezy Point has arrived at the 2020s offering visitors so many options for fun and games.
Not only has Breezy Point earned its well-deserved reputation as a summer vacation mecca, over the last 100 years in operation, they have evolved into a four-season destination that wheels out the hospitality wagon for corporate groups, conferences, weddings, golf events, and of course, family gatherings of every size and shape. Breezy Point, under the charismatic personality of millionaire publicist Wilfred Hamilton Fawcett ("Captain Billy Fawcett") and its first-class amenities, was immediately called "Minnesota's Queen Resort" upon entered the scene back in 1921. With a pocketful of high-profile friends including Clark Gable, Carole Lombard, Tom Mix and Jack Dempsey, the publishing giant and owner of Fawcett Publishing launched an aggressive plan to create a resort that echoed the beautiful northern woods and provided a getaway destination for friends and families. It's funny to think that after years of resort changes Breezy Point still has entertainment moguls in the mix, albeit stage impersonators, in the form of Elvis, Johnny Cash and Neil Diamond. You can find them humming and strumming to the crowds who boat in or walk-up to join the fun on weekends.   
Those who choose a destination based on golf can be a bit different from those who choose a resort based on other amenities (pools, fishing, beach combing, etc.). For the golf crowd (which I happen to be a card-carrying member of) looking into a Midweek Golf Package is an ideal choice. Breezy Point has you covered in that realm with a variety of specials. They have no less than seven different packages that range from an all-inclusive offering unlimited golf with dining to a traditional package that includes one or two of the courses and a buffet breakfast. If golf is your thing you won't want to miss the Signature Arnold Palmer designed Deacons Lodge Golf Course. It's a breath-taking track that will challenge low handicappers and gives mid-range players the chance to play hero for a day.      
Under Breezy Point management there are three golf courses, and they offer a splendid range from family friendly to top-tier. Looking at the three we'll start with the Traditional Golf Course. Traditional is a cornerstone of the Brainerd, Minnesota golf community. At 5,200 yards it's not long, but what it is missing in length it makes up for in twists and turns, in other words it's a "shot maker's" layout. That translates to rewarding accuracy over power, but more importantly it can be enjoyed by golfers of all abilities. The course has a classic pro shop which is open daily to meet all your golf needs and more.   
Bumping up the challenge ladder we set our sights on the Whitebirch Golf Course. Whitebirch was the first championship golf course in the Brainerd Lakes Area. With over 6,700 yards of lush fairways, huge undulating greens and a multiple set of tee boxes, this course plays to championship caliber standards. Add acres of mature northern Minnesota trees, many troublesome sand elements, enough water hazard to keep you honest and you have what many consider the best championship golf value in the Brainerd area. It's highly recommended you bundle your round at Whitebirch with dining at Antlers Restaurant. The well-stocked Whitebirch pro shop offers the latest apparel trends in men's and women's golf. Be sure to warm-up on the driving range on site. With yardages ranging from 4,700 to 6,700, players of all abilities and those striving for the next level will find something that meets their needs.
Deacon's Lodge is the pinnacle of an upper-tier golfing experience in the Midwest. It goes shoulder to shoulder with the highest rated courses in the state, it's in elite company. It was named in honor of Arnold Palmer's father "Deke" and is one of Arnold's signature courses. The prestigious layout combines subtle, but very real elevation changes that chart through the pure beauty of the surrounding lakes, deep woods, and natural wetlands. The par 72 championship course is impeccably maintained with bentgrass greens, tees and fairways that flow through 500 acres of gorgeous forest, wetlands, and hills. It will be abundantly clear when you drive into Deacon's Lodge what type of round you are signing on for… it's not unlike sitting down to a steak in one of the best steakhouses in America, first-class service, first-class looks, first-class experience. As proof, Deacon's Lodge was included in Golf Digest's "America's 100 Greatest Public Courses."
Accommodations at Breezy Point are a breeze! If you can't find a room type or size that meets your needs, I'm not sure what to say because they have it all. Located on the shores of crystal-clear Pelican Lake, I guarantee you'll find accommodations to suit your style. Breezy Point offers lodging choices with hotel style Kings, Double Queens and Whirlpool Suites, Deluxe Condominiums, Vacation Homes, and Unique Retreat Cabins/Homes with anywhere from 2 to 11 bedrooms! How's that for variety? Specials & Packages can be had from Midweek (pricing specials) to Girlfriend Getaways and Honeymoon Suites. 
Breezy Point has made a name for itself as a 'fun hang.' Much of this comes from the busy music schedule and by throwing the parties indoors and out. It doesn't hurt that they have a sprawling, lakeside deck called the Dockside Stage (famous in this neck of the woods), and an indoor venue called the Dockside Lounge which has a sound system built to keep you on the dancefloor. Famously, Breezy Point has showcased the 'Memories of Elvis Show' for the past 28 years with Chris Olson wowing crowds every weekend during the summer from 'his' stage. His show usually starts when the sun goes down when the sing-along meter is ready for action. Chris is a northern Minnesota institution and has taken his show far and wide. In the ultimate two-for-one entertainment category is the tribute production of the "Man in Black" & Neil Diamond! Yep, two great singers combined into a multi-media theatrical show with larger-than-life projected big screen images, state of the art intelligent lighting, great vocals and a host of A-list musicians capturing the sound of Johnny Cash & Neil Diamond.  
With four restaurants, a Blues Cruise ship (the Breezy Belle), three distinct golf courses, the Serenity Spa, rental bikes, tennis courts, rec center, pool tables, swimming pool, beaches, the marina, fishing, gorgeous Pelican Lake, and plenty of hiking trails there is no reason to leave the premises. When a titan of the entertainment world like 'Captain' Billy Fawcett and a keeper of the flame like Dave Gravdahl have their heart and soul invested, you can be absolutely certain Breezy Point has you covered.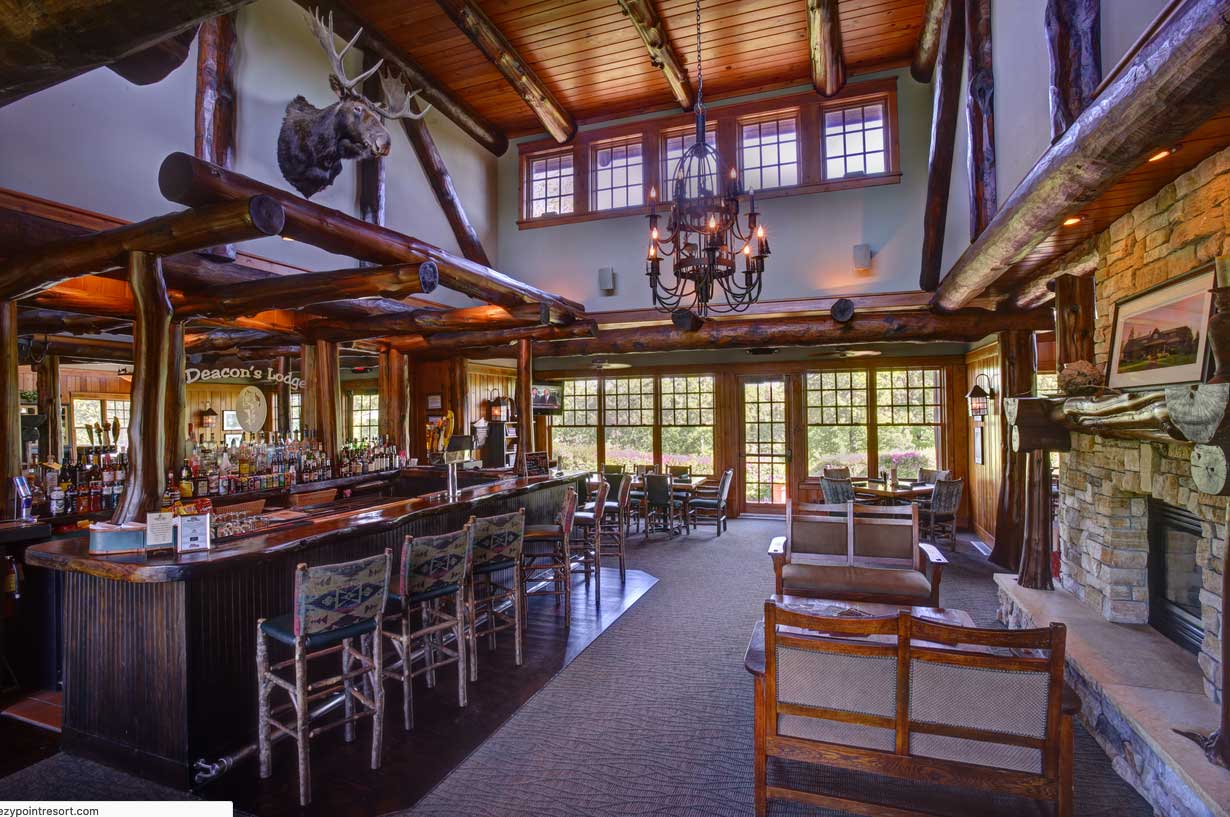 Palmer's Grille at Deacon's Lodge