Wild Marsh Golf Club – Living the Dream
By E. Nolan
What would you say if I told you that The Best Conditioned Public Course in the Twin Cities Metro might be in Buffalo – a lake-locked paradise just 30 minutes northwest of Maple Grove – and that it's only $49 to walk at peak (on weekends)? You'd say I'm crazy (a factor that's irrelevant), but you'd find out I'm not wrong… if you played there. Superintendent Jeffrey "Phil" Meyer was plucked from private Bent Creek Golf Club to revive the former municipal, suburban track, and he has quickly turned The Marsh into a lush parkland playground with immaculate fairways and lightning-fast greens. Jeff is quick to divert credit to nature and to his maintenance crew, but he's the one putting in 100+ hour weeks to get everything up to his expectations. Season Pass holder and nightly bar patron Jesse Taylor lauds the Turf Ops team's work, "To see how far this place has come in just four months is absolutely incredible. And it's getting better every day."
Wild Marsh is under new ownership (since March 1st) and General Manager Eric Hart considers it a dream come true to lead the team. "From day one," Eric says from his lakeview office, "ownership made it clear the goal was to make this a Top 10 Course in Minnesota – no expenses spared. I've been blessed with a staff I'd put against any in the state, we've opened a new restaurant overlooking Mink Lake with a brand-new patio overlooking the 18th green, and we're serving a golf-hungry community that's really rallied behind the reboot."
"What else can you ask for?" I asked him.
"The people make the place," he replied, a Buffalo resident himself. "So… I can't really think of anything we're missing. Well… maybe a driving range." So the place isn't perfect. "Yet," he emphasizes. "Not yet."
Wild Marsh is best known for its signature stretch of lakeside holes from 6 to 8, including the infamous Par-5 7th – "Mink Monster" – a former "Minnesota Dream 18" hole. "You pray the wind is blowing west," local golfer Brock Perry says. "And even then…" (It's a beast.) My own personal favorite is the Par-3 8th, also hugging Mink Lake. That watery corner is one of the prettiest places in the state at both sunrise and sunset. "I never thought I'd like golf," Kaitlin Rietveld said full smile (playing for the first time ever on her birthday). "But I LOVE it out here."
The rest of the course is a collection of fun holes, with a variety of short, reachable Par 4's, and a pair of Par 5's to close that both can be eagled (especially if you "cheat" on 18, as many of the locals do). The golfer will cross a dozen bridges in a round – scenic passes over marsh and water, from one phenomenal Bentgrass fairway to another. The place just feels new this year, with a clean, remodeled, redecorated and fully stocked golf shop (never seen more snack and drink options at a course in my life), sharply dressed and attentive cart attendants, beverage carts running almost daily, and a popular Assistant Manager named Morgan drawing crowds to the bar. "She's something special," Eric nods, with nothing but the highest of praise for her. "As is Matt." (The chef at their NEW Mink's Lakeside Grill) "I consider them both irreplaceable."
What else is NEW at Wild Marsh? "Third Street Thursdays" for one. "We draw five to six dozen new people from the Twin Cities every Thursday," Eric explains. "With the cost of gas being so high we figured we'd counter that by offering free dinner to everyone who comes out to golf. (Burger and a Third Street beer for $1 is how it's promoted.) No wonder their tee sheet fills a week out for that night. AND on Wednesday mornings now, with their $39.95 Senior Special. "That's $20 off our rack rate… which is probably TOO GOOD of a deal."
Rumor has it Wild Marsh plans to be open through the winter this year, with golf simulators, pull tabs (coming in August), BINGO, and a full-service bar and restaurant open every Thursday through Sunday. "There's a strong demand in Buffalo for a social hub with billiards, ping pong, golf simulators, great food and drinks, and every sports game on TV," Eric says. "We've got that here, and every week more and more people find us, realize that the restaurant is not only open but amazing, and are blown away by our lakeview dining rooms and patios."
Want to learn more about Wild Marsh, follow their updates on Facebook and subscribe to their witty, entertaining email blasts via www.WildMarsh.com. Is it the Best Value Round in the Twin Cities? Hard to argue that it isn't.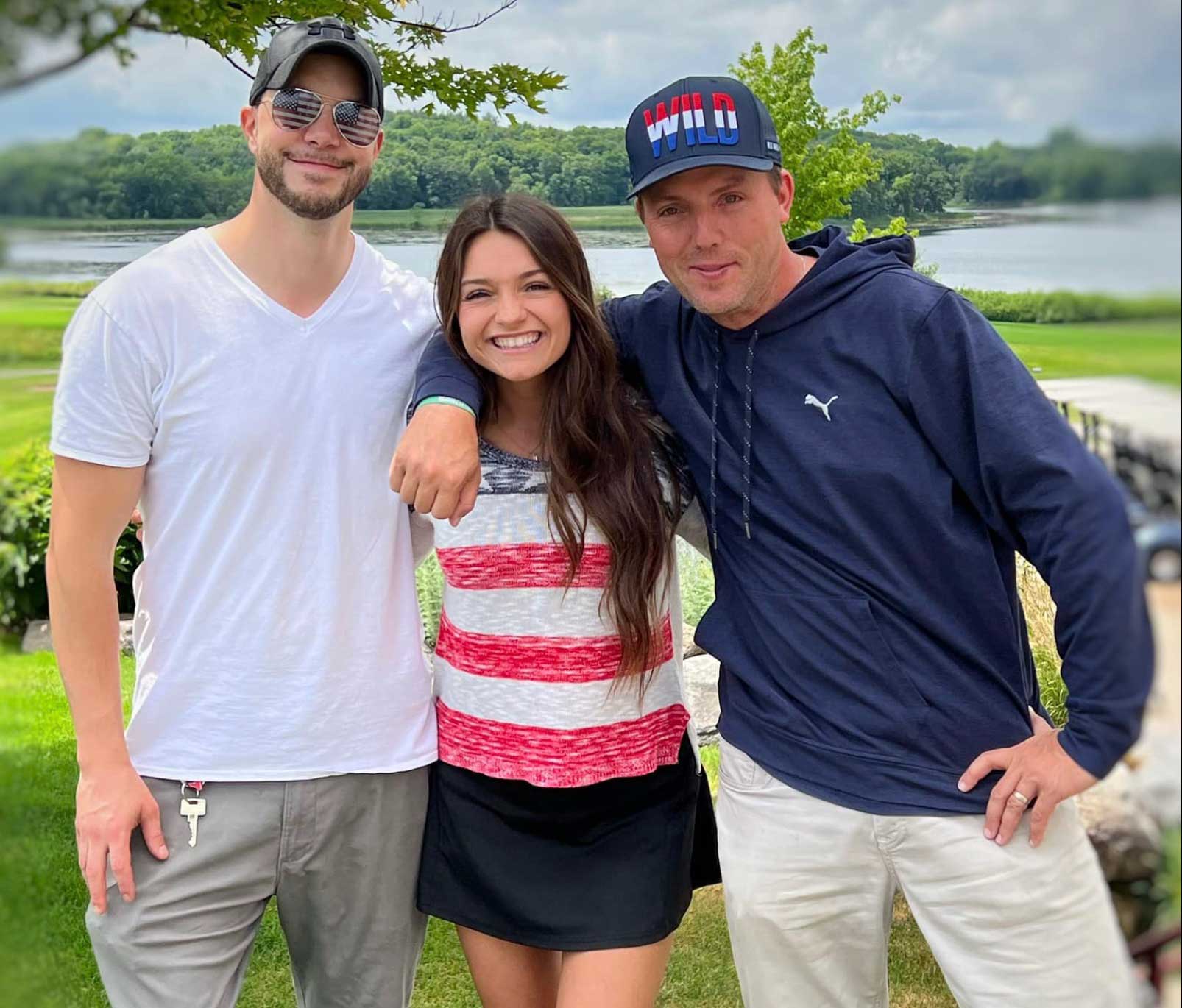 Wild Marsh new management team of Matt, Morgan and Eric