The Falls Golf Club At Grand Falls Resort – Falls In Love
By E. Nolan
This isn't your average magazine golf article. It's not an advertorial, or promotional piece for a specific place as much as it is a motivational piece for a glorious journey. This is a "How To" essay on maximizing your "south of the Twin Cities" golf experience that just so happens to focus primarily on a relatively NEW Casino/Golf resort combination in northwest Iowa – The Falls Golf Club at Grand Falls Resort. This is the story I tell my clients (at GolfPackagePros and Stays + Plays Travel Agency) and the story I share with visitors to the Minnesota Golf Show each "spring" who want to know if there's actually great golf in Iowa. (Yes!) This article is an expose on something you probably don't know. That's my hook.
Here's the bait. There's a Casino/Golf Resort Triangle southwest of the Twin Cities that golfers should be paying attention to. There's Dacotah Ridge Golf Club at Jackpot Junction (Minnesota), Tatanka Golf Club at Ohiya Resort (Nebraska) and then there's the one with my favorite hotel, the best swimming pool(s), a great diversity of food and gaming options AND (current acclaim-wise) the "best" (most playable) golf course – the third corner of the triangle – The Falls Golf Club at Grand Falls Resort.
I link the three of these Casino Resorts together because they make for a pretty great Golf Road Trip (when played in the above listed order)… AND… legendary golf architect Rees Jones designed two of the three courses (Paul Albanese built Tatanka). For some reason golfers are reluctant to take road trips of a few hours just to play one (unknown) course. They need more. I'm a "more, more, more" guy myself, and if you follow my plan, you'll get more… a WHOLE LOT more. And you can get it all on two tanks of gas. (I literally just did the 750-mile loop with five other people in June.)
I don't have to market any of those three Casino Resorts to Sioux Falls readers. They know the greatness (and proximity) of each of the three resorts, given they are the three best Stay & Play golf destinations within their region. But Twin Cities golfers tend to look north to Brainerd for their vacations, or west to Wisconsin, and I want that massive, golf-hungry demographic to pay attention to THIS (potentially new to you) golf triangle. I want YOU – the Minnesota/Western Wisconsin golfer – to learn about Grand Falls Resort and The Falls Golf Club (and am willing to mention the others to get you to understand how logical a 3,4 or 5-day golf trip can be here).
When I do the trip, this is how I do it. I leave early in the morning and head for Dacotah Ridge (100 miles from Twin Cities), playing there then continuing on to Grand Falls Casino that night (130 miles) because it is my favorite hotel of the three (especially the top floor, golf-facing rooms). I spend my first night there and play The Falls in the morning then drive to Ohiya Casino (125 miles). I play 36 at Tatanka on Day 3 then leave Ohiya to return to Grand Falls for two more rounds on Day 4 and the morning of Day 5. (Then head home. Only 240 miles on I90 and I35 back to the Twin Cities.) Five rounds over four nights with the first and last at a place with an outdoor pool complex my kids could play in for days. THAT is a HIGH VALUE, LOW COST family (and golf) vacation. (I even came out ahead $60 on slots my last loop!)
Dacotah Ridge is tough. Tatanka is wild. The Falls is the perfect combination of tough and wild, "perfect" in that it's only as tough and wild as you want it to be – of the three courses it is EASILY the most playable. The legendary Rees Jones has designed over 100 golf courses, with The Falls in Iowa and Danzante Bay in Baja, Mexico being two of his newest – each with an extremely dramatic conclusion. To give you an idea of what to expect in QUALITY, Rees Jones courses have hosted 15 Major championships, five Ryder Cups, two Walker Cups and one Presidents Cup. To give you an idea of what to expect in INDIVIDUALITY, The Falls course is 7,100 yards of panoramic countryside views built around lakes with a 30-foot waterfall pounding down around the 18th hole as an exclamation point.
The memorable views are just part of the thrilling playing experience, as the Bentgrass fairways prop up your ball like on plush carpet and the Bentgrass greens give you fast, smooth and consistent rolling from beginning to end. Each nine has its share of hazards (lakes, bunkers and fescue patches) and "signature" holes. The short starting hole is one of my favorite openers in all of Iowa, and the wraparound 8th and 9th holes provide the perfect example of Mr. Jones's building prowess, clinging to the water to their conclusion on turbulent greens.
The back brings more drama, particularly at the short downhill 14th hole, the lengthy marsh-guarded 15th hole and the superbly entertaining closing duo at 17 and 18. I've taken no less than 100 pictures from my various balconies of the 18th hole – both bewildered and impressed at how Rees managed to add that distinctive, tropical feature so flawlessly to this otherwise remote Iowa countryside. A must-see on a must-play. (As many as three times in one trip if you plan it right.)
I mentioned the pool and there are actually two – one inside and the zero-entry gem of an oasis outside. (Seriously a casino worth bringing your kids to on a shorter golf trip!) The hotel has a workout room, a spa, a full-service golf shop, three restaurants and spacious, clean lodging rooms. In fact, if you have a chance to snatch a golf-facing penthouse suite, do so, and you'll likely be rewarded with one of Iowa's best sprawling sunset views. (Seriously.)
The casino floor is always active, with 750+ new/modern slot machines, 16 blackjack tables, an assortment of other table games, a poker room with 8 poker tables, bars, lounges and an entertainment venue for hosting big acts, tournaments and more. The Event Center holds 1,120 comfortably and brings in feature performers (dance, music, illusionists, etc.) all the time. (Check their website calendar.) All the activity is likely to make you hungry and there's no need to wander far with the Big Drop Café, Robert's Buffet and Ruthie's Steak & Seafood restaurants there to keep you covered.
The resort prides itself on their service, with valet parking and club transportation to the course so you don't have to worry about your golf gear. You can get lessons and club fittings done if you need quick fixes, and they have club rentals and plenty of apparel/accessories available in the shop to meet your needs. In any event, the staff here is great (say hello to Jason Wagamon and Sharon Haselhoff for me) and they genuinely care about your on/off course experience. (Seriously…ask for them if you need anything!)
Another distinguishing feature of this particular resort is their association with the GIVE Foundation – a 4-phase not-for-profit organization that offers golf to injured veterans. I mention it because most of us (too often) take for granted the activities WE get to do everyday, and programs like this should be FAR more widespread and acclaimed. This program started only three years ago and has already helped over 2,000 veterans. Veteran Hank Britton says, "It's amazing that a game can create such a sense of hope in a person." (Major credit to Grand Falls for their involvement in the Give Foundation!)
What more can I say? (If I haven't already said enough.) Your next golf trip can literally be this easy to plan and execute.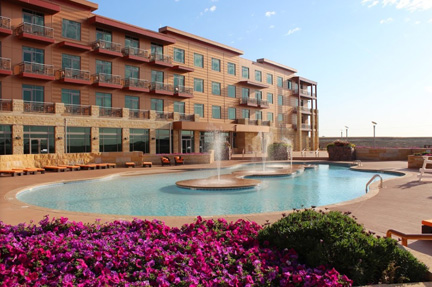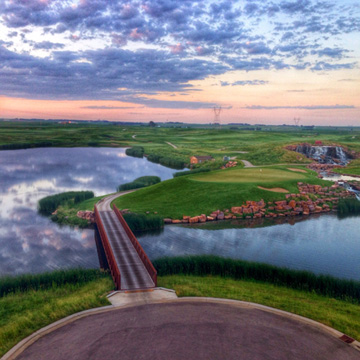 The Falls #18 at Grand Falls Casino & Resort