Destination Kohler – Good To Be King
By E. Nolan
There are great family resorts, great golf resorts and then there's Wisconsin's epitome of both – Destination Kohler. Destination Kohler is The Pinnacle in Lodging Experiences. It is the American Club – a former dormitory for immigrant employees turned Five-Star, Five-Diamond full-service hotel in 1981 (and class of the Midwest resort world ever since). It is The Carriage House with its luxurious guest rooms and sublime Kohler Waters Spa (one of only 60 five-star spas in the world). And Destination Kohler is The Inn on Woodlake – a serene, 138-room boutique hotel on the shores of said picturesque lake, with ten NEW multi-bedroom suites that can accommodate up to eight guests featuring the resort-standard, out-of-this-world Kohler shower experiences.
Destination Kohler is literally Top of the Food (and Beverage) Chain. It is AAA Four-Diamond and Forbes Four-Star formal dining at The Immigrant – a contemporary American culinary showcase staged in a six-room tribute to early Wisconsin settlers. It is the finest of wines at The Winery Bar next door – with nearly 500 wine selections, sushi, cheese and small plated treats. It is the farm-fresh cuisine of The Wisconsin Room, with its menu of seasonal specials, and the traditional feasts of Cucina Italian Restaurant on Wood Lake. Destination Kohler is the casual setting at The American Club's Horse & Plow – a former taproom for workers turned favorite of families, with comfort foods, bowling alley-wood tabletops and (yes) many premium European and American microbrewed beers. And it is all of the "in between meals," from the garden café at The Greenhouse, to the Craverie Chocolatier Café, the Woodlake Market Atrium Café, the coffeehouse Brewed Awakening and the two unforgettable restaurant scenes at the golf courses.
The Kohler Experience is World-Class Golf – four public-access Pete Dye courses locked in Golf Digest's "100 Greatest Golf Courses in America," with a fifth championship Dye design also in development on Kohler land. It is 36 holes at Whistling Straits (celebrating its 20th Anniversary in 2018) – the proud host of the 2004, 2010 and 2015 PGA Championships and future host of the 2020 Ryder Cup. The Straits Course, walking only and caddies mandatory most of the year, hugs the beautiful Lake Michigan shoreline, as Irish as American Links courses get with fescue fairways, walls of grass, massive sand dunes and just short of a billion bunkers. The Irish Course (carts permitted, caddies optional) is more inland and sheltered without the wind-whipped cliffs. Its layout features more peeks than panoramas of water views, and more grassland in style with a quadrant of interrupting streams – yet still possesses the massive dunes, freckling of bunkers, and meticulously maintained quality of golf.
Destination Kohler is 36 holes at Blackwolf Run (celebrating its 30th Anniversary in 2018) – the home of Golf Digest's "Best New Public Course" in 1988, and host to the Andersen Consulting World Golf Championships in 1995, 1996 and 1997, as well as the U.S. Women's Open in 1998 and 2012. Located just down the street from Destination Kohler's collection of luxurious lodges, there is no Lake Michigan to claim part of the creative genius at Blackwolf Run. These acres of the glacier-carved Sheboygan River Valley are all God and Pete Dye. The River Course – now treasured by golfers – was built on land once cherished by the Winnebagos and Algonquins for its exceptional hunting and fishing. Defined by target landing areas, strategic bunkering and water or gorges in play on 14 holes, the challenge and beauty are equal-parts responsible for the course's perennial prestige. The Meadow Valleys is often overlooked in favor of the other three – a tragedy in its own right, given that only 59 courses in the entire country are ranked higher on Golf Digest's 2017/2018 list. It gets described as "both subtle and devilish" (in a similar vein to The River) with wild ups and downs, so much natural beauty and plenty of Pete Dye's typical artistic touches, and ends up being the favorite of many strictly for its fluid pace of play.
Wisconsin's Golf Leader is everything mentioned above and then some, defined by the exceptional nature of the experience at every level. Year in and year out, Destination Kohler is regarded as The Midwest's #1 Resort by Conde Nast (and one of America's 10 best), easily accessed through Milwaukee's Mitchell International Airport (65 miles away) as well as Chicago O'Hare (130 miles).
The Kohler Company has forever been known as industrial royalty for their many other enterprises, particularly within the Kitchen & Bath sector, where integrity and pride are built into everything Herb Kohler touches. His prestigious empire expands as far as another "Bucket List Destination" – in Scotland – where The Old Course Hotel overlooks the renowned 17th "Road Hole" of the Old Course at St. Andrews and North Sea coastline of St Andrews Bay. Back in Wisconsin, he's even expanded north to Green Bay.
Golf fans looking to combine their passions for football should pay attention to Green Bay's new Lodge Kohler (only 65 miles north). Offering "grand space that feels approachable," the Four-Diamond hotel opened less than a year ago (July 19, 2017) in the heart of "Titletown" with a Taverne in the Sky overlooking Lambeau Field, a Kohler Waters Spa and Packers-themed Leaps and Bounds Café. Check out three NEW packages at www.lodgekohler.com (Sideline Experience, Packers Preseason and Packers Home Game) or BETTER YET the "Destination Kohler and Lodge Kohler Package" on The American Club's website.
Who wouldn't want to play the course that will host the next Ryder Cup on U.S. soil? Who wouldn't want to play four of the 60 best courses in America in one unforgettable golf trip? Wisconsin has become a hotbed for golf the past couple years, but the "Wisconsin Golf Rush" began right here 30 years ago. The Kohler vision has long since surpassed original expectations, and remains today a "Gold Golf Standard" against which all Midwest resorts and courses are measured. It's critical that Minnesota (and Michigan, Iowa, Illinois) golfers realize how close they are to a destination worthy of their most surreal golf dreams (only 300 miles from the Twin Cities), and how best they can invest in those dreams coming true.
Destination Kohler released two new "Stay & Play Packages" to help guests get there in 2018. The two-night "Golf Kohler" package includes two nights and three rounds of golf starting at $761 at the Inn on Woodlake and $851 at the American Club. There's also the value-packed, three-night "Dye-Abolical" bundle that features FOUR rounds of golf per person (one on each of the four courses) with cart, caddie and forecaddie fees INCLUDED along with a 30-minute golf lesson and gift pouch of logoed items, PLUS complimentary replays on the Irish and Meadow Valleys courses. ADDITIONALLY, a 20% discount at the Kohler Waters Spa begins at only $987 at the Inn on Woodlake and $1,116 at The American Club. Call 866-446-5170 to book either package.
Finally, check out Kohler's "Ultimate Buddy Trip" options with Ryder Cup events, special happy hours and a wide variety of other perks.
Over the next six months thousands of fortunate golfers will travel from all over the world to play Kohler's four courses, eat great food, and stay in the lap of Wisconsin's most luxurious setting. The only question is… will you be one of them?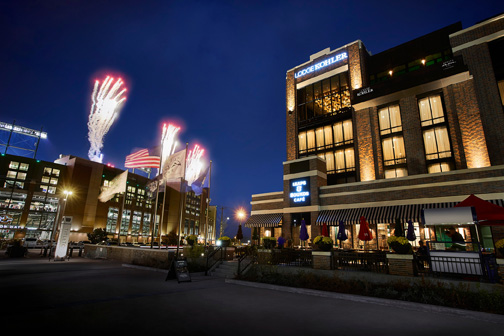 Lodge Kohler outside of Lambeau Field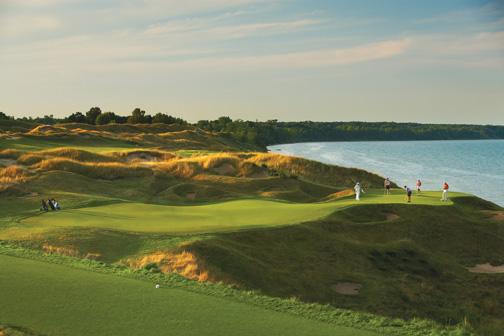 Straits Course at Whistling Straits, Hole #12, Pop Up