Young Matthew
By Joe Stansberry
On a star lit July 4th 2019 evening, after the fireworks had flown bright and high, I sat back and scouted out the upcoming pairings and individuals whom I wanted to follow at the inaugural 3M Open. Hollis Cavner CEO of Pro Links Sports made a decision to grant one of four highly sought after sponsor's exemptions to one Matthew Wolff, a bold choice since he was making only his fourth start on the PGA TOUR, with only a tie for 50th, an 80th place finish and a missed cut under his PGA belt. Sure, this Oklahoma State Cowboy, was the 2018 Phil Mickelson Award winner as the best freshman player and was the 2019 Haskins Award winner as the best collegiate player – plus he also won the NCAA individual championship, but these sponsor's exemptions are coveted by players with better TOUR credentials. Hollis took a chance on this young Matthew, college star. I watched that NCAA win and was surprised at how his pre-shot routine and swing path were, to be kind… well. … odd. Some sort of pronounced knee kick followed by an outside take away with his left foot/heal high off the ground. But when he "dropped it down" in the slot he was perfection from 3:00 – 9:00 – from parallel to the ground on downswing and follow through.
I've always been an admirer of unique swings Jim Furyk, Miller Barber, Lee Trevino, Moe Norman, Jim Thorpe, Bubba Watson and Bryson DeChambeau, and luckily have even played with three of them. I'll let you guess which three. All are swings modern teachers would not teach, but they all obviously work under pressure and are solid in that key 3:00 slot! Could be that if you repeat and trust your swing enough it works! I remember my friend and teacher Joe Sodd once said, "The ball does not know how your club got there." I would postulate that all these players agree with that simple profound statement.
Young Matthew had already made the turn on day two starting on 10. I caught up to him on number two at TPC Twin Cities. An Arnold Palmer design group gem, that had hosted numerous PGA Champions Tour events, but for these TOUR boys, it needed to be lengthened and updated. Enter local Minnesota favorite Tom Lehman who massaged the land into a challenge that could now hold up to not only the length of these young pros, but also their accuracy. The second hole is a prime example. When I played in two 3M Championships the second was at 387 yards with water tight right. It was a layup 3 wood or hybrid off the tee that left you 7-9 iron in. Tom came in and lengthened the hole by almost 100 yards – to some 469 yards. The water right was now a 320 yard carry if blocked right. So it now demanded a driver. I positioned myself behind young Matthew. At this stage Matthew was -4 for the tournament and 4-5 shots back of the leaders with only a sparse few spectators watching his group. Most were following the likes of Bryson (pre 40 pounds stronger) DeChambeau, Patrick Reed or Jason Day.
I readied my camera only five yards behind the tee, and set it for super slow motion to capture this unorthodox swing – frame by frame. The knee popped, the club head swayed out, that heal spiked up like a baseball player and then I witnessed perfection. At that critical moment, parallel to the ground on the downswing the club was square, pointing straight up and on the follow through, the exact equal place! Somehow with all his idiosyncrasies he had managed to find repeatable perfection. Not unlike all the other "odd" swingers before him. His ball obviously flew exactly where he aimed. – slightly left of center.
I sat back and quietly said, since only young Matthew and his playing partners were on the tee, "One hell of a drive." I think I sounded more curious then amazed. Young Matthew just turned around with a wry smile and a nod and said, "Thanks. It's fun to hit a few good ones!"
That Sunday weekend Young Matthew age 20 made a spectacular eagle 3 on the famous finishing hole beating a slim Bryson DeChambeau by a single shot. Jumping from 1,659 in the World Golf Rankings to 135th.
On July 7th, 2019, at age 20 Young Matthew graduated to be a member of an exclusive PGA TOUR club. A TOUR winner unique swing and all!
What lies in store for Young Matthew this year? We'll have to wait and see, but I wouldn't count him out of the final pairing on July 26 at TPC Twin Cities.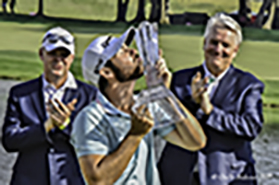 Matthew Wolff 2019 3M Open Champion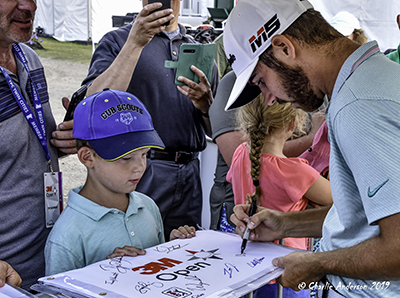 Matthew Wolff signing autographs at the 2019 3M Open