Is Hollis Cavner The Luckiest Man In Golf?
By Joe Stansberry
Hollis Cavner is the CEO of Pro Links Sports, which is an event management and corporate hospitality company that manages many PGA TOUR, PGA TOUR Champions events along with several major corporate events.
During many of my interviews with golfers one question I like to ask is, "What is the luckiest break you ever had?" Most reply with a ball that was heading out of bounds and ricocheted off a tree or bounced off a rock in a water hazard, saving that doomed water ball to a better fate at a crucial moment. Not so with Hollis Cavner, founder of Pro Links Sports! During a recent interview he proclaimed that he "was the luckiest man in golf." And that may be so.
Joe Stansberry:  How did you start Pro Links Sports?
Hollis Cavner:  After the 1991 U.S. Open, the TOUR wanted to start an event in Minnesota. So, I had a choice to either go on with the USGA and continue to work on the U.S. Open or go with the PGA and start my own company. I then came to Minnesota and met with Ralph Burnet and the United Hospital Foundation, and with that, we started the Burnet Senior Classic and I started Pro Link Sports to manage it. 3M became the first sponsor that we ever signed, and the tournament took off at Bunker Hills. We quickly outgrew Bunker Hills, so in 1996 I started putting the deal together to build TPC Twin Cities with Arnold Palmer and the PGA TOUR. We then moved the tournament to TPC, and it became the 3M Championship and now the 3M Open. All this work was done in anticipation of eventually getting a PGA TOUR event here in Minnesota – it was a long plan.
JS:  How many events are run by Pro Links Sports?
HC:  We have tournament on both the PGA TOUR, and on the PGA TOUR Champions, and we also help out with the Vivant Houston Open. Our tournaments are the 3M Open, the Valspar Championship, the Wells Fargo Championship, the TimberTech Championship, the Insperity Invitational, the Sanford International, and we are also doing the U.S. Senior Open again in Stevens Point at SentryWorld. I had said after doing all of those up until 1999 in Des Moines, that I would never do another, but the chance to work with SentryWorld changed my mind.
We also do a lot of corporate events – at least 50-60 a year. We are the agents of record for several Fortune 500 and Fortune 100 companies. We have a ton of events.
JS:  Explain how you became such a close friend with Arnold Palmer?
HC:  I was so lucky. I was doing TV in the early 80s with ESPN as a "gopher" running errands and worked my way up into operations. Since we were doing golf shows, we were around Arnold all the time. Arnold had a great heart. If he saw someone that he thought was a hard worker, he'd try to help them along. He did it with me and another guy, Bryan Naugle. Back in the 80s Arnold would take us to dinner, because you know, we were starving. He and Miller Barber and Don January and all those guys would take us to dinner and invite us to functions and do things that we would have never got to do otherwise. And over the years we became buddies. When we started our company, he would come play every event that I had. He was so good to me. When it came down to building a golf course, he was my first choice. I was thrilled to work with Arnold again at The Royal Club. He was instrumental along with Annika Sörenstam in designing the new highly acclaimed Royal Club.
Arnold was a true friend, we took trips together, family vacations together, we'd be down in the Bahamas on their big boat, we'd be on his airplane flying somewhere to go play golf and take the families. It was unbelievable how he treated us. It's amazing to think of the way he was with people – not just me, but everybody. It was special, a very close friendship to the end. It's been a great life, that's all I can say.
JS:  Regarding the 3M Open, with much of the COVID protocol being lifted, are you restricted in the number of spectators?
HC:  We're not going full bore with it, but we'll have 25,000 – 30,000 people a day. We could go up to 40,000 -50,000, but we're not doing as much with the indoor facilities – the tents and inside areas. We wanted to make sure that we didn't have any issues. We chose to be diligent and very smart about it and not overload the tournament, so that we don't have any problems.
JS:  How difficult was it to get players to commit to this year's 3M Open?
HC:  It was very difficult because The Open was right before us and the Olympics are right behind us. We have an Airbus bringing in 95 guys from Europe Sunday night – every seat on it is first class. We make it easy for the guys to come. If they want to come, we take care of them. We're thrilled with where we are at.
JS:  Is it true or false that you were approached to become the commissioner of the PGA?
HC:  False, I was approached about something by the PGA, but it wasn't the commissioner's job, I assure you. Why would I want to take a pay cut? They have to work 10 times more than we do and answer to a lot of people. We are truly partners with the PGA TOUR.
Is Hollis the Luckiest Man in Golf? Well, if you consider his story… from his humble beginnings working as a "gopher" at golf events for the fledgling ESPN in the 1980s, to being befriended by Arnold Palmer and now celebrating his 30-year anniversary as owner of Pro Links Sports – one of the most successful and well-respected golf management companies in the world. It may be difficult to argue with him. When it's all said and done, we, as a golf community are the lucky ones to have a person like Hollis providing us with incredible golf events over the last 30 years.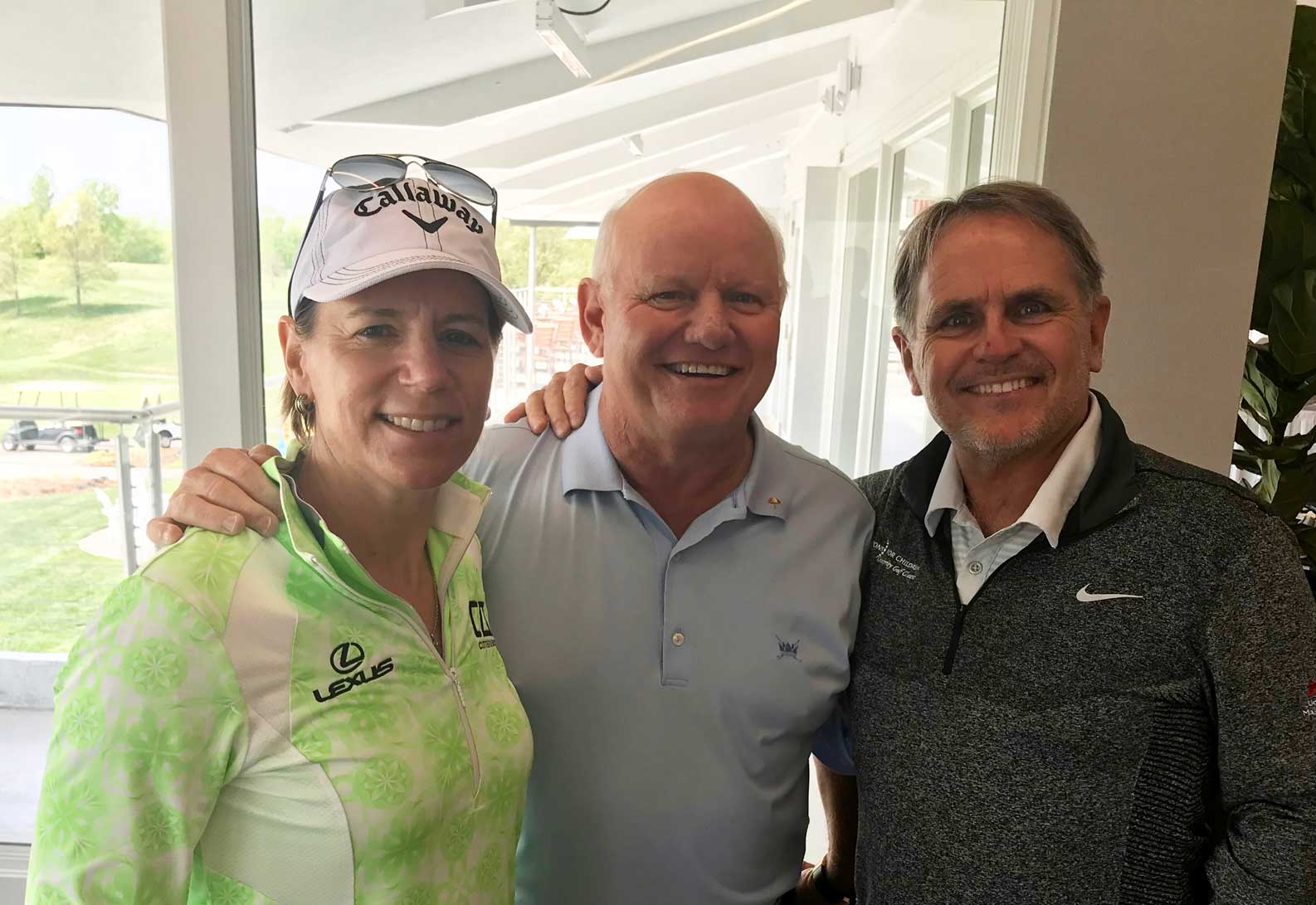 Annika Sörenstam, Hollis Cavner and Joe Stansberry - Photo Courtesy Joe Stansberry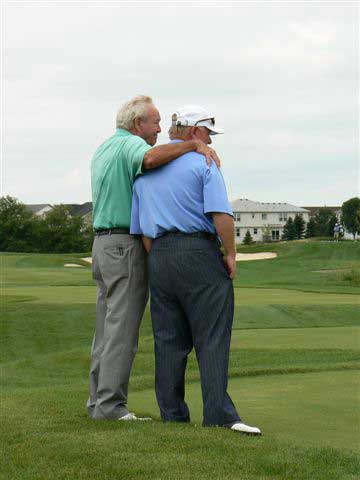 Hollis with Arnold Palmer