Superior National at Lutsen – The Best Golf Experience In Minnesota
By E. Nolan
Is Superior National worth the drive? If you're asking me (as many do) if this 27-hole course overlooking Lake Superior is worth the drive from Duluth (90 miles), Thunder Bay (100 miles), Minneapolis-St. Paul (250 miles) or Chicago (500 miles), my answer is easy, "YES!" For sure, yes. Am I saying I'd drive all the way from Chicago exclusively to play Superior National? No. But that's no slight and, in actuality, is the best part about this specific question – you don't have to! Anyone making a lengthy drive to play any specific golf course likely explores what else they can fit into their trip, and a trip to Superior National means you'll be in the vicinity of so many worthy stops… they just aren't necessarily golf stops.
By now I know Minnesota's North Shore like my own backyard… which is to say quite well. I HAVE made the trip up to Lutsen solely to play Superior National – in 2018, after Jeff Brauer had completed a nearly $5 million renovation on 18 of their holes – and I can attest that it was worth every minute and mile of the drive. I've also spent the night across the street from Superior National at Lutsen Resort – a place I'd highly recommend to anyone (especially families) – and I consider that pairing one of Minnesota's "Three Best Stay & Play Experiences."
I've gone as a golfer and a mini-golfer (to Putt n Pets)… many times. I've gone as a fisherman chasing sturgeon with a guide, as a husband on a romantic getaway, as a foodie testing out donuts at World's Best in Grand Marais and comparing pies at Betty's and the Rustic Inn Café. I've gone as a father of four, seeking moose on the Gunflint Trail and as an explorer following the Northern Lights past Split Rock Lighthouse and chasing waterfalls from Gooseberry, to Tettegouche State Park and to High Falls of the Pigeon River at Grant Portage. I pack my Superior National golf trips with so many little side trips (and extensions) that no matter the season or weather or company they're all positively memorable, and while every component of those trips is valuable, when added together they're quite invaluable.
Some places resist listing places off-site as part of their "experience," but at Superior National these distractions aren't detractions from the course's essence – they're all a part of what makes this particular golf course… well… superior to so many others. Superior National is neighbor to the Lutsen Mountain ski area, wedged between the ancient Sawtooth Mountains. The course's 320 acres were donated to Cook County by George Nelson and his family in 1986 specifically for golf, and this particular parcel – with mountains, Lake Superior views and a meandering Poplar River – has to be among Minnesota's most picturesque… if not THE most scenic.
It wasn't easy to build a great golf course here – given the topographical tilt – but Superior National opened in 1992 and was lauded with accolades from everyone who took the time to make the trip. Still, the owners and operators saw more in the land and wanted more people to come experience it, so they invested heavily in bringing an elite architect up to "redecorate." "Jeff Brauer is a brilliant man," PGA Head Golf Professional Heath Ekstrom says. "He made so many of our best golf holes even better with just a few tweaks and when you see the final results, now, you know why people love it so much. We don't hear anyone mention how long it took to get here anymore. Now all we hear is how much people can't wait to come back."
Superior National is celebrating 30 Years of existence in 2022 loosely tied to the tagline, "The Greatest Golf on the Greatest Lake." People who find that expression self-aggrandizing or hyperbole are missing the play on words – it is Superior National on Lake Superior – and, in many cases, doing themselves a disservice by not checking out just how great the signature holes and their (Superior) views are here.
Management is supplementing the Superior experience this year with "air-conditioned golf" – while it's 90 in the Twin Cities, it's 70 at Superior National – new GPS-loaded golf carts, an addition that will certainly make a difference to the first-time (and daily) player, and they've relabeled their tee boxes with Alpine Skiing and 10th Mountain Division themes, in honor of their associated history. Foot Golf is a fun option for families and groups to enjoy. "We do have a premier 18," Heath explains, "consisting of the River and Canyon nines, and playable for everyone from beginners to scratch golfers. The Mountain nine is so much fun that the Superior National experience is incomplete if you don't play all three (nines)."
Is there a better golf trip experience – home to resort and back – in Minnesota? No. I can't imagine there is.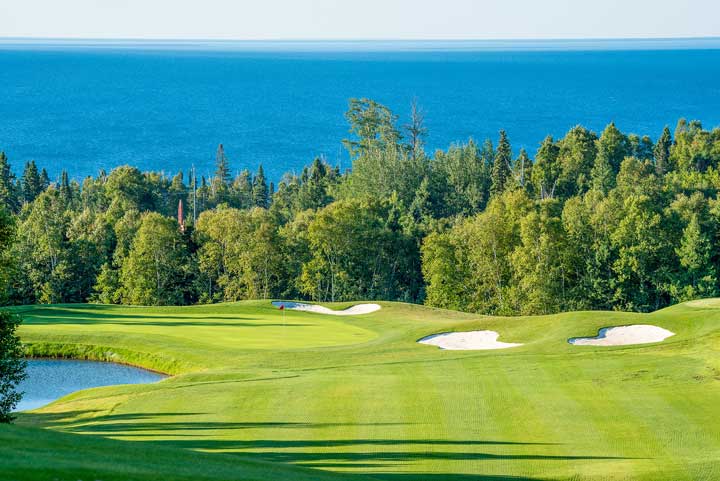 Superior National River #7 Green Photo Courtesy Bryan Hansel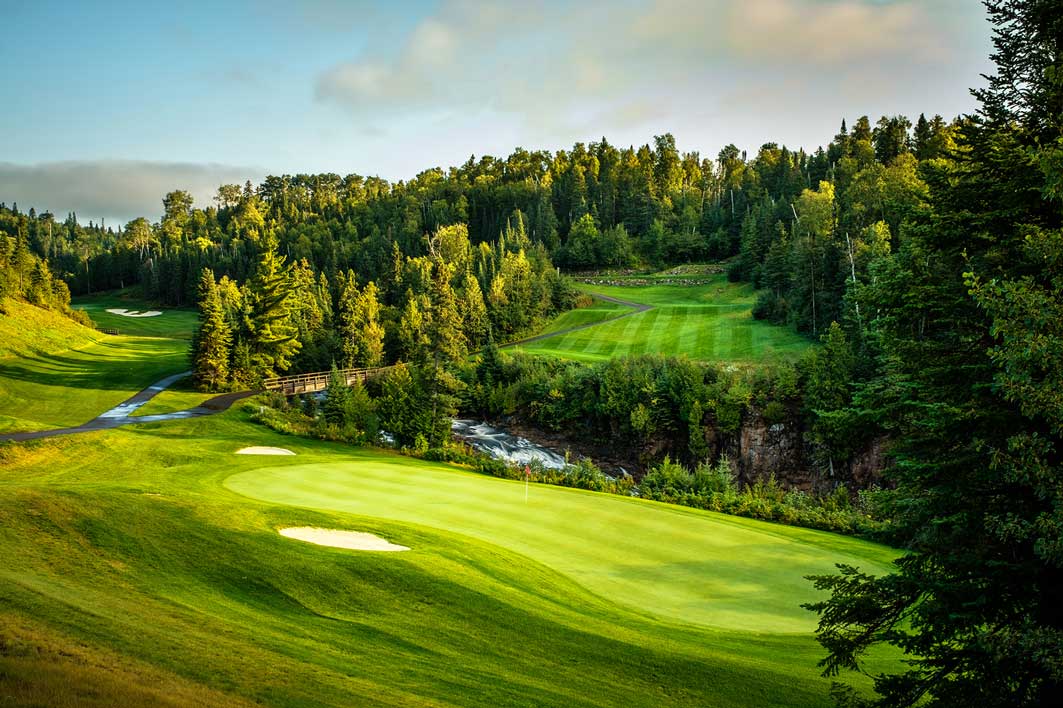 Superior National Canyon #15