Enjoy Golf In The Capitol City
By Rhett Arens
Golf is alive and well in St. Paul these days, with three unique and challenging courses, golfers have options to challenge them all summer long. In this issue, we look at two of the courses that are run by Foursome Golf Management – Como and Phalen Park.
Fun In The City At Como Park Golf Course
I'm not exactly sure why, but I typically don't think of 'history' and 'fun' in the same sentence. However, after a recent round at Como Park Golf Course, I'll have to make some adjustments to my preconceived notions. The City of St. Paul owned Como Park 18-hole course is on the short side yardage-wise but brings plenty of elevated holes running both downhill and uphill (sometimes on the same hole, see #5). The layout includes enough twists and turns to keep even the low handicappers second guessing and thinking about club choice. Playing at a par 70 with a middle set of tees at 5,581 yards and a back set at 5,861, this little corner of St. Paul sees plenty of action.
The operative word around the iconic, octagon shaped, history-filled clubhouse is FUN. Recently brought-in operations manager Chris Bettingers' voice can be heard booming out of the pro shop like a golden voiced DJ from a 1970's car radio. In fact, the soft-rock tunes drift in and out of the club house into the practice green adjacent to the pro shop giving the whole scene an upbeat atmosphere that is infectious. Perfect for putting you in a positive frame of mind for what lies ahead… a sneaky, challenging round of golf within the heart of the city. Chris has worked in the golf business for 30+ years with the last two years running the Como Golf Course and he knows how to set the stage and treat customers.
The grounds keeping crew has been busy the last 12 months rebuilding green complexes (see #7) and optimizing drainage which has translated to some excellent course conditions. Superintendent Jeremiah Ergen and his staff completed several important infrastructure renovations. Flash forward to 2021 and the course looks and plays great. Those pesky low water areas are dry and green, the bunkers are trim and contoured, the greens are free of defects and rolling fast and those serpentine fairways provide nothing but good lies. Hats off to Jeremiah for some great work under tough conditions.    
If it's been a few years since you've played Como let me refresh your memory. The round starts off with a couple of feel-good holes designed to stretch those back muscles and card pars. The par 4 fifth is set up perfectly for those right-handers who embrace the Dustin Johnson power-fade, let it rip. The landing area tightens up but is reachable giving you a long wedge or 9 iron uphill into the large green. The contrast between this hole and next which a beautiful looking 160 yard downhill par 3 is what good golf architecture is all about. When you hear that thump on the green you know you're in par territory. The number 8, par 5 is a real test of nerves at only 515 yards because of the carry. I'm sure there are those long hitters who take a shot in two but for most of us, it involves a measured layup and a tough third shot over water into a shallow depth green. Really fun stuff.  
The back nine has plenty of tricks and different looks to navigate. Like the par 4, number 11 which is extremely narrow via the fairway but offers plenty of hillside roll-out up the left side. The problem is on the right with water encroaching the whole length of the landing zone. The key is to figure out how much of that hillside you want to bite off. The round closes with a par 5 that allows for a safe tee shot but then constricts to a go/no-go second shot over a little stream into an undulated green without much bail-out room. Laying up is probably the move here.
Whether you shot par, birdie, eagle or triple-bogey on the 18th, you will soon forget about it as you take a seat at the gorgeous patio that wraps around the clubhouse overlooking that 18th green. Cozy's Pub has that perfect post-round atmosphere and a menu full of classic favorites. People from the surrounding neighborhood have been keeping this place their little secret for years. The burgers (especially the Mushroom Swiss) and the wings (try the Tennessee Hot Honey) have a reputation for bringing the excellence.  Jon Olson has been the Head of Food and Beverage Operations for the past five years working on-site, seven days a week throughout the entire golf season. He's a big reason Cozy's has all the important stuff dialed in – service, food quality, dining atmosphere and just the right touch of fun-factor. That's a lot of hands-on time aimed at making customers happy. Jon's staff follows his lead and exude the same kind of energy Chris and the pro shop staff bring to the golf side.
The post-pandemic year is a great time to get out, swing the clubs, take a nice table on the patio and have some FUN while you enjoy the view.          
Park Style Fun At Phalen Park Golf Course
For those of us that grew up on the eastern side of the Twin Cities, Phalen Park Golf Course has always been that little patch of green space where we find a little relief from the hustle and bustle of St. Paul. Saying St. Paul is a busy place is like saying a gas station coffee and donut is a real breakfast, to be truthful, St. Paul is fairly quiet in the big picture of things. Thankfully that is still true at Phalen where towering, broad oaks still command the fairways. Now throw in what a pleasure it is to play a round right in the heart of the city and you have hit the fun spot. Those cars and occasional sirens have nothing to do with your round of golf as you detach from the city and hammer that ball for four hours. 
Phalen is a classic park-style course with plenty of short par fours, but also plenty of pesky oak-lined fairways with most of those doglegs daring you to take them on. It's a 50/50 proposition at best. I can't tell you how many strokes I've lost to the 'hero shot' approach at Phalen, but it's a lot. There is a smart way to play those holes where you put a little more faith into those longer wedges and irons and, by all means, remember to stay under the pins. Putting uphill is always the preferred method.
Given Phalen opened in 1919 as a nine-hole track it's OK to think of Phalen as a golfing institution. They soon expanded to 18 holes in 1929 as interest in the game was booming. In 1978 the city went all in with a build-out that brought in all the amenities for a total expansion of the golf operations. I've heard it thought of as Keller's little brother and maybe that isn't too far off. There weren't any PGA events hosted here or any celebrity players charming the galleries, just great value golf with enough risk/reward moments to keep that heart palpitating and friendly wagering in play. 
A short course at 6,100 from the back tees is deceiving. Those 100 year-old oak monoliths encroach from both sides on most holes and when they aren't doing the damage, the water elements will, and if they don't get you, the generous helping of bunker complexes will finish the job (tip: keep your favorite punch-out club ready at all times. The single-story brick clubhouse harkens back to an earlier time (the 70's), but is stocked with all the essentials and a friendly staff ready to answer questions and get you started. The food and beverages served compliment the no-nonsense operation perfectly.   
The whole 18-hole round plays a nice balance between power and finesse. The feel-good par-4 opening hole will be one of your easier birdie opportunities on the par fours. The par 4 fifth is a severe dogleg right and serves as a good test of the risk/reward thinking. It's a gorgeous set-up and should be enjoyed for its design. Staying on the front, the par 3 eighth is a beauty. It seems to play longer than the posted yardage and will bite back if you can't factor wind correctly into the 130-150 distance range, it's a deceptively tough hole. The back nine really kicks into action on the oak-lined par 5 #11. It's tempting to hug the left and shave yards but keeping it right gives you a better look at the green with a little more yardage to cover. Holes 13-15 are an enjoyable, rolling, tilting set of par 4's. Staying in the fairway keeps you out of 'punch out land' but those corners can be had with a strong drive and a pocketful of luck. The par 4 #18 won't break your scorecard if you play smart and tuck it up onto the fairway landing… it's always nice to know you aren't facing a deal breaker at the end of the round.
The Phalen Park Golf Course is anything but a deal breaker, it's a deal maker. It's 18-holes of fun and challenge right in the heart of our state's Capital City.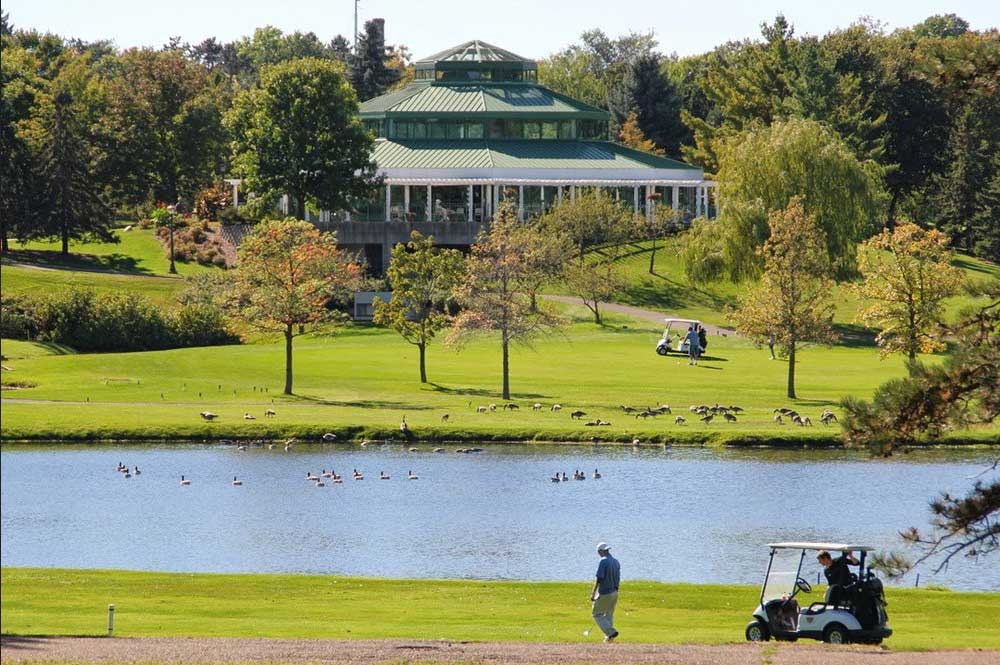 Como Golf Club and Clubhouse