Perfectly Refined At The Wilds
By Rhett Arens
Look to your left and look to your right, you're probably sharing the range with an NHL or NFL standout or two. The pro athletes like to take their swings here and why wouldn't you? The Wilds in Prior Lake is that kind of place. It's an upper-tier golf design that has been around and fighting for its place in the premier golfing ranks since its much-ballyhooed opening in 1995. The Wilds might have been a bit 'wilder' on the day it opened back in '95 but the name is perfect given the stands of towering pines, the broad stretches of natural wetlands, the vast carries and the shimmering fescue fields that seem to pop-up around every corner. Of course, the layout is integrated into some mighty fine residential planning as well, that's the 'not-so-wild' part of your golfing experience but those head-turning homes only add to the fun. Try not to break any windows.
The design team of Tom Weiskopf and Jay Morrish brought equal parts nail-biting challenge and pin seeking playability to the drawing table when this course was conceived. With a sturdy 150 feet of elevation change, some 70+ bunkers in all shapes, sizes, and placement, some scary 'do-or-die' carries, plenty of water in play and rolling bent grass fairways, it's no wonder the big-hitters are warming up over on the spacious driving range. Speaking of spacious, two large practice greens, a practice sand bunker, a two-way range, and chipping green should have you ready for that first tee. Which explains why The Wilds Golf Club is often referred to as Minnesota's Crown Jewel.  Steering the ship in his 7th season at the helm, is General Manager, Scott Reuter.  He has promoted from within to strengthen his team with the addition of Tom Gelle Heraly taking over duties as Head Golf Professional and the newly appointed Kris Johannsen to Superintendent.  Kris brings many years on the grounds to his new role and expectations are high as the conditions at The Wilds are always top-notch. The biggest project on the white board this year is a complete bunker renovation which has just started and will not interfere with on-course play as it progresses through the 2023 season. This is excellent news for the regulars who call The Wilds home as well as first-timers.  It's always nice to see courses reinvesting revenue back into 'quality of play' initiatives.    Here's a few numbers you don't see too often – slope 152, rating 74.5 at 7,045 yards. That should give you some idea about the courses' potential to dish out pain.  However, The Wilds is more than willing to accommodate all skill levels, those numbers above are only a hint at the high-level of course conditions you will be enjoying thanks to the experienced turf expertise of Superintendent Kris Johannsen.  Whether you play from the forward Red tees (5,118 yards) or mid-level purple Championship tees (6,449 yards) or Green tees (5,978 yards), there something for everybody.
The Wilds Pub Restaurant and Bar have gained a well-deserved reputation in southern suburbs.  Those regulars from Scott County know a good thing when they see it AND taste it. With an outdoor patio overlooking the lake and that testy 18th green it is the perfect setting for post-round refreshments and a sit-down lunch or dinner. The Wilds Pub welcomes patrons year-round with a window-filled dining space and a menu that ranges from casual appetizers to exquisite dining.
In addition to the dining and casual pub atmosphere the facility also offers a sports bar with plenty of big-screen viewing, locker rooms with showers, the before mentioned spacious patio and a large pro shop fully stocked with apparel, accessories and golfing equipment.  The Wilds also enjoys a reputation as a 'go to' events center.  Weddings, corporate outings, regional meetings, family reunions, holiday parties, athletic banquets and more all make the Frank Lloyd Wright inspired space their choice. The space has the capability to accommodate a broad range of seating options all the way up to 350 people for weddings or corporate meetings. Offering amenities like a Bride's Room, Custom Menus, Full Beverage Service, Custom Room Setup, Elegant Table & Room Decorations, photographers' referrals, flower arrangements and anything else your special day requires. It can all get started with a simple phone call and wish list.
Back to the golf.  There are several stunner type spots on this course that deserve mentioning starting with the towering pine backdrop on the 1st green. What a welcoming sight. The par 3 3rd sits tucked against a pristine meadow to the left and usually plays into a gentle breeze so club selection is key.   The par 5 8th starts slightly uphill and transitions into an incredible downhill look into the undulated green that may be one the most scenic looks in the entire state.  Love that hole! The short par 4 16th dares you to take on the green but beware of the scattering of bunkers and unseen roller spots in the fairway.  There are plenty of other moments where you will find yourself talking to yourself about just how 'wild' and 'elegant' a course can be at the same time.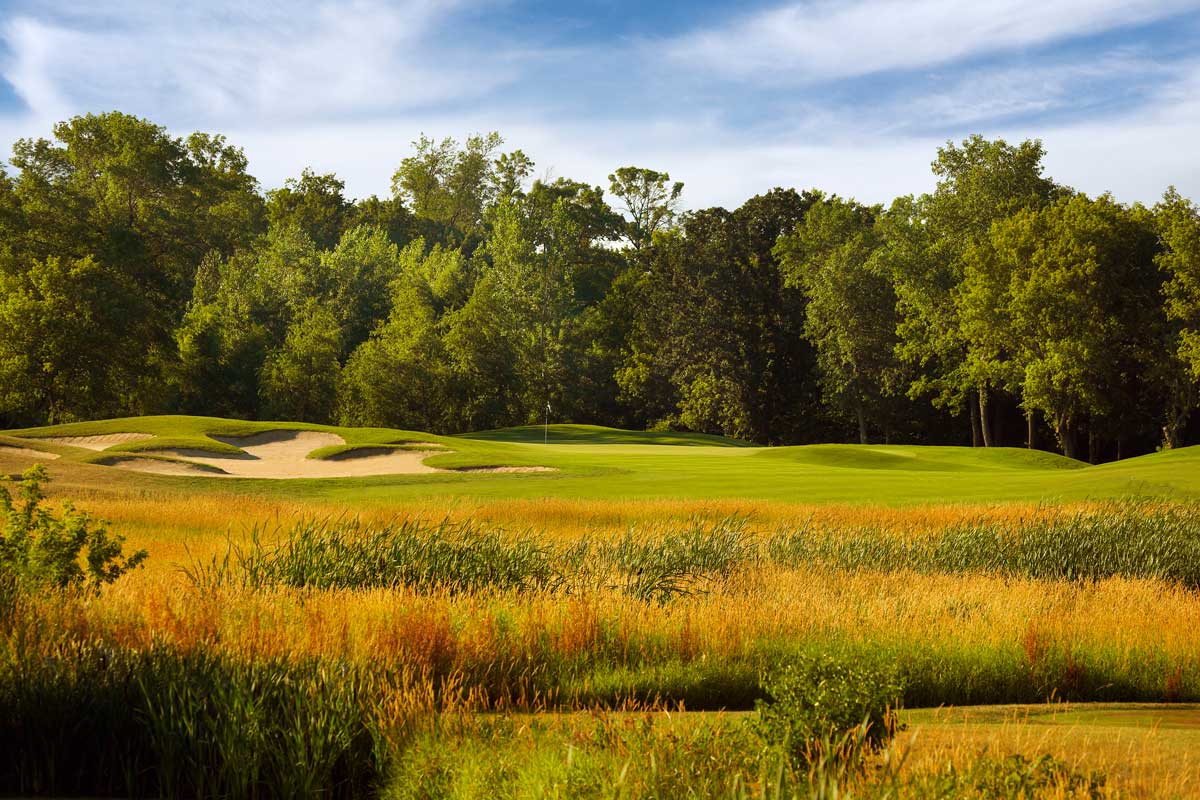 The Wilds #16 Photo Courtesy Peter Wong Photography