The Greatest Golf On The Greatest Lake Now Even Better!
By Melissa Dressely

Experience spectacular and untamed natural beauty paired with unparalleled golf at Superior National at Lutsen. It's on Minnesota's North Shore of Lake Superior, famous for its rocky shores, rugged wilderness, and outdoor recreation. Nestled between Lake Superior and the Sawtooth Mountains, play around the spectacular Poplar River with Lake Superior as the backdrop.
Find out why Superior National Golf Course is among Minnesota's Top 10 Golf Courses.
River & Canyon 18 – The New Premier 18
Everyone is welcome and encouraged to come experience the new Superior National Golf Course! Perfect for scratch players, beginners, and everyone in between, playing a round on the newly renovated ($4.6 million renovation) River and Canyon 18 promises to be the highlight of your North Shore adventures.
New features include Ohio's Best white sand, five sets of tees, playable roughs, wider fairways and larger greens. Renowned golf course architect Jeffrey Brauer designed the course to provide an enjoyable and challenging experience for all, from beginners to scratch golfers.
River 9
This is the front 9 of the newly renovated Premier 18. This par 35 features five sets of tees and is a straightforward start to the front 9 of your 18-holes of play. On many River holes, you are able to blast a driver off the tee. As the Poplar River cuts through, it comes into play on a few of the holes, making for a challenging, natural water feature. This course is also marked by elevation changes – uphill on holes 2-5, downhill on 6-8, and back uphill on 9.
Canyon 9
The back 9 of the newly renovated Premier 18. Because of the dramatic valley-like terrain carved by the Poplar River, some consider this 9 to be the most beautiful course they've ever played. You'll want to select the right club off the tee to overcome challenges like ravine ponds, the Poplar River, and narrow fairways. The par-36 has five sets of tees, is surrounded by forest, and shows off great views of Lake Superior and the ancient Sawtooth Mountains.
The Mountain 9
Golf in the natural setting of Lake Superior's Sawtooth Mountains, adjacent to the Superior National Forest. Experience nature's soundtrack at this Audubon Cooperative Sanctuary. This course is perfect for a quick game of 9 holes or a full 27. FootGolf is also located on this course, welcoming families and groups looking for fun outdoor recreation.
FootGolf at Superior National
FootGolf is a fun new sport that is becoming an international sensation! It's like golf, but with a soccer ball, kicking the ball down the course to get it into the hole. It is played on the Mountain 9.
It is perfect for families with kids, or active adults looking for a fun, unique activity. A game only takes about an hour-and-a-half. What's more, a group could play a side-by-side round of golf and FootGolf. Think – parents golfing, and kids FootGolfing! It is also great fun for bachelor and bachelorette parties, family reunions, and corporate groups.
Stay and Play Golf Packages
Superior National at Lutsen has partnered with the region's best hotels and resorts for Stay and Play Golf Packages. Each lodging partner offers something different and unique, so they invite you to explore the options and book directly with the hotel or resort of your choice.
A new-and-improved online booking system is available at SuperiorNational.com. Whether you are looking for a resort, hotel, or cabin experience their lodging partners have an option for you!
Certified Audubon Cooperative Sanctuary
Superior National Golf Course is proud to be a member of The Audubon Cooperative Sanctuary Program for Golf Courses. It is an award-winning education and certification program that helps golf courses to protect the environment and preserve the natural heritage of the game of golf. The program helps golf officials enhance valuable natural areas and wildlife habitats that golf courses provide, improve efficiency, and minimize potentially harmful impacts of golf operations. And for golfers that means that you'll be sharing the links with the North Shore's forest friends including deer, fox, timberwolf, songbirds, owls, bald eagles, moose and more!
It's Not Just Golf
Visitors also enjoy the recreational mecca in the area of Superior National. It is the prefect destination for golfers to play one of the most beautiful courses in Minnesota, and also experience the best recreational opportunities in Minnesota. It's the ideal opportunity to incorporate a family vacation into your golf getaway. Right in Lutsen are some of the North Shore's biggest family attractions including an Alpine Slide, scenic gondola ride, epic hiking along rivers and waterfalls, and exploring the ledgerock and cobblestone shores of Lake Superior. All this scenic terrain provides opportunities for mountain biking and fall color drives.
Do you need any more reasons to travel north for some amazing golf? And did I mention the incredible views of Lake Superior from the slopes and platforms of the brilliant River and Canyon 18 at Superior National? Book a Stay and Play package at SuperiorNational.com!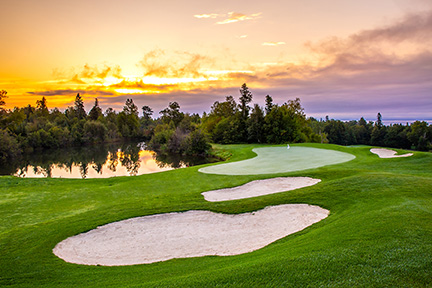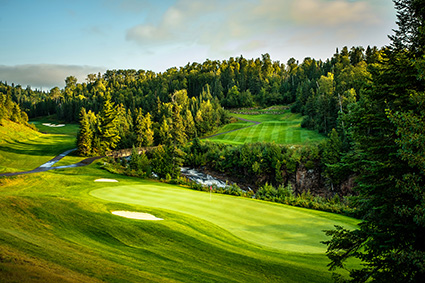 Superior National Canyon #15