Giants Ridge – The Greatest Of These…
By E. Nolan

You don't think of mountains when you think of Minnesota. The words "Iron Range" might mean very little to you – sounding more like a play-on-words name for a golf practice facility than a rich, beautiful collection of elevated peaks. We have ski runs scattered here and there throughout the state, a few of them "mountains" by name, and they're great but… Giants Ridge… that's the best of the best. It's the upper class of Minnesota's mountains and, incidentally (according to the publications of note), the upper echelon of Minnesota's golf courses.
Nationally acclaimed architect, Jeffrey Brauer, wasn't certain he'd get the job to build the courses at Giants Ridge. Some didn't think he could build a course on the quarry that would be worth playing. Plus he was competing in the bidding against other great architects, some of them more local (Jeff Brauer was from Texas). Needless to say, when he got the green light he was thrilled. "This was the greatest inland golf property I'd ever seen," he told me in April. "I'd never seen one course built on land like this… much less TWO! The potential was mind-blowing."
The Legend Course flirted with 26 different routings before it was built and opened first, in 1997. At the time, Golf Digest promoted it as one of the 10 Best New Public Courses, and it received plenty of initial attention and accolades. Looking and feeling in many ways like the celebrated Bandon Trails course at Bandon Dunes Resort in Oregon (on Sabin Lake instead of the Pacific Ocean), with no less than seven epic signature holes, The Legend seemed destined for national greatness. Then The Quarry opened. The "problem" with having two world-class courses is that one of them invariably takes the back seat. The Legend didn't do anything to deserve getting bumped from the pedestal – it was a course built for everyone, playable for literally every skill level. The Quarry was just… different. Intentionally made a bit tougher – deemed more of a "player's course" – The Quarry was a round of golf unique to the entire Midwest… a course people traveled to from all over to behold. Before building The Quarry, Brauer had originally plotted to build it entirely around the quarry, which would have been remarkable in its own right. The routing he ended up with still set the golf world on fire, still brought in mountains of praise and quickly placed The Quarry in the Top 20 public golf courses in the United States, a position it has proudly maintained ever since.
I asked Jeff where he came up with the genius designs we find on The Quarry and he (a golf architecture savant) is quick to defer the praise to one of the golf architects he admires most. "The late Mike Strantz inspired the design quite a bit. We visited his Tobacco Road course in North Carolina before building The Quarry, and loved it so much. Our goal was to make The Quarry as bold and fun as Tobacco, but just a little more playable." Tobacco Road, while ranked among America's Top 100 courses, doesn't get nearly the respect it deserves, and The Quarry (ranked quite a bit higher than Tobacco Road) is a victim in the same vein. Director of Golf at Giants Ridge, John Kendall is a fortunate guy in his position and he knows it. "We've got two incredible, Top 100 worthy, golf courses here, in one of the most beautiful regions of the Midwest. I can't pick a favorite between them, nor do I want to. I love having them both equally." As he should. Everything he mentioned makes Giants Ridge a "bucket list" golf destination for tens of thousands of golfers each year. It's a no-brainer drive from the Twin Cities – only 200 miles north of the Minneapolis-St. Paul Airport – and more and more golfers are pairing Giants Ridge with other powerhouse resorts like Sand Valley in Wisconsin to build epic group trips.
"With Giants Ridge, Kohler and Sand Valley you've got three of the best golf resorts in America, all within an easy drive of each other," Jeff Brauer says. "Those courses and The Wilderness (another Brauer creation nearby) would make for THE perfect golf trip." Been there, done that, and… Wow! (Email me for details on how to complete "Golf's Greatest Figure 8.")
The well-informed golfer will visit Giants Ridge this summer and find much more than golf – the resort is capitalizing on the biking and action-sports boons with loads of new amenities. Summer activities include a climbing wall, road and mountain biking, chairlift rides, disc golf and an adventure camp. (Bring the whole family up!) The resort features dining options like the Burnt Onion Kitchen & Brews at The Legend and the Wacootah Grille at The Quarry, as well as a variety of lodging options like the fabulous four-season Lodge, The Villas on the lake and Minnesota's most unique overnight experience at genius craftsman Shawn Callahan's Green Gate Guest Houses. "We can accommodate any size of golf party with ease," Marketing Director Jaimie Niska says. "Events, weddings, large groups and tournaments. Let us know what you need and we'll get it set up for you."
I mentioned everything you can get in a summer visit to Giants Ridge (and you can get even more in winter, as the resort flips to skiing), but you really don't need anything more than the golf. The Legend Course features what I call "shotgun starters" for each nine, blasting out from the clubhouse, over ravines to superb greens, and the mirroring continues on holes 2 and 11 with awesome short Par 3's over water. There are other great signatures on each nine, playing over and around water, boulders, and even a footprint bunker, but The Legend reaches it's pinnacle at the sensational 17th hole – a Par 3 stunner over water that's been listed among the 101 Prettiest Golf Holes in America by GolfTripX.com (and is my personal favorite golf hole in all of Minnesota).
The Quarry throws a different kind of beauty at you… less water, more land – a more rugged, mountainous, sand-blasted variety. The Quarry feels like it's hundreds of miles away from The Legend in design, while only being just down the road, and it's signature holes vary from lengthy Par 5's over wild terrain like #2 to the epic Par 3 over the Quarry at 7, the short (go for broke) Par 4 13th and the beautiful pond-side Par 3 at 17. Jeff is reluctant to toot his own horn, but many of us are more than happy to do it for him. It is a remarkable accomplishment how many unique and different golf holes he fit into these two courses – the greens are big, wild, fast and fun. He deserves a much more prestigious place among the great architects working today, and deserves more opportunities to build cool courses like these.
The Minnesota golfer is truly lucky in that these courses are in our backyard (only 60 miles from the Duluth Airport, FYI), and that Spring, Summer and Fall present three very different climatic arenas to enjoy these two gems.
And so these two remain – on the "bucket" lists of some and the "favorite" lists of others – The Legend and The Quarry. And the greatest of these is…? Entirely up to you.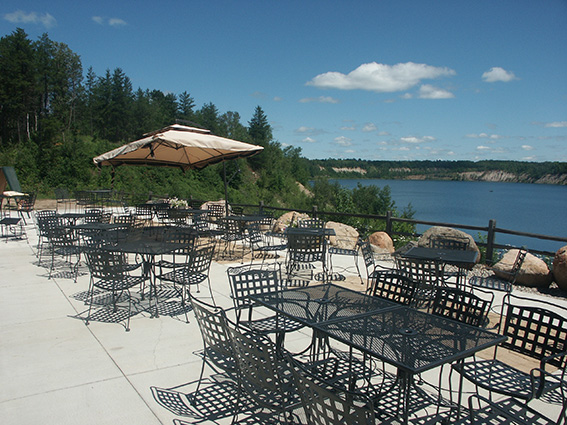 Wacootah Grille at The Quarry Clubhouse Overlooking Lake Mine