KPMG Women's PGA Championship Recap
By Jim McNaney
The KPMG Women's PGA Championship, held at Hazeltine National Golf Club last month, features more story lines than a suspense novel.
Varying weather conditions, the best women players in the world and a golf course that, when the wind blows, shows it's teeth like few other courses can.
Perhaps the biggest headline of the week was the extremely gutsy performance by a little known, second-year player from Australia Hannah Green. Not only did she hold off late charges by the likes of Ariya Jutanugarn, Jessica Korda and eventual runner up Sung Hyun Park; who birdied the 72nd hole to cut the lead on Green to 1 with 2 holes to play.
Day 1
Day 1 saw the wind and rain cause fits for some but not all. One of those that seemed impervious was Green. Riding a hot putter and even holing out from the fairway the only time she seemed destoned for a bogie or worse, propelled her to a bogie free opening round 68 and sole possession of the lead.
To say Green was impervious to the weather is not that much of an overstatement. Even with the cold and wet conditions, Green never donned rain pants… for a very good reason. She doesn't OWN any!
"I didn't own a pair of rain pants," Green admitted. "I don't know why I don't. I think I'm going to have to invest in some. Even if I own some I really don't like wearing them just because they are really baggy and make a lot of noise. I prefer to just wear pants if it's raining, but I thought it wasn't going to be as cold as it was today so I went in shorts," she continued.
Perhaps the biggest story of the day was the performance of Michelle Wie. Wie had been out several times this year due to an ongoing wrist injury. After sitting out the U.S. Open, Wie decided that she needed to give it a go at Hazeltine.
That decision turned out to be costly both in strokes and in her health. Her opening round 84 placed her in front of just four players all of whom were Club Professionals. Wie constantly grimaced in pain and frequently dropped her club after the swing. Full swings and short game shots cost Wie equally. Hitting only 6 of 14 fairways and scrambling at a 25% clip (2 of 8) along with 35 putts made for a very long day.
In Wie's defense, she was not able to practice and prepare for the event the way she had hoped. "It was kind of a little foolish to think that I would shoot really well, just hitting golf balls last week, at Hazeltine," said Wie. "It's a tough golf course, but I'm really, really happy that I played. Just feeling a lot of joy just being out there, and, you know, competing again. It's going to take time and I've just got to be patient and thankfully I have all afternoon to get warm again and take care of my wrist."
Day 2
Round two showed more of the same. Difficult weather conditions and a difficult course left some players shaking their heads while others still seemed to take everything in stride. Perhaps more surprising than Green's first round lead was her follow-up 69 moving her to -7 and again all alone atop the leaderboard and a four stoke lead going into the weekend.
Even with that lead, her round was a bit more up and down than day 1 and she knew it. "I have had some luck going my way. I do hope that continues. This will be a big factor this weekend. I got to keep doing what I'm doing. I feel like I'm hitting the ball better to be more consistent this weekend," she said.
Some familiar names found themselves creeping up the leaderboard. Lydia Ko and Ariya Jutanugarn both fired 70's to move into contention.
Once again, the struggles of Michelle Wie made most of the headlines. While she faired slightly better carding a second round 82, the pain she was enduring was obvious to everyone. In her post first round interview, Wie broke down into tears and admitted she wasn't sure how much she had left in her.
Wie's second round left many asking when, if ever, would we see from Wie again. Her post round interview was more upbeat than day one, but did not lead to any definitive answers for her future.
"In an ideal world I would wake up and my wrist is fine, I play next week and everything would be perfect. It's hard because in my mind I am very optimistic person and when I go back and I just don't hold the golf club and things feel okay I'm okay, I'm ready to try again," Wie said.
"You know, I guess that's a fault of mine but I'm still going to be optimistic about everything. But definitely try to listen to my body, as I don't do a great job of that. So, I'm going to go back and try to figure out what's going to happen," she continued.
Day 3
Saturday's round saw better weather (slightly) and better scores.
Through completion of Friday's second round only five players shot rounds in the 60's. Saturday saw many more opportunities and players took advantage. Ten players shot sub 70 rounds on Saturday alone.
One dramatic difference was Hazeltine's iconic 16th. Through the first two rounds, 16 played third most difficult and 6th most difficult Thursday and Friday respectively. The PGA decided to move up the tees on Saturday a full 140 yards making the hole play a mere 245 yards making 16 play the third easiest on the day.
Hannah Green continued to defy the odds. Green was one of only three players to card three consecutive sub-par rounds (68-69-70) along with Ariya Jutanugarn (70-70-68), defending champion Sung Hyun Park (70-71-71) and Angel Yin (71-71-71).
While she was still holding the solo lead after 54 holes, Greens lead was a precarious 1 shot lead over Jutanugarn. Given Ariya's prodigious length and strength, many predicted that Green would be in for a long day Sunday.
Day 4
Sunday at a Major, especially those that have been contested at Hazeltine, rarely disappoint. Given the threat of more storms Sunday afternoon, the decision was made to start the players off both 9's and in threesomes… meaning everyone could keep an eye on each other.
The start of the day saw Jutanugarn struggle and Green increase her lead early only to give a few shots back mid-round.
Meanwhile… Mel Reid of England was making a charge. Reid began the day at +1 for the tournament, despite being so far back in the pack, she knew the number she needed to shoot.
"I was determined to get to 6 today." Reid said. "I've hit it really good all week, drove the ball really, really nicely which obviously helps around here, hitting it long. Obviously the season I've had, like I said, I found something last week and I think making the cut on the number last week was a turning point for us. I definitely found something. I've just got to bring it into this week," she continued.
With Green and others still on the course with several holes to play, Reid was realistic about her chances of hoisting the trophy. "I'm going to hang around for a bit. Hopefully Hannah will do it, I would love for her to win. I'll hang around for a little bit."
Things got really exciting when Green suffered bogies on 9, 11 and 12. Meanwhile, world number 2, defending champion Sung Hyun Park charged up the leaderboard on the back nine. Carding 3 birdies in the last 8 holes including a perfectly played 18 pulled her within 1 of the lead. Park's undoing was most certainly her lone bogie on the back nine at number 12.
But Green still held her destiny in her own hands. A fantastic birdie on 16 and a gritty par on 17 meant all Green needed to do was navigate her way to par on Halzeltine's monstrous finishing hole.
And things certainly got interesting for the second-year Tour professional. A less than stellar drive left Green with over 180 yards up-hill for her second shot. A pulled 4 iron found its way into the greenside bunker leaving a delicate bunker shot under normal conditions.
But this was for the win. Her shot cleared the lip and left a very testy downhill 4-footer for par and the win. Draino! Hannah Green had just made the improbable leap from non-winner to Major winner!
There was, however, one player that did not find this all that improbable… Green's mentor Kari Webb. "I've seen this for years," Webb said after the round. "Years ago, I watched her at the amateur in Portland and I could just tell the way she carries herself on the golf course and how she is mentally that she was made to win golf tournaments on the LPGA, made to win Majors."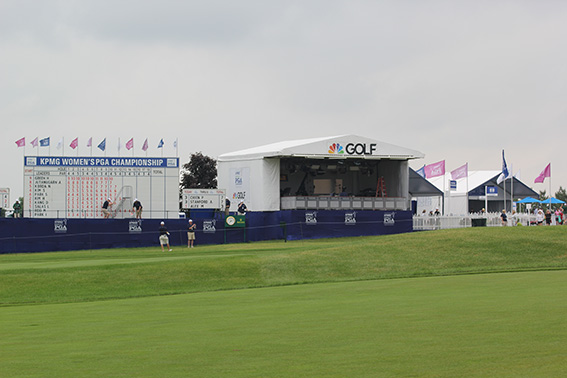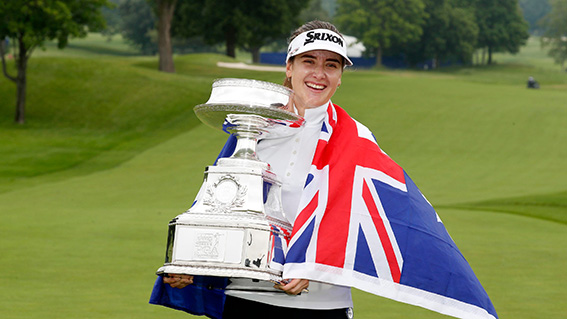 Hannah Green wins 2019 KPMG Women's PGA Championship