Pebble Creek Golf Club – A Stone's Throw Away
By E. Nolan
While it's unlikely that Brooks Koepka, Phil Mickelson and their fellow PGA TOUR stars, fresh off their U.S. Open week at Pebble Beach, will venture a stone's throw north of the Twin Cities to play another Pebble (when they're here for the inaugural 3M Open), it's not because they wouldn't love the course. Many locals, with enough firsthand experience to know, insist Pebble has more character than several TOUR stops. The difference is, people outside of Minnesota don't know about Pebble Creek, which only leaves more tee times for the rest of us.
No one is ever going to confuse Pebble Beach with Pebble Creek. (It's more like Firestone Country Club in Ohio, where Tiger Woods played and won many times.) Yes, the name might garner a second glance accordingly, but few Midwestern golfers have led such sheltered, uneducated lives to be that disoriented. The City of Becker is no Carmel or Monterey, and the Elk River is no Pacific Ocean – both realities deemed a blessing by the locals. There is no pretentiousness in the polite population, and the natural beauty of the course's surroundings doesn't need waves to make them. Ask General Manager Josh Kuha what he would change about Pebble Creek if given absolute powers and all he'll give me is, "the temperature half the year" and a smile.
Pebble Creek, owned and operated by the City of Becker, has undergone a complete brand refresh. This includes all new course signage, tee markers and a complete overhaul of their practice facility (range dividers, bag stands, yardage boards and a wide selection of targets). The City of Becker has just made this 27-hole municipal course, one of the state's best munis by virtue of stellar conditioning, design diversity and fluid pace of play, even better.
Pebble Creek is home to the Minnesota Class A Boys and Girls State Tournament (every year), the MGA Amateur Qualifier and MGA Player's Championship, Josh and his staff take great pride in hosting major state events at their facility. Josh says, "We are investing resources into creating an experience that will make golfers want to come back again and again."
The three nines, while loaded with bunkers and hazards, are so open and (mostly) forgiving that sub-four-hour rounds are the norm and there always seems to be a tee box open somewhere. It's at this point in my praise that Josh raises his hand to interject, and I know what he's going to add so I say it first. "It's not that the course is too easy. I'm just saying this isn't a place where the game ever bogs down. This is where EVERYONE getting into the game should want to play – juniors, women, seniors, double-handicappers, league-lovers, one and all, because literally everyone can work their way around the course in comfort from a hand-picked set of tees. Low stress, high success."
Okay, so the course is fast enough and easy enough. What else? What else? For the purposes of geographical calibration, Pebble Creek is only 40 miles from the TopGolf in Brooklyn Center, most of that Interstate 94 and the rest of it Highway 10. The facility is loaded with natural beauty across all three nines. The Championship Course allows you to bomb freely off both nines, reins you in a bit (for holes 2 and 10) then gives you Par 3's for balance. You'll play your way around ponds, lakes, marsh and creeks, with some pretty great signature holes at the Par 3 4th and 6th holes. Because accuracy is just as relevant as distance, there are birdie opportunities a plenty for both the strong and sleek. Many contend the third nine – the "Local 9" – is just as strong a nine, with just as many signatures as the other nines. I like that the City of Becker both realizes and stresses that the doorway to golf should be wide WIDE open and to kick it as wide open as possible they use the Local 9 for Foot Golf, Fling Golf and Disc Golf. Anything that brings more players to the game (however you prefer to play it) is a good thing and there is room enough for all of us. And, if you're just getting into the game, Pebble Creek has a full driving range with instruction available.
Pebble Creek Bar & Grill is open daily with a full menu of appetizers, burgers, pastas, flatbreads, desserts and drinks. Again stressing the "something for everyone" the clubhouse features a game room with darts, pool and Golden Tee, to go with the well-stocked golf shop and even beanbag boards for our best summer days and nights.
Pebble Creek is a great host for group events of all sizes and for weddings in particular with all their scenic locations for photography and banquet facilities that can comfortably accommodate 225 guests.
If you're coming up from the Twin Cities and would like to stay a bit longer, Pebble Creek offers Stay & Play Packages with the Crossings Inn & Suites. Don't want to drive up or back home (or REALLY want to enjoy yourself at the course), check out the unique VIP PAK for up to 22 people on a bus!
The point of this article isn't to tell you how great the course is. It's to tell you how great a day at this course could be if you were here.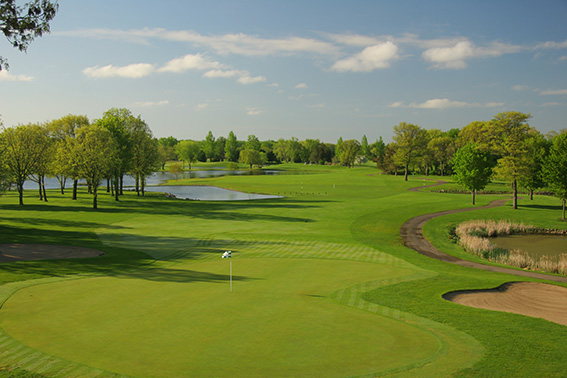 Pebble Creek #4 Red Photo Courtesy of Tony Hellman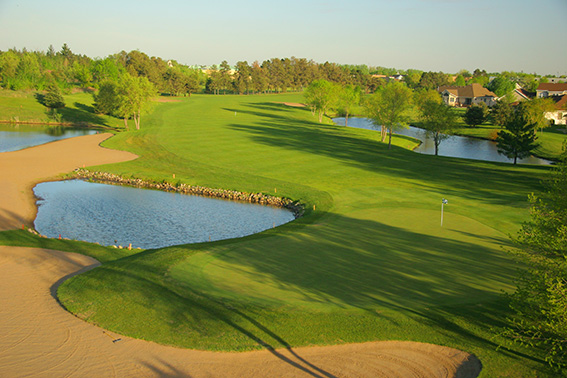 Pebble Creek Local 9 #5 Blue Photo Courtesy of Tony Hellman