Three, Two, One… Blast Off!!!
By R.J. Smiley
The countdown has started for the launch of the SmartPin Daily Golf Competitions. The launch will occur in early August. Ace Golf Technologies' original vision of providing golfers the opportunity to feel the thrill of victory by hitting that once in a lifetime shot and winning big money will become a reality.                                                                         
SmartPin is a patent pending, golf flagstick with a 'brain' that talks to the Internet. To activate SmartPin, a golfer just clicks the SmartPin app on his cell phone. Cameras built into SmartPin provide video evidence of prize-winning golf shots.
Ace Golf Technologies LLC, developers of SmartPin, links a network of participating SmartPin golf courses where individual golfers may compete with the click of an app. The company envisions millions of golfers, scattered across America and around the world, competing daily for major prizes.
SmartPin Daily Golf Competitions separate themselves from all other Hole-In-One contests by offering three ways to win. Each golfer pays a $5 entry fee, charged to a credit card, and is automatically entered into all three games.
Hit It To Gimme Distance
SmartPin is the only video golf competition that pays a prize for hitting a golf ball within three feet of the hole on a par-3. Every golfer has played in tournaments and league events where a prize is given for the ball hit closest to the hole on a par-3 hole. The Gimme Game is similar, but just a little bit different. 
With the Gimme Game every winning shot (within three feet of hole) recorded with the SmartPin app earns a part of the SmartPin Gimme Game Jackpot. Every shot! Every time! Let that sink in. Golfers have a realistic chance to win every time they play the SmartPin hole on any SmartPin golf course. 
Each golfer who wins the Gimme Game receives a gift certificate from Ace Golf Technologies. In addition to the certificate, every Gimme Game winner receives a free personalized souvenir video of their winning shot.
We all know that videos are easily shared. With the video of the winning shot, a golfer in Minnesota may challengewith a golfer in Florida. Just a bet between two golfers. Or a group of golfers in different locations, or the same location, with different tee times could have a bet on hitting a golf ball within 'Gimme' distance. The options for betting with the videos are endless.
Make A Hole-In-One
A Hole-In-One is much rarer than hitting it to Gimme distance. Therefore, the payout for a Hole-In-One is understandably much bigger. SmartPin has the only Hole-In-One contest with a progressive jackpot. The SmartPin National Progressive Hole-In-One Jackpot (starting at $10,000) works as follows. Each day that a Hole-In-One is not made, the jackpot for tomorrow's game grows by a fixed amount. The jackpot grows that fixed amount each day until a Hole-In-One is made. The daily Hole-In-One Jackpot will always be $10,000 or more. As the number of SmartPin partner golf courses increase, the base jackpot will increase.  Hole-In-One Jackpots could start at $30,000 to $50,000 within a year.
Every golfer who makes a Hole-In-One during the year earns a bye through the Local Qualifying directly into the Sectional Qualifying Round of the SmartPin Million Dollar ShootOut.
World's Largest Golf Competition
The ultimate goal for every golfer who plays SmartPin is to feel the thrill of competing in the year end SmartPin Million Dollar ShootOut. 
Daily SmartPin winners (Gimme Game or Hole-In-One) earn a spot in the three-stage year end SmartPin Million Dollar ShootOut. There is a third way to qualify for the SmartPin Million Dollar ShootOut. Golfers who do not make a Hole-In-One or knock his or her golf ball to Gimme Game distance, may qualify for the ShootOut by annual participation. Golfers who play 20 SmartPin Shots during the year earn 1 (one) shot in the Local Qualifier. Play 40 shots and get 2 (two) shots. Play 60 shot get 3 (three) shots… Or, play 10 (ten) unique SmartPin network golf courses during the year earns a 1 (one) shot in the Local Qualifier.
Test Drive Program
Prior to launch of the paid game, we invite golfers to participate in the free SmartPin Test Drive Program. The SmartPin Test Drive is available at golf courses scattered around the country with more than 20 Minnesota courses already participating. Golfers may take a FREE shot at the SmartPin during every round they play at these SmartPin Test Drive golf courses. 
Best of all, golfers' participation in the Test Drive count towards the qualification for the SmartPin Million Dollar Shootout.  Likewise, any golfer who score a Hole-In-One during the SmartPin Test Drive will automatically advance to the Sectional Finals for the 2022 SmartPin Million Dollar ShootOut. Even though no entry fee was paid, golfers can begin their journey to the SmartPin Million Dollar Shootout now!
Watch the skies (and your local golf course) for SmartPin's launch and blast off!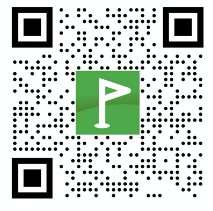 Click on QR Code to get the SmartPin app.