Medora, ND Wild Wild Western North Dakota
By E. Nolan
It's common for Minnesotans to feel disrespected as a golf destination. With more golfers per capita than any other state in the country we should receive far more recognition for how awesome we are. Not surprisingly, North Dakotans feel similarly disrespected, but that's more because some people don't even know there IS golf in North Dakota. A long-term resident of Medora, North Dakota, and one of my favorite humans on earth – Kathy Solga – says, "People have no idea they can literally play golf in a National Park… in THE Badlands. The Badlands are indescribable. The golfing experience in The Badlands is even more so."
She's right. I've described golfing at Bully Pulpit – the marquee sports attraction in rugged western North Dakota – as playing and driving (a ball and a cart) through The Grand Canyon… ish. Imagine that if you can. It is surreal.
Medora, as a town, is terrifically tucked into some of North Dakota's most beautiful landscapes, along the banks of the Little Missouri River. It's a convenient pit stop just off the interstate for those coming to/from Montana (30 miles) or Bismarck (135 miles), but it's also a great little getaway for those looking to take a golf or family getaway far from the city lights of a place like Minneapolis (only 8 hours away). Discovered in 1882 by the French Marquis de Mores and made famous a couple years later as the homeland of our young future President – Theodore Roosevelt, it's a town that has never lost its buzz or intrigue… not even some 230+ years later.
I've already mentioned The Badlands – the wildly carved rocky canyonlands – as a worthy draw (on its own) for outdoor enthusiasts, explorers and photographers of all skill and social media levels. But Theodore Roosevelt National Park is the primary attraction, now filled with the ancestors of the same bison Teddy used to hunt as a child. Theodore Roosevelt's ranching affinity and experience shaped his platform on conservation – in the 'cradle of conservation' – and he firmly believes that had it not been for his challenging years in North Dakota he'd never have become an American President.
Today, conservationists and casual wanderers alike can hike, camp, and come (nearly) face to face with the bison, wild horses, elk, prairie dogs, coyotes and other wildlife along the trails and river within Theodore Roosevelt National Park. Locals farm and ranch and proudly promote their own homeland as a hidden gem on the American landscape that all would be wise to visit at least once. And while you're out there, here's a list of what else you might enjoy:
The Medora Musical: You're not expecting a Broadway-level performance in an outdoor amphitheater in North Dakota. In fact, you're likely to vastly underestimate the talents and energy of the talent that puts on a remarkable show several times a week all summer long (from June 8 through September 10). But a family tradition that began way back in 1965 rocks on today outside Medora and continues to draw the curious out with a dinner that's been celebrated across local and national TV stations (and Food Channel specials) as the Pitchfork Fondue – a steak and potatoes (and many other items) feast overlooking the natural amphitheater… a cookout under earth's natural lights before the country-western musical revue begins and the Burning Hills Singers and Coal Diggers Band take the stage. I've seen the show twice in my life and been impressed both times by the historic recount, the live animal interactions, and the opportunity of children (including my own) to be a part of the show (on stage). After years of never thinking or hearing anything about the show prior to my visit, today I'd never pass through Medora, North Dakota without seeing it.
And if you time your visit right, there's another show (or two) that could be described as "can't miss" for adults. Emily Walter – the Queen of the West – puts on a Gospel Brunch in Medora, with songs, stories and incredible food, and (since you're in Teddy Roosevelt's neighborhood) you can always catch The Teddy Roosevelt Show. There are plenty of other performers and performances in town throughout the summer – a long list of concerts, storytellers (Wild & the Animal Band), and live entertainers (like Magician Colin Zasadny) – that appeal to all ages, but there are also places for you and your family to entertain yourselves.
Point to Point Park has emerged as a popular playground the past few years with the addition of Manitou the Zip Line, Little Bully Pulpit Miniature Golf Course and a collection of trails throughout the park for self-exploration (or for touring with the fabulous Joe Wiegand). And this year, opening in June, the Lazy Lil Mo & Wade In Pool opens, providing a cool splash zone for those hot summer days and nights.
Obviously, for the golfer, all these highlights are just bonuses – a list of detours to include pre or post your bucket list worthy round on Bully Pulpit Golf Course. I remember standing on the cliffs with the Tourism Director several years ago, overlooking the vibrant green fairways and greens chiseled through the canyons below and thinking, "Whose idea was it to build this incredible place here?" That vision was carried out by Dr. Michael Hurdzan 18 years ago (opened in 2004) and has been packed by golfers and reviewers ever since. Bully Pulpit has steadily ascended the ranking charts over the years and today sits mid-list among America's Top 100 Golf Courses.
The golfer will experience quite the adventure in a round, cutting through meadow and woodland, weaving alongside the Little Missouri and launching shots off cliffs and buttes. The precarious position of many of the holes, and the steady influx of visitors, has given the club both the need and the opportunity to bolster the quality of the golfing grounds. Over the past couple years, they've added two new holes – the Par 4 8th with a beautiful Badlands backdrop, and the risk/reward Par 5 12th – and they've been hard at work on renovating one of their Signatures… the stunning 16th hole. "The view is, of course, beautiful from 16," says Patrick Rominger, the Club's Manager and PGA Golf Professional, "but the green has settled in a way that doesn't always play fair, and this renovation will fix that."
Yes, the Badlands holes are the most captivating of the eighteen, but the other holes present you with an assortment of beauty and tricky shots, including several of Dr. Hurdzan's signature false fronts and visual deceptions. Stunning as they are, you might not even list the Badland holes as your favorites, and that's saying something.
Hopefully, by now, it's apparent that visitors have plenty of sources and resources for entertainment on a Medora visit, and I haven't even mentioned the (many) food establishments or accommodation facilities. I could detail them all for you, but they fill up fast at all dates and times throughout the summer so, start with the historic Rough Riders Hotel (and Theodore's Dining Room) on your initial search and go from there.
Throughout the day and night, you'll be pulled in a variety of directions by your senses (and/or kids) and will find fudge, ice cream, burgers, pizza, candy, donuts, bars and other "treats."
"It's a tourist town," Kathy reminded me a few years back, "but it's also a hometown. And when all the visitors leave, the locals still love it here and why wouldn't they?"
Indeed. There's plenty to love and lure you to Medora, North Dakota.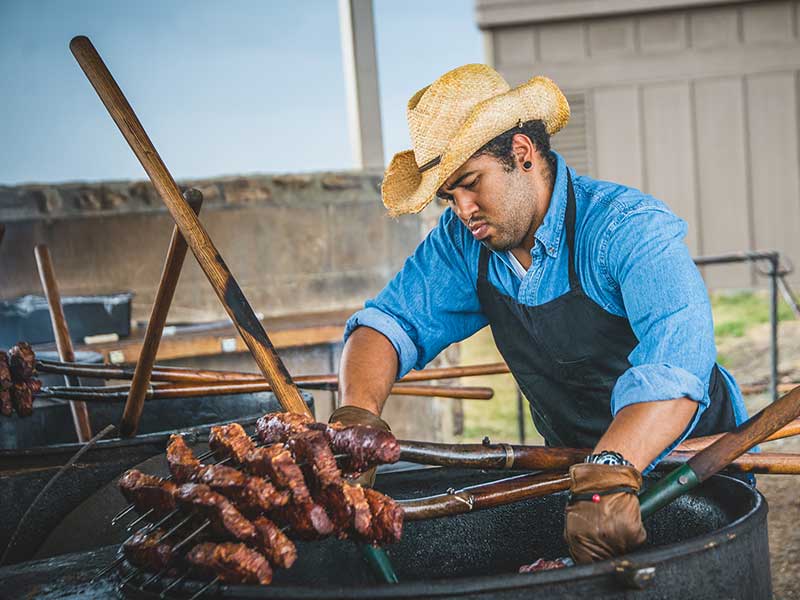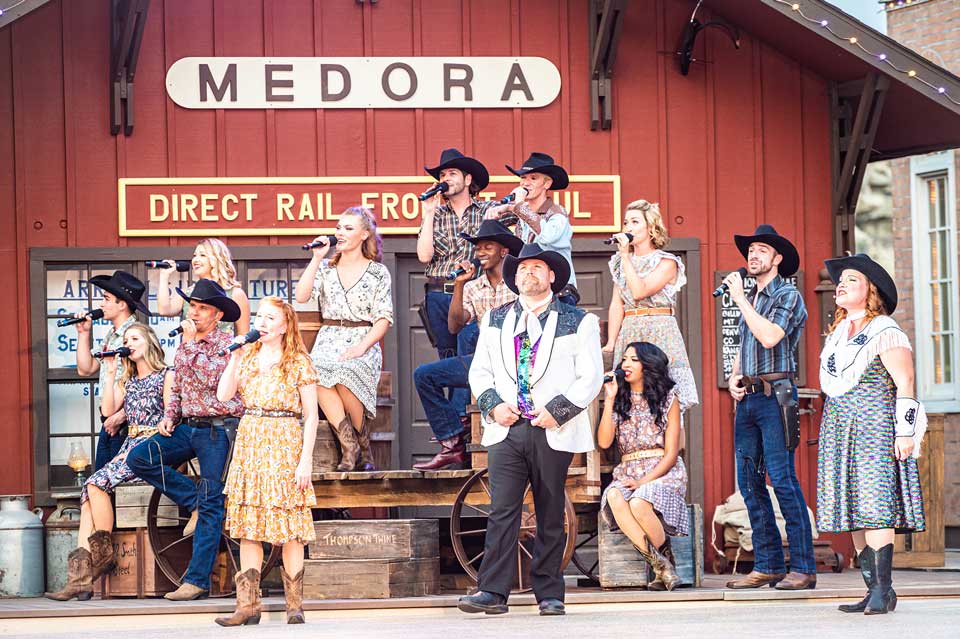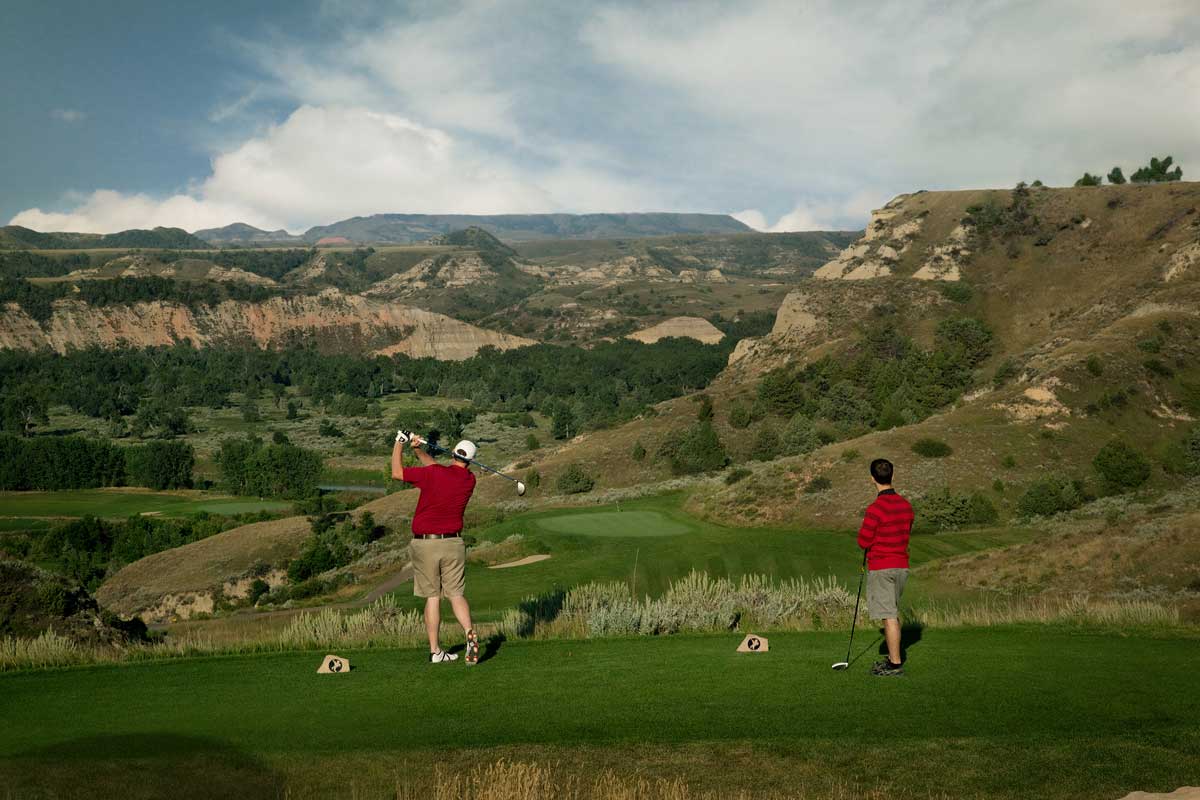 Bully Pulpit #16 Photo Courtesy Chip Henderson