Dacotah Ridge And Jackpot Junction – Double The Deal
By E. Nolan
100 miles. It's a number I frequently use as a point of reference, based on conclusive evidence that "almost everyone" will drive 100 miles to play a great golf course. Considering that fact, "more than almost everyone" should be willing to drive 99 miles to play a "Best in State" ranked golf course, right? Especially if it's connected to a hotel? Especially if that hotel has restaurants (multiple) and other vacationer-oriented amenities? 99 miles for an overnight or weekend getaway… that is NOTHING. I'd like to think EVERYONE would jump at such an opportunity, but I know there are people out there who don't like chocolate (gasp), so… I guess nothing can be considered a "given."
This is for the rest of you – the opportunists: 99 miles southwest of the Twin Cities there's a golf course designed by one of the game's most prominent architects, and that course is just a few miles down the road from Jackpot Junction Casino Hotel. That resort doesn't just offer you THE best golf course in southwest Minnesota… it offers you a Stay & Play combination with plenty of additional entertainment (assuming you like gaming, concerts, comic events and such). Specifically, Jackpot Junction Resort offers 440,000 square feet of gaming with a hotel, pool and RV Park. With over 1,200 slot machines and 24 table games, plus a half-dozen dining options all in one place, a (quick) trip to this destination is at least worth exploring.
Jackpot Junction Casino reopened (post COVID) for business on June 1 – spotless, updated and ready for guests. Always a lively place, the parking lot is routinely packed with cars and busses not just from the Twin Cities, but also from Wilmar (44 miles), Mankato (65 miles), St. Cloud (110 miles) and Sioux Falls (130 miles). General Manager Brian Pendleton acknowledges they are operating the gaming floor and restaurants in accordance with state-issued capacity guidelines and sanitation policies – always with the guest's safety first – but are otherwise "business as usual." Scratch that… "FUN as usual."
"Our restaurants have carryout menus, and people can table up on the patio at Wabasha Creek Restaurant over at Dacotah Ridge Golf Club. We're adapting on the fly, as everyone else is, giving our guests as much as we can possibly give them – more and more week by week. You'll be taken care of, I assure you." (See their website – JackpotJunction.com – for further COVID-related details.)
Brian commonly directs guests over to Wabasha Creek anyway, given the restaurant's phenomenal patio, food and views, so this gives the guest twice the incentive to discover Dacotah Ridge – for the food and, of course, the golf. As alluded to earlier, Dacotah Ridge is a world-class championship 18-hole design by renowned golf architect Rees Jones.
The course is one of those places a professional photographer could turn into a bestselling calendar, with split-rail fence-lined boundaries, plateau greens, awesome aquatic features and some incredible color contrasts that are intensely highlighted in both early and late daytime hours. Hole-after-gorgeous-hole Rees Jones carved out fairways and pushed up greens, dug out bunkers and highlighted water bodies. Featuring one of my favorite opening holes in all of Minnesota, Dacotah Ridge is a shapely 7,109 yards from the tips, with flexibility for four other yardage totals of play down to 5,055 yards. It is a unique hybrid of a course that I like to call "prairie links" – firm and heavily mounded, with large, fast greens, tons of fescue grass, few trees throughout most of it and exposed to all of mother nature's most testing elements.
The course defends itself well from the tips – from all tees for that matter. The rough is famously thick, even when mowed down, plus you have to think your way through the round – and there are a number of stunning "signature" holes worth telling all your friends about. The downhill 3-par 4th hole is a beauty bordering the water, the same water you must carefully navigate around on the 4-par 5th. The 9th hole presents a cool yet daunting approach over Wabasha Creek to the green tucked under the clubhouse. Most consider 11 THE "signature" hole of the course, thanks to its all-water carry, and then you enter what I call the "tree-hole trio" from which few emerge unscathed.
Dacotah Ridge opened in 2000, meaning they are celebrating their 20th Anniversary this summer (on July 15th). I'm always amazed by how many golfers still haven't made that easy drive over from the Twin Cities. Golf Digest awarded the course 4.5 Stars – one of only a handful of public courses in Minnesota to receive that distinctive honor. Think about that for a second – in all likelihood you're merely 100 miles from a public 4.5 Star-rated golf course! How can you possibly need more incentive than that?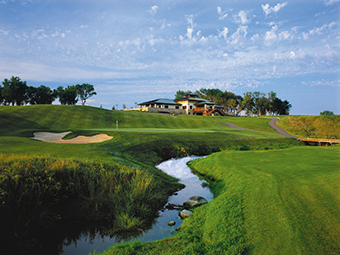 Jackpot Junction Circle Bar